State to focus on 'total tourism'
Shimla, November 29
Armed with a detailed road map, the state Tourism Department will now focus on the concept of "total tourism" where integrated efforts by various departments will not only help in infrastructure development but also have a separate tourism sub-plan which will place at disposal adequate funds to attract visitors to the hill state.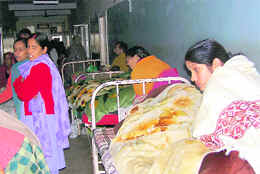 Staff crunch ails zonal hospital
18 posts of doc vacant
Health Minister expresses helplessness
Mandi, November 29
The 300-bedded Mandi zonal hospital in the central region exists on paper as it not only faces shortage of 18 doctors, but also has no surgeon to take care of the surgery cases at the hospital here.
Patients wait for doctors at the zonal hospital in Mandi. Photo: Jai Kumar

BSNL services on the ebb
Solan, November 29
Even as private cellular operators are vying with each other to provide better services, the BSNL appears to have lost the vision to provide quality services. No day passes when the network, including short message services (SMSes), GPRS or even the Internet services, does not get disrupted.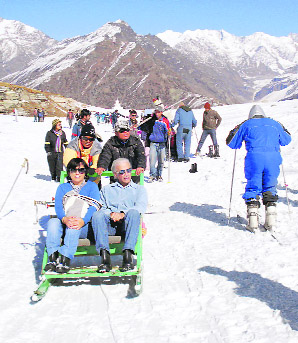 Tourists enjoy skiing and sledging at a snow point near Rohtang Pass. Photo: MC Thakur

Hydel projects taking toll on forest
Shimla, November 29
The recent move of the Union Ministry of Environment and Forests to stall forest clearance to projects involving significant destruction of forests has come rather late for the hill state which has already sacrificed a vast expanse of precious green cover to pave way for hydroelectric projects and roads.
Preserve traditional food crops: MLA
Chamba, November 29
The traditional crops and natural populations, livestock breeds and fish genetic sources require necessary conservation and enhancement of initiatives through adding value options so that farmers get benefit from these conventional and local resources.
Mad dog bites 14
Mandi, November 29
More than 14 persons, including six women, were bitten by a dog, which was suspected to be mad, in the Khasi area near Chail Chowk in Gohar subdivision. Ten patients were rushed to the Mandi zonal hospital for treatment today, but were shocked to know that the dog bite would cost them Rs 31,000 each for three compulsory injections.
Use chlorine-free water for mushroom: Experts
Solan, November 29


With chlorinated water being identified as a key reason of residue problem, scientists have suggested the use of chlorine-free water for spraying in mushroom cultivation. This was one of the key recommendations which emerged during a two-day national seminar on "Diversification for sustaining profitability in mushroom production" which concluded at Dr YS Parmar University of Horticulture and Forestry, Nauni. It was also suggested to undertake diversification of species to reduce the predominance of white button mushroom in the country and carry out extensive work on wild edible mushroom.
State to have 36 Grameen Haats
Shimla, November 29
To enable local artisans market their products in their vicinity, Chief Minister Prem Kumar Dhumal today announced that 36 "Grameen Haats" or rural markets would be set up across the state with an outlay of Rs 5.4 crore.



Former king of Nepal Gyanendra (in blue jacket) on the Ridge in Shimla on Monday. Photo: Amit Kanwar

Winter Session
Government focuses on cost cutting
Dharamsala, November 29
Prior to the winter session that is scheduled to begin from December 6 in Dharamsala Vidhan Sabha, Speaker Tulsi Ram has interacted with the local media here today and briefed about the upcoming session. Preparations have been completed for the 10th winter session to be held at Tapovan near Dharamsala.
Laparoscopic surgeons' workshop ends
Kangra, November 29
A two-day workshop of laparoscopy surgeons concluded in Dr RP Govt. Medical College, Tanda, yesterday after deliberations on different laparoscopic procedures by eminent surgeons of the country.
Governor, CM mourn Prasad's death
Shimla, November 29
Governor Urmila Singh and Chief Minister PK Dhumal mourned the demise of Mahavir Prasad, former Governor of Himachal Pradesh, who passed away at New Delhi yesterday. He was 71.
Students' Council poll
Shimla, November 29
The first meeting of the Student's Council of the Himachal Pradesh University (HPU) will be held on December 11.
GOC-in-C calls on CM
Shimla, November 29
General Officer Commanding-in-Chief of ARTRAC Lt-General A.S. Lamba today called on Chief Minister P.K. Dhumal to bid adieu on getting promoted as Vice-Chief of the Staff of the Army.
CWG, Asiad winners to be honoured on Statehood Day
Shimla, November 29
The government will honour and reward the medal winners of the Commonwealth and the Asiad Games from the state with cash prizes at the Statehood Day Function on January 25.
1.7L cases pending in lower courts
Shimla, November 29
The number of pending cases in the lower courts in the state is approximately 1,70,000 and not 67 lakh as mentioned in the news item "Justice Kurian lays stress on timely disposal of cases" published from Palampur.
6 ear surgeries performed
Kangra, November 29
Six complicated ear surgeries were performed today through endoscopic procedures at the Civil Hospital here on the second day of the two-day free of cost ENT camp organised by the local branch of the Vivekananda Kendra.