PUNJAB
HARYANA
JAMMU & KASHMIR
HIMACHAL
REGIONAL BRIEFS
NATION
OPINIONS
LETTERS
BUSINESS
SPORTS
WORLD
M A I N N E W S
Now, a housing project for elderly in Amritsar
Tribune News Service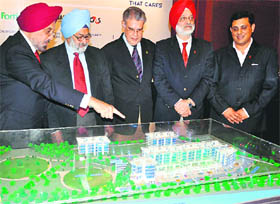 Impact Senior Living Estates chairman Harpal Singh shows the project model to Justice SS Sodhi (2nd from L), a former Chief Justice of Allahabad High Court, in Chandigarh on Tuesday. Tribune photo: Parvesh Chauhan
Chandigarh, November 30
Realty firm Impact Senior Living Estates today announced a housing project in Amritsar that, the company claims, would go beyond the mere erection of infrastructure by making healthcare, hospitality, financial planning and security an integral part of the residential package.
Spread over 50 acres of land, one portion of the project (on five acres) would exclusively house senior citizens. The portion, which would be ready for possession within 18 months, would have 50 dwelling units. It would be a community-in-community residency concept.
The elderly would only have to move into their apartments with a handbag, rest, the project developer claims, would be taken care of by them.
Among the facilities, there would be a tie-up with Fortis hospital for healthcare services, including a 24-hour emergency, pathology lab, on-appointment doctors and special nursing facilities, on the premises. The providers will also maintain a complete medical record of all the inhabitants. The project partners include Deepak Nirula, the founder of Nirula's chain of restaurants. Hospitality wing would have helpers in the ratio of 1:1 for every dwelling unit. It is also expected to provide a dedicated kitchen, dining facilities and housekeeping. The project also has a detailed engagement plan in place to organise activities, including social service, for the elderly.
Launching the first facility, Justice SS Sodhi, a former Chief Justice of the Allahabad High Court, said, "The impressive project was a very big challenge. The project appears to be a place not where the elders are put away, but a harmonious nest where elders would willingly go in for a comfortable stay."
Justice Sodhi said the vision for the housing plan underlined the need for coping with the new social realities of a shift from traditional Indian joint family to its modern 'avtar' of the nuclear family system. He said more important than the plan was the delivery of services on ground.
Priced in four different categories, the single studio apartments would cost Rs 11.25 lakh. Harpal Singh, the chairman of Impact Group, said, "The concept of enjoying senior years at a place where independence, comfort, companionship and security are available in a harmonious setting is being introduced through the pilot ISLE project."
Deepak Nirula said, "The project is poised to emerge as the ultimate come-back attraction for those living abroad or a gift where you would want your parents to live." Aman Batra, the chief operating officer of the project, said that ISLE was being structured on key attributes of quality living, including healthcare and wellness, hospitality, engagement, financial counselling and security.