India has had defence relations with the US since the Chinese attack in 1962. It was the US that India looked towards when Chinese troops were racing down towards the plains of Assam and Indian political and military leadership was paralysed. Americans airlifted badly needed weapons, equipment and a few fighter aircraft. Later, they equipped three mountain divisions with war equipment and there was a US military mission in New Delhi for a few years for the purpose.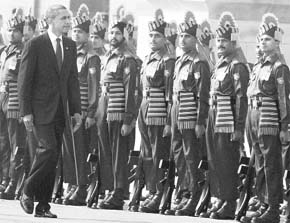 During his November visit, President Barack Obama lifted sanctions against defence research and production establishments, including DRDO, paving the way for greater co-operation
In the foreseeable future China and Pakistan would be India's main adversaries. There are significant differences in the fundamentals of these three societies, their value systems, religious beliefs and tolerance levels of others. India is a democracy and open society while China and Pakistan are comparatively closed societies, where military plays a dominant role. There is also economic competitiveness between China and India, though the Indian prime minister has repeatedly stated that there is enough room in the world for both China and India. In addition, there is a long-standing border dispute between China and India.
India has critical reasons to worry about Chinese policies and capabilities. It is China and its friend North Korea that have made Pakistan a nuclear weapons country. It is also a major supplier of military equipment to Pakistan and gives is diplomatic support against Indian interests. It would not be wrong to say that China and Pakistan have an unwritten military alliance against India.
China's conventional military is about twice the size of India's and Pakistan has about 70 per cent of military force compared to India. Armed with nuclear weapons and allied with radical Islamist elements, the Pakistani military remains dangerous. China has built the Qingzang rail line to Lahasa and may extend it to Nepal. It has also constructed a number of roads and airfields in Tibet and is building dams on the Brahmputra. Water will play a very important role in international relationships. Beijing has also gained greater influence in Nepal with the emergence of Nepali Maoists as a political force. It is possible China could move its troops into Nepal on some pretext and threaten the Indian heartland through UP, Bihar and West Bengal. Its claim on Arunachal Pradesh can be an excuse for military ingress there. The situation in northeastern India can become precarious if Bangladesh has a pro-Pakistan or pro-China government. A concerted foray by Pakistan and China in Ladakh-Kargil-Uri and even Himachal is a possibility.
Militarily, it will be a very difficult for India to counter such an eventuality. In the past, India balanced Beijing and Pakistan through a de facto alliance with the Soviet Union. With Russia no more a super-power, the challenge is to deal with the long-term threat from these two countries.
India has embarked on a path of economic growth. It does not want a military confrontation with any nation and desires peace, particularly in its neighborhood. However, as China's economic and military strength is growing, it has become more assertive. The manner in which China dealt with Japan over the release of the captain of a trawler involved in an incident with a Japanese naval ship has bewildered the world.
Indian leadership does not have to panic but has to think long-term on how to co-exist with the Dragon. Prudent Indian policy could be:
n Engage China, particularly in trade and avoid a military conflict as long as possible.
n Develop conventional military and nuclear deterrence so China does not violate Indian borders and keeps away from neighbors and sea-lanes. In addition deter Pakistan against any military adventurism.
n Diplomatically ensure that Pakistan does not threaten India in case of hostilities with China.
n Work towards engaging a strategic ally having sufficient military and economic muscle to caution China on any adventurism against India.
n Carry out effective psychological and information warfare to make it clear to China and Pakistan that though India desires peace, it is taking required steps to build its military muscle and strategic alliances, taking into account their military capabilities and their stance.
Till now India is downplaying frequent irritants being thrown up by China. The emphasis is on increasing bilateral trade and there is even a tripartite forum between India, China and Russia. There is also cooperation in areas of common interest like climate change. Indian leadership is cautious that China does not feel threatened by parleys between India, USA and other countries. This policy to engage China should continue but measured diplomatic "tit-for-tat" would be in order if Chinese assertiveness continues. Let the impression that India is a soft state, not persist any longer.
India needs peace to develop economically and one of the aims of Chinese and Pakistani policy is to hamper this. India should speed up decision making to build modern infrastructure, robust economy and ensure internal stability. However there are grave security challenges that might lead to armed confrontation with China and Pakistan. India must have potent military deterrence and think of alliances if the situation deteriorates. This is the challenge for Indian diplomacy and military for the next few decades. Indian diplomats need to get over the non-alignment hang over and be more realists, pragmatic and pro active.
India therefore should modernise its armed forces considering Chinese military buildup in Tibet, the China's capability of operating in the Indian Ocean along with the Pak Navy and its capabilities in space, including the ability to neutralise satellites. India should also, like China, exploit the full potential for information warfare including cyber warfare.
USA is the only country that, with its military and economic aid to Pakistan, can exert influence so Pakistan does not threaten India in case of a conflict with China. This was done so in 1962 and India was able to move some army formations from the west to the east. Improved bilateral relations can help, but Pakistan's obsession with Kashmir and supporting terrorism inhibits this. Not withstanding this, India has to be prepared for a two front war.
India is the only one amongst leading countries not having a unified military command, i.e. a Chief of Defence Staff. Operational synergy required to wage a war on two fronts cannot be achieved without a single point military command. In addition, the military must be fully consulted for higher policy formulation.
Here comes the crunch line. Indian military brass has to see the writing on the wall that as and when time comes for armed hostilities between China-Pakistan and India, the Indian armed forces will find themselves not appropriately equipped and at a disadvantage militarily, as has been the case since Independence, with one exception in 1971.
Present and future political leaders, bureaucracy and more so the military commanders need to learn how to mould the internal and external geopolitical environment and take India to war in the future to ensure victory, and not be hustled into operations like Op Prakaram. However, China is not likely to give us the time that we got in 1971 and will retain the initiative.
The US, though declining in stature, is still militarily the strongest, and an economic powerhouse. India and USA have mutual interests not to allow China to dominate this part of the world and the strategic understanding moving towards military cooperation between the two countries has strong logic. President Obama, during his just concluded visit, made it abundantly clear it is in the interests of the US, of Asia and the world at large for India to stand up and make its presence felt.
However, having a defence tie up with America needs caution. American bureaucracy and polity still seem to have the fixation of US being the only super-power. They want their bidding to be done by their allies and strategic partners. The US has also in the past deprived its not so intimate allies of spares and critical components if they did not toe their line. India has to, therefore, take in to account such precedence before deciding to deepen military alliance and going in for critical acquisitions like fighter aircraft from USA.
But good news is that the US is looking for strategic partners in the Indian Ocean Region and Asia and democratic India is a natural choice. Both countries are moving towards deepening strategic understanding about east Asia. Obama stated in New Delhi that they would review procedures and give India a similar status as given to close allies. How fast we proceed with strategic partnership with the US is a matter for the top leadership in New Delhi, in which the military brass must be intimately involved. The issue must also be debated politically in Parliament.
Nonetheless, India should also be prepared to meet some US requirements like providing repair and refueling facilities and overflying rights, as there can be no free lunches. India need not worry about China's reaction considering that it already enjoys similar facilities in Pakistan.
Indian polity and military should realise it is very important for Indian military leadership to develop close ties and understanding with their American counterparts. Pakistani top brass is on first name basis with the US military. leaders. Just having exercises at company/ squadron level is not enough. Military leaders of both countries need to discuss military threats and strategy as well.
Any strategic partnership has to be as amongst equals. India is not yet ready to engage in any military ventures of significance across its shores except in the immediate neighborhood, in case our critical national interests are involved. India has to be first capable of defending its own borders and shores effectively against credible emerging military threats.
However, Indian polity must remember that it would be a very sad day if India has to scurry to America again at some point of time in case there is another war with China, having dragged its feet over providing some military facilities before hand when asked by them and dilly-dallying in forging greater strategic and military ties. A steady increase in strategic understanding and military-to-military contacts with USA will be pragmatic.
The writer is a former Signal Officer-in-Chief of the Indian Army
Indo-US military collaboration was re-established in January 1992 during the Narasimha Rao government. A joint Army Executive Steering Committee was set up, which was followed by the Joint Steering Committee of the two navies. Joint naval exercises were conducted in 1992. In 1994, a Joint Steering Committee of the air forces came up.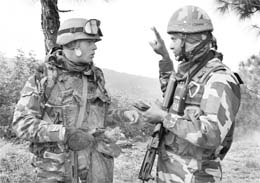 In 1995, Indo-US Military Cooperation Agreement was signed, under which Indian military personnel could visit the US for training courses, staff exchanges and joint exercises.
Since then, joint training exercises involving all three services have become a regular affair. These exercises are conducted both, in India as well as the US and cover a wide spectrum of warfare and counter terrorist operations.
This decade has seen several military platforms of US origin entering service with the Indian armed forces. Notable among them are the Lockheed C-130J Super Hercules transport aircraft undergoing trials in the US. Six aircraft worth about $1 billion have been purchased. Also on the cards are 10 C-17 Globemaster strategic transport aircraft that are estimated to cost close to $6 billion.
The Navy has gone in for up to 12 Boeing P-8 maritime surveillance and anti-submarine aircraft worth over $3 billion, besides six UH-3H Sea King helicopters for $88 million. The Navy also purchased an ex-US Navy amphibious assault ship (USS Trenton, now INS Jalashva).
Other deals with the US includes GE-404 engines to power the indigenous Tejas combat aircraft, artillery fire locating radars, Harpoon anti-ship missiles, and light-weight 155mm towed howitzers, small arms, avionics and personal equipment.
US firms are also keen to sell the Javalin anti-tank missiles and the Aegis anti-missile system. Two US aerospace giants Lockheed and Boeing are contenders for the 124 medium multi-role aircraft for the IAF.
According to reports, deals with the US have created offset obligations amounting to $1 billion for the Indian industry, which accounts for about 42 per cent of all international offset obligations.
There has also been some criticism of military cooperation and defence deals with the US in certain official, political scientific and diplomatic circles.