Procurement of aircraft from the US is welcome, but restrictions that American laws place on military supplies transcend the armed forces as users, having strategic ramifications and impinging on national security. Adequate thought has not been given to the evolving Indo-US military partnership and a lot of hard work needs to be done to understand and bridge sensitive differences
Defence deals: Sting of the US law
Air Marshal B.D. Jayal (Retd)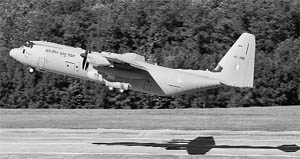 The IAF's recently procured C-130J Super Hercules takes-off on its first test flight in the US
Proposing a National Aeronautical Policy in 1994, then President of the Aeronautical Society of India, Dr APJ Abdul Kalam, had stated, "Aviation is one of the most significant technological influences of modern time and empowers the nation with strength for international partnership. It is a major tool for economic development and has a significant role in national security and international relations".
Not surprisingly, one of the high points of the recent visit of the US President to India, which was as much to promote US exports as fostering next steps in strategic partnership, was a single deal for procuring ten C-17 Globemaster III strategic heavy-lift aircraft worth about 4.1 billion dollars.
Earlier, the IAF had signed for six C-130J Hercules transport aircraft modified and equipped for special operations and three Boeing-737 business jets for VVIP duties. Besides, Indian Navy is procuring eight P-81 long-range maritime reconnaissance aircraft. The first two procurements are through the Foreign Military Sales (FMS) route, involving direct government-to-government dealing. Pentagon's Defense Security Cooperation Agency (DSCA) procures the equipment on behalf of India and charges a commission. The Boeings and P-81s went through the direct sale route, though these are subject to "End Use Monitoring Agreements".
The Defence Procurement Procedure-2008 makes exceptions to the open tender route in cases involving imperatives of strategic partnerships or major diplomatic, political, economic, technological or military benefits. The above procurements fall under this category and to the IAF, which often falls victim to decision-making processes lasting decades, this quick procedure will be welcome. To the bureaucracy still recovering from the Bofors syndrome, government-to-government deal also makes for smoother decision-making, as the specter of agents and scandals does not haunt the process.
For long, the IAF has had on its wish list, weapons and platforms of US origin for reasons of superior technology, high operational performance and very competitive life cycle costs, but geopolitical considerations have come in the way. In lieu, the IAF has made good with procurements from other countries and frequently modified them to maximise operational capability. This has had two beneficial fallouts. First, successfully integrating weapons and systems from varied sources, thus producing a unique operational system, and secondly, gaining valuable knowledge and expertise in integration, testing and certification of complex airborne systems. It would be fair to say this techno-operational approach to achieving flexibility with weapon systems is now part of IAF psyche and it would be loathe to surrender it. Future procurements should preferably be in tune with this philosophy.
The sting in the FMS tail, to which little attention has been paid, is the End Use Monitoring Agreement (EUMA) mandated by US law that is far more intrusive than mere monitoring end use. Pentagon's Security Assistance Management Manual also stipulates specific conditions under which FMS equipment can be used limiting it mainly to a self-defence role. It also inhibits any non-original equipment manufacturer integration. CAG in its scrutiny of the purchase of the landing dock ship, USS Trenton, now INS Jalashwa, had also commented on both these constraints. It also observed that binding the navy to support only from the original equipment manufacturers created permanent dependence. It has recently been reported that the army has expressed unhappiness with the support to their Weapon Locating Radars procured in 2002 through FMS, resulting in poor serviceability.
In the world of complex geopolitics where one man's terrorist is another's freedom fighter, self-defence for one can easily be viewed as offence to another. Some restrictions that US laws place on military supplies through the FMS route hence have strategic ramifications that transcend the armed forces as users and impinge on national strategic autonomy itself. If the armed forces are unhappy with FMS conditions, they are justified.
It is likely the US industry, which used considerable political capital to support the Indo-US nuclear deal, pressured US State Department to resolve the EUMA issue with India in order to gain access to the lucrative Indian aeronautics market. This was an important agenda on Secretary of State Clinton's visit last year and she appears to have convinced the Indian government, albeit with some cosmetic giveaways.
Whilst the aforementioned aircraft purchases relate primarily to support functions, India has issued an open tender for Medium Multi-Role Combat Aircraft, which once implemented, will be the single largest defence deal in the Indian history. Amongst the six contenders are two US manufacturers. All contenders have been evaluated by the IAF and the report is with the MoD. Respective governments will actively lobby for a programme of such vital strategic-cum-commercial implications. To the operational, technical and economic aspects of the decision-making will now be added diplomatic and strategic elements. One hopes that our tenders have clearly spelt out conditions that are acceptable. If, in spite of this the US contenders remain in the running, it can only be good news for the IAF and the aeronautics sector, as it implies the US military aeronautics market will remain open through the normal commercial route minus strategically crippling conditions. All this, however, is in the realm of speculation and hope.
India has been criticised for not having a strategic culture. Whether or not one accepts this thesis, it is clear that adequate thought has not been given to the larger canvas of our evolving strategic partnership with the US in the realm of defence procurements considering various US laws mandating such sales. First there was debate on the EUMA and now India is hesitant in signing the Communications Interoperability and Security Memorandum of Agreement (CISMOA) and the Basic Exchange and Cooperation Agreement for Geo-spatial Cooperation (BECA). Under US laws, both pacts need bilateral confirmation to ensure sensitive technology control transfers. Failing agreement, India will be denied advanced avionics and communication equipment on all the above projected aircraft sales. The same would possibly also apply to the MMRCA. These are critical limitations and should have been resolved prior to entering into sale agreements. Today, it is not just the flying platforms, but avionics and systems that confer on aircraft potent operational capability. Minus such sensitive technology and systems, some of these platforms will be severely limited in their capability. Limited by FMS agreements the IAF and IN will not even be able to upgrade them with systems from other sources.
US laws on sale of defence equipment are not India specific, but apply to all their customers. But the US, by virtue of its being a technology and economic powerhouse, has only sold weapons to alliance partners and client states. India, on the other hand, is just emerging from its non-aligned mindset and such conditions will rest uneasily with its people and the armed forces. If the two countries are to exploit the power of technology towards mutual economic benefit and to enhance the evolving strategic partnership, hard work needs to be done to understand and bridge these sensitive differences.
The writer is a former AOC-in-C of South-Western Air Command