Nagpur Test from today

Will be a series decider

Teams tied at 0-0

Match begins at 9.30 am
Sunil Narula
Tribune News Service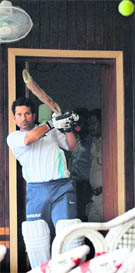 Practice makes a man perfect!


Sachin Tendulkar hits a tennis ball inside the pavilion after his team practice session was interrupted due to rain showers at the Jamtha Stadium in Nagpur on Friday. — AFP

Nagpur, November 19
Weren't eighth-ranked New Zealand supposed to be two down by this time? Well, quite frankly, India should have been leading the series at this point in time and the third Test should have been a mere formality, more a game for the statistically minded.
Instead, New Zealand have surprised India big time. They have surprised most cricket followers and experts. And, perhaps they may have also surprised themselves in the process.
Now, as we head into the decider, the series is still very much open with everything to play for. New Zealand may even be harboring thoughts of a series win, something even the most optimistic Kiwi supporter would have desisted from doing at the start of this series.
"We do not want to get too far ahead of ourselves. We have done a lot of hard work till this point in the series. And we will continue with that hard work. We know what a good side India is,'' said Daniel Vettori on the eve of the third and final Test of the series here.
Dan, as the Kiwi skipper is popularly known, is spot on. Hard work has really been the operative word for his side. They were the underdogs but with grit and hard work they have hung in there.
Indian skipper MS Dhoni though, is not too concerned about his team's inability to win the first two Tests. Or, even if he is bothered about this fact, he did not show it. He looked quite cool as he talked to reporters here. "We are not thinking too much about the rankings. There is no extra pressure on us to win here just because we are the number one Test team in the world. We just give our hundred percent every time. The rankings will take care of themselves," stated the skipper.
"Our bowlers have bowled well but we haven't taken all the catches. Hopefully, there will be more help for them from the pitch here," added the Indian captain.
"We will miss Zaheer. And the four bowlers (Sreesanth, Ishant, Harbhajan & Ojha) will have to take the extra responsibility," said Dhoni.
It is a bit curious, but Sachin Tendulkar has still not got to his 50th Test hundred, a landmark that has been beckoning him right from the start of this series in Ahmedabad.
Vettori was asked this question and he was quite candid with his answer. "Well, according to the law of averages, he should be coming good here. He hasn't made a big one in the two Tests so far. May be a big one is around the corner. But frankly that is not our focus. We will continue to play the way we have in the earlier games," said Vettori.
The Kiwis are contemplating just one change to their side with left-arm pacer Andy Mckay likely to be included in place of Brent Arnel.
The weather has been a bit of a concern with another sharp shower hitting the area today. But, the skies had cleared by the evening, the drainage system at this ground is pretty good and the forecast for the coming days encouraging.
So, the stadium should be ready for play tomorrow morning. So far in this series, the Indian captain himself has been woefully short of runs. "I have just not been choosing the right ball to hit," Dhoni said today. A captain's knock here can secure a series win. Dhoni knows this only too well. Perhaps, he is feeling the pressure too. But, he did not show it.