Train cops to tackle mob violence
How to check mob violence with minimum force and without causing injuries or deaths has always been a big challenge for the police. The law enforcement authorities face an acid test when the situation goes out of control. Suitable training on the standard operating procedures and psychological techniques of empathy and commitment will go a long way in addressing the problem.
Rajbir Deswal
MOB violence has been occurring too frequently in the country. It can result after a pre-meditated programme after a call is given for some agitation. There are mobs that form into one, taking up some specifically perceived denial of rights or justice or committed atrocity. A local issue erupting suddenly may also trigger mob violence.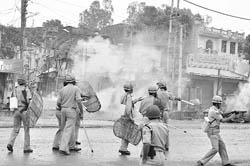 Cops lobbing teargas shells on protesters at Samba in Jammu and Kashmir. Tribune photo: Anand Sharma
A mob is largely made up of sympathisers being around and available, not even directly connected with the issue. But they join hands in resorting to means that are violent, to question the perceived impropriety, exploitation, insinuation, accusation, insult, aberration, oppression, persecution, atrocity and so on.
Vigilante is yet another form of resorting to violent acts when the agitators perceive it as the only alternative left with them, since the authorities 'choose to turn a blind eye' to their grievances. Such actions give no time to law enforcement agencies to contain them since the violent plans are executed with an element of surprise.
Unforeseen situations that develop, i.e. after assassination of popular leaders, stir up violence with large-scale mobbing of protesters in a wide demographic chunk. Then, even the paramilitary forces or the police may be equally empathising themselves with the agitators; hence the loose rope.
These uncontrollable scenarios result in total chaos and anarchy. Recent instances in Mayyar and Mirchpur in Haryana confirm the disgust the agitators and arsonists had towards the authorities' 'failure' to come to their rescue and assuage their feelings. Caste-related mob violence is still worse. In such scenarios, peace committees and moderate elements on either side should invariably be addressed.
The Indian Penal Code Sections 147, 148, 149 (Rioting); 332, 353 (Assaulting public servant performing duties); 124 A (Sedition); 120 B (Criminal Conspiracy); 107 (Abetment); 144 (Joining unlawful assembly with deadly weapons); 153 A (Promoting enmity); 426 (Mischief); 436 (Mischief by a fire); 295-298 (Relating to Religion) etc., clearly spell out the judicial process of prosecuting persons who indulge in crimes as these are in a way related to mob violence.
Though the Prevention of Damage to Public Property Act 1984 takes care of mischief causing damage to public property (Section 3), by fire or explosive substance (Section 4) and special provisions like bail (Section 5) etc., are available, there is a grey area: how to attribute the damage caused by an individual, qua his individual conduct as the criminal liability to be shared is equal for all.
Mob violence warrants newer trends in tackling keeping in view the human rights and internationally accepted norms. There are areas where the Armed Forces (Special Powers) Act is in vogue. The Army, for crowd dispersal and containing mob violence, resorts to stringent ways and means. The Army 'shoots to kill' but in situations at peace stations, 'shoot to kill' orders are generally not given.
The law enforcement agencies should contain violence using minimum possible force. This is ticklish though since "how much of the force to be used" may not be instantaneously gauged to assess the quantum of violence indulged in by an unruly mob.
The standard drill of containment is to assess and declare a mob as "unlawful assembly" (Sec 141 IPC) which indulges in picketing, arson, rioting, murderous assault, road blocking, stopping trains, stopping supply of essential goods and services, and assaulting public servants etc. A magistrate has to be present on the spot to warn and issue orders and method of dealing.
If sterner measures are required to contain violence, it is mandatory to announce the use of water cannons, teargas, lathi etc. To resort to firing again, a warning has to be issued by either sign language, gestures or word of mouth. If that too fails, firing in air is done, followed by, if necessary, use of rubber bullets. With the killer-bullet-firing, caution needs to be exercised in injuring the agitators in a way that only the lower extremities below the groins are targeted.
Standardised drills in a surcharged atmosphere take a back seat and invite magisterial or judicial inquiries which generally bring down the morale of the police and paramilitary forces since the latter perceive their act in the "larger public interest" protected as part of their duty (Sec 132 Cr PC).
A magistrate's 'written order' asking the police to use force is generally the big issue. Police insists on the written order while the magistrate hesitates. Sometimes, the police reportedly make the magistrate sign it even forcibly. Magistrates also sometimes flee from the scene.
A violent mob containment scenario may be grim. Yet, hope is not lost. While mobs do not listen to reasoning, they do react in a favourable manner, if the handler indulges in some kind of gimmickry, histrionics, drama, popular appeal, and by partly conceding to the agitators' viewpoint as a tactical ploy to buy time. Commitments should register themselves instantaneously. As rhetoric may or may not work, use it with caution.
Showing the fear of law to the mob will always be counter-productive. An "eye for an eye and a tooth for a tooth" approach in a democratic set up is not the answer. Human rights will be thrown to the wind and more sober means of reconciliation, meditation, moderation, rehabilitation and reconstruction available with the state are discarded.
Policemen need to be trained in lawful dispersal of unlawful assemblies involving psychological techniques of empathy and commitment besides having an unbiased and unequivocal stance on group rivalries.
The writer is Inspector-General of Police, Criminal Investigation Department (CID), Haryana
FACT FILE
w A mob represents a large group of people that is difficult to control. It has no mind; doesn't listen to reasoning and has self-acquired immunity from violent acts.
w It takes advantage of unforeseen situations to trigger violence. It resorts to gimmickry, histrionics, drama, popular appeal, etc.
w It questions perceived impropriety, exploitation, insinuation, accusation, insult, aberration, oppression, persecution and atrocities, etc.
w Rioting, assaulting, abetment, unlawful assembly promoting enmity, mischief are all covered under the Indian Penal Code.
w The Army 'shoots to kill' but the police, if required, 'shoot to injure'. The police should use "as much force as is required."
w For any method of violence containment, standard drills should be followed. For mob dispersal or containment, the Magistrate should issue written orders.
w Inquiries into alleged police high-handedness bring down the morale of the police.