HOW THE BATTLE FOR BIHAR WAS WON
Uttam Sengupta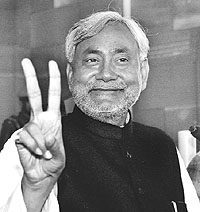 Nitish Kumar gambled heavily in the election and campaigned on a 'development' plank. Not once did he appeal for votes on the ground of caste or community. The result appears to have vindicated his faith in his electorate. Bihar, as he says, has left 'caste' behind.

When JD(U)-BJP combine in Bihar lost 13 of the 17 byelections held in 2006, few would have bet on a landslide victory in 2010. But the 2009 general elections had established the trend with the NDA winning in as many as 175 Assembly segments. While the counting on Wednesday re-confirmed the trend, the result is a resounding thumbs up for 'Development' delivering dividends.

A year after Nitish Kumar took over as Chief Minister in 2005, a Non-Resident Bihari went back on a short visit and came back gushing.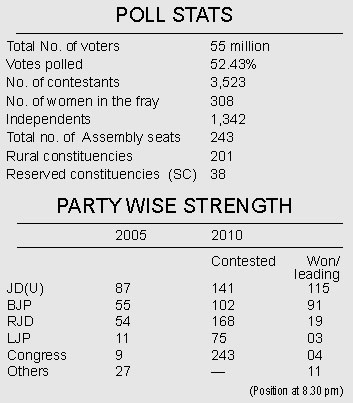 "Earlier I never saw my cousin, a school teacher, leave home before lunch. This time he was kick-starting his scooter at eight in the morning. What's wrong with you, I asked in jest and my cousin made a face and said that he could no longer bunk classes because the village sarpanch now had the task of recording his attendance."
He had never known about the existence of a municipality in Sitamarhi, he had confessed. But he was pleasantly surprised to find on his visit that the local body appeared to be alive. Bihar, he said with satisfaction, was changing.
The new Chief Minister's promise of "Su-shashan" or good governance did sound like an idle boast at that time. Political rivals had a field day mocking at him. But it is Nitish Kumar who has had the last laugh. He wanted people of Bihar to give him five more years as 'loan' , he declared at one election meeting after another. " If you are satisfied with my sincerity of effort and believe in my vision, then only give me five more years to carry forward the work," was his stark message. And people responded with a resounding mandate.


Challenges AHEAD
A crackdown on corruption is long overdue.
Bihar, hopelessly short of power, must purchase/generate electricity
The focus will have to turn to irrigation and water management
Nitish Kumar is now in a position to take tough decisions on land reforms
Raised expectations of rural youth and women and their aspirations will have to be fulfilled.
Even during the campaign, the JD (U) leader had declared that he had reposed his trust in the women and youth of Bihar. " They want a break from the past; they want to break away from the shackles of caste. Bihar must develop and they must vote for people who can govern without fear or favour," he had asserted confidently.
During the long-drawn election spread over a month and six phases, it was clear that women were coming out in large numbers to exercise their franchise. And an Election Commission report confirmed the trend. While 44 per cent of the women voters had cast their votes in the 2005 elections, this time the turn-out of women was over 54 per cent, it stressed. The turn-out among men had also improved from 47 per cent to just below 51 per cent. No prizes for guessing which way they voted.
They voted for Nitish because he had made Bihar safer for them. Criminals and gang-lords had been put behind bars, even those belonging to his own party were not spared. Fast-track courts quickly convicted the trouble-makers and sent them to jail. The odd crime continued to take place but people were no longer afraid to venture out after dusk. Couples could go out at night and travellers no longer waited for dawn to break before coming out of railway stations.
Women had more reasons to root for Nitish. He had empowered them by reserving 50 per cent of the seats at the panchayat level for them--at a time when Lalu Yadav was seen vehemently opposing 33 per cent reservation for women. The state government had also distributed half a million bicycles to girls who attended schools.
Road connectivity improved rapidly and cut down on travel-time, reviving parallels with Lalu Yadav who had promised roads as smooth as the cheeks of the dream-girl Hema Malini but left them like the cheecks of Om Puri, people joked, full of craters and pot-holes.
During the last five years of the RJD rule in Bihar between 2000 and 2005, the state's economy grew at 4 per cent on an average per annum. In the next five years under Nitish, the growth was sustained at around 11 per cent, largely due to a real estate boom. Prices of apartments in the state capital and other towns went through the roof. As infrastructure developed, Bihari labourers, who earlier flocked to Punjab and Mumbai in search of work, started staying back, creating a labour shortage in the short run.
Above all, to Nitish Kumar goes the credit of dispelling the myth of caste pulls. The administration, he insisted, would not be swayed by caste and will be even-handed. This was a radical departure from the past and one cannot honestly say that caste no longer matters in the secretariats ( there are three of them) at Patna. But their power has certainly been weakened.
The engineering graduate from Bihar Institute of Technology, Sindri ( now in Jharkhand), took enormous political risks in jettisoning friends like Lallan Singh, for example. There was a time when the two were inseparable but Nitish would not put up with his friend taking advantage of the friendship. He alienated many in his own party when he decided to take in people like Shyam Rajak and Ramai Ram, discarded by Lalu Yadav, and gave them party tickets to contest the Assembly election.
Above all, he appears to have won over the minority voters by firmly demanding and getting for the Bhagalpur riot victims the same kind of relief and rehabilitation package as the Centre had offered the victims of the anti-Sikh riots of 1984. He went out of his way to woo 'Backward' Muslims and ensured that the minority community did not suffer from any insecurity. His public stand-off with the BJP on the issue of a poster showing the Chief Minister and Narendra Modi holding hands at an NDA rally in Ludhiana in the 2009 General Election, helped stamp his secular credentials. He in fact went to the extent of cancelling a dinner he was to host for all senior BJP leaders who had assembled at Patna for a meeting of the national executive. Finally, the 'Sher ka bachcha', as a Muslim voter described him, stopped Narendra Modi from campaigning in Bihar. " One Modi is enough for us," he joked in private, referring to the Deputy CM, an old friend and BJP leader from the state, Sushil Kumar Modi.