God's Canvas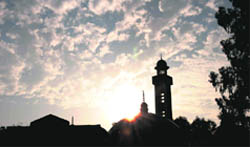 The Sector 20 Jama Masjid silhouetted against the setting sun as Mother Nature conjures up a celestial pattern in the Chandigarh skies on Wednesday. Tribune photo: Manoj Mahajan
Captain's Death
No need for CBI probe: MoD
New Delhi, November 24
The Ministry of Defence has concluded that it was not necessary to get a CBI probe conducted into the death of Capt Sumeet Kohli of Chandigarh. The Defence Minister AK Antony, replying in a written answer to a question raised in Parliament by the BJP MP from Punjab, Avinash Rai Khanna, has said the issues raised by Capt Kohli's family have already been investigated and the inquiry report, alongwith the documents pertaining to the investigation, have been handed over to the family of the deceased for them to clear their doubts.
'Sanam's dad would've rejoiced at his feat'
Tennis ace's mother says she misses her husband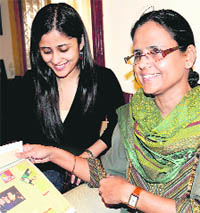 Chandigarh, November 24
"I'm missing my husband very much. He'd have been very happy with our son's accomplishment had he been alive today," said Rupa Singh, the proud mother of Sanam Krishan Singh, with tears rolling down her eyes.




Sanam Krishan Singh's mother Rupa and cousin Pooja show an article on Sanam which was published in The Tribune in 2000. "Sanam was 12 years old then and the report, along with his photograph, had appeared alongside an article on Priyanka Gandhi and her husband Robert Vadra," Rupa said while showing the article to Tribune lensman Manoj Mahajan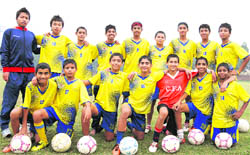 Chak De moment for city lads
Subroto Cup comes to North after 40 yrs
Chandigarh, November 24
It's "chak de" for the Chandigarh junior soccer team which made the region proud by winning the first-ever Subroto Cup (under-14) at Ambedkar Stadium, New Delhi, today.


The Chandigarh under-14 team, before leaving for Delhi to take part in the Subroto Cup, on Thursday. Tribune photo: Pradeep Tewari
PU mulls semester system for colleges
Chandigarh, November 24
Panjab University is said to be actively considering introduction of the semester system in all its affiliated colleges. The move comes as a sequel to the varsity's endeavour to adopt the system in postgraduate courses.
Advances in tissue valve availability taken up
Chandigarh, November 24
Thirty per cent of Indian patients suffer from severe valvular heart disease and if infection or degenerative disease has destroyed the valve leaflets, it has to be replaced.
LPG shortage hits Mohali, Panchkula
Supply in Punjab to stabilise within week: Indian Oil
Mohali, November 24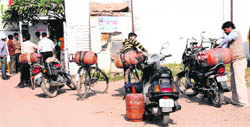 Even before the onset of winter, residents of Mohali have begun facing severe shortage of LPG, having to wait for seven to 15 days for a refill.


Residents queue up outside a gas agency in Chandigarh for LPG refill following shortage in neighbouring Mohali and Panchkula. Tribune photo: Manoj Mahajan
Charge sheet against ex-NCB chief
Chandigarh, November 24
The Central Bureau of Investigation (CBI) today filed a chargesheet against SK Sekhri, former director of the Narcotics Control Bureau (NCB), Chandigarh, in a corruption case here.
Elections in Bihar over, labourers back to work
Construction contractors heave sigh of relief
Chandigarh, November 24
Nitish Kumar's victory in Bihar has brought cheer to local construction contractors. Reason: For the last two months, skilled labour from the city has been missing due to elections in Bihar. However, they are set to return now.
Contractual PGI staff in lurch
Employer agency ends contract
Chandigarh, November 24
Contractual employees at the PGI have been left in the lurch as their employer agency has decided to end the contract.
Centre approves RIPS for GMCH
Chandigarh, November 24
Union Ministry of Health and Family Welfare has approved to establish the Regional Institute of Paramedical Sciences (RIPS) on the premises of Government Medical College and Hospital, Sector 32.
Fraudulent ATM Withdrawals
Police constitutes SIT
Panchkula, November 24
Keeping in view the number of fraudulent withdrawals of money from various bank accounts of residents by using cloned ATM cards, the district police today constituted a special investigation team (SIT).
CHB to roll out Sec 51-A housing scheme
Chandigarh, November 24
The Chandigarh Housing Board (CHB) is all set to roll out the Sector 51-A housing scheme, consisting of 160 flats. The board of directors approved the brochure of the scheme during a meeting yesterday.
JNNURM team in Chandigarh
CHB seeks financial package
Chandigarh, November 24
The Chandigarh Housing Board (CHB) recently explained its position to the visiting officials of the Union Government and sought a financial package. The officials, including Kiran Dhingra, secretary to the Government of India, department of housing and urban development, visited the CHB's office. The officials were taking part in a conference hosted by the CHB on reviewing housing projects under the JNNURM scheme.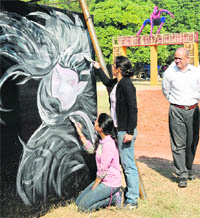 Chandigarh Carnival begins tomorrow
Chandigarh, November 24
The Leisure Valley will be brimming with fun and frolic from November 26 with the start of the Chandigarh Carnival. This year, the Chandigarh Carnival will have non-stop entertainment with games, rides, exhibitions, competitions, food, drinks and happiness all around. Staring with a colourful parade, the city will be soaked in the festive spirit. Decked up with floats and colourful tableaux on the theme of science fiction, the parade will go around the city.

Artistes give final touches to a painting ahead of the Chandigarh Carnival on Wednesday. Tribune photo: Manoj Mahajan



Confusion over holiday in schools
Chandigarh, November 24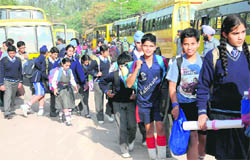 Confusion prevailed among parents whose children study in city schools, as there no clarity on whether schools were closed or not on the occasion of Guru Tegh Bahadur's martyrdom day here today.



While most schools remained closed on the occasion of the martyrdom day of Guru Tegh Bahadur, students of St Kabir School, Sector 26, come out of buses to attend their classes on Wednesday. Tribune photo: Manoj Mahajan
Career options in Canada discussed
Chandigarh, November 24
The commerce club at GGDSD College organised an international seminar on "Existing career opportunities in Canada" here today.
PUSU harps on achievements
Chandigarh, November 24
The Panjab University Students' Union during a press conference circulated a list of its achievements in the interest of students during the ongoing academic session here today.
Pravinka wins bank trophy
Chandigarh, November 24 Pravinka Bedi from Carmel Convent School who spoke about "Cleanliness and Civic sense- Do we have it or lack it' became the proud winner of the Syndicate Bank trophy in the seniors' category here today.