A decade of focused work by the Centre for Health Education, Training and Nutritional Awareness (CHETNA), primarily in Gujarat but also in parts of Rajasthan, has shown that community empowerment and involvement is vital for improving maternal health and reducing maternal mortality. The National Rural Health Mission seeks to reduce infant mortality to 30/1000 live births and maternal mortality to 100 /100,000 by 2012. It needs good NGO partnerships and action at the community level to reduce both.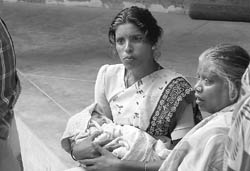 Anaemia continues to be a killer
CHETNA provides a continuum of care to children, youth and women. Working closely with its network of NGOs and communities, it tries to ensure that people take responsibility for their own health. Simultaneously it works with local, district, state and national governments and tries to influence policies. Each and every intervention, whether it is public hearings, improving sub centres, reducing anaemia to counter maternal mortality or providing health care to remote tribal pockets, the ultimate objective is to improve women's health and reduce maternal mortality.
Studies have also shown that women do not have access to complete, continued care from the public health system; 65 percent of births occur at home and women prefer delivering babies in the comfort and security of their homes. There is at least one dai in every village of India to assist during births and their services need to be upgraded and used to improve village level health care.
Between 2006 and 2009, in partnership with the state health department in 60 villages of the two tribal blocks of Vansada and Chikhali, Navsari district, CHETNA has shown that it is possible to enhance access to maternal health services. It has also shown that maternal deaths can be drastically decreased by reducing three delays — delay in identification of complication and taking timely action, delay in reaching the appropriate facility and, delay in initiation of treatment at the health facility.
Communities were mobilised to access maternal health services by strengthening the role of panchayat and Self Help Group (SHG) members in monitoring maternal health care services. The traditional birth attendants (TBAs) or dais became the link between the village, the service providers and the health facility. Even the Auxiliary Nurse Midwife (ANM) was activated to ensure community participation and outreach of services.
Working as a team
Maheshbhao, sarpanch, Mohuvas village, says that the villagers learnt to work as a team after the training given to them. In March 2009, this teamwork facilitated the transfer of 200 pregnant women to health facilities for institutional deliveries. Fatimaben, trained dai, Lakhavadi village, says, "I explain to the husband and pregnant women about risks involved in home deliveries, and if there are complications, as a dai I will be responsible. They understand and agree to go to the hospital."
Dai Julkiben recalls that when she received a call from a pregnant woman, she swung into action. First, before reaching the woman's home, Julkiben called 108, the emergency ambulance number. Then, at the pregnant woman's house, she cut a clean cloth into pieces to be used at the hospital and kept a lota (container) to fetch / store water.
But when the woman's labour pains increased and it became impossible for her to climb down the hillock to reach the ambulance, Julkiben got young men from the neighbourhood to make a sling from a bedsheet and carry the pregnant women to the ambulance. Barely had they reached the labour room and the pregnant woman delivered.
Thanks to the strategies adopted, in 2009 50 percent of the pregnant women visited PHCs for abdominal checkups and laboratory testing. Institutional deliveries also increased by 21 percent. In Vansada block the number of beneficiaries of the government supported Janani Suraksha Yojana for institutional deliveries shot up from just 493 between April 2006 and March 2007 to 2113 between April 2008 and October 2009.
In India nutritional anaemia is one of the major indirect causes of maternal mortality, accounting for 20 to 40 percent of the maternal deaths. An estimated 87 percent of pregnant women are anemic. So an important initiative of CHETNA has focussed on improving diets and finding 'herbal solutions' for anaemia. Seven cereals, four leafy vegetables, five herbs which improved the haeomoglobin levels were identified and farmers were encouraged to cultivate them. Women were encouraged to include them jn their daily diet. After six months of nutritious food and herbal treatment there was an improvement of up to two gram percentage in the haemoglobin level of 80 percent of the 50 women whose haemoglobin levels were measured before and after the intervention.
Dais as crucial links
In the continuum of care that it seeks to provide, the traditional birth attendants or dais had a role in childbirth and care of pregnant women and newborns. However, with ASHAs (accredited social health actvists) being given importance in the NRHM, the dais were being marginalised. CHETNA worked with 20 CBOs and 8000 TBAs and ensured a government resolution recognising the role of the TBAs in reproductive and child health programmes. A standardised curriculum for enhancing their capacity was approved by the Health and Family Welfare department of the Gujarat government. The dais are now given a token fee for accompanying women to a health facility for delivery. A dialogue has begun with policy makers on the role of TBAs in the NRHM.
CHETNA believes that in underserved, remote rural and tribal areas where maternal mortality rates are the highest, the dais can be tapped as a link between homes and institutions to provide care in areas where home births are still high.
In the Khedbramha tribal block of Sabarkanta District of Gujarat too there was high maternal as well as infant mortality largely because many of the villages are on hills and have no roads. Some villages are unapproachable during the rains and villagers have to travel 10 km to reach a PHC and 30 to 50 km for institutional delivery. By telling villagers about their health entitlements and how to access them, involving panchayat leaders, doctors, the state health department, link workers and ensuring the services of ambulances, both infant and maternal deaths dropped dramatically in the 35 villages of the block in three years from 2006.
CHETNA also studied the status of the 226 sub centres in the 10 districts of Gujarat and held junsunwais in both Gujarat and Rajasthan to ensure accountability in public health. Interviews with women registered in the sub centres and community dialogue with the 265 villages covered by the sub centres revealed the services were inadequate for conducting safe deliveries. However, the community was keen to avail public health services.
At the junsunwais or public hearings, over 56 testimonies of the problems pregnant women faced in accessing the public health facilities were presented. There were husbands who testified how they had lost their pregnant wives running from one health institution to another to get the required attention. The public hearings are not one-off events. With participation of health officials and panchayat leaders in the public hearing, there is closer scrutiny, monitoring and accountability of the public health system.
Its womb to tomb approach has also led to successful interventions in areas like child sex selection in Mehsana and other districts of the state where the female child sex ratio is low and infant mortality high. It facilitated the advocacy for a State Adolescent and Youth Policy in Rajasthan. Says Indu Capoor, director of CHETNA, given the early age of pregnancy and child birth, there was a need to restructure reproductive health services to reach out to all adolescents and youth, rather than providing services only to married couples in a particular age bracket.
Anaemia can be treated
Through CHETNA's intervention on anaemia, more than a thousand women understood that the 'weakness' they experienced could be treated. With small mirrors given to them, they were able to examine the pallor of their eyes and skin and confirm anaemia. They ate green leafy vegetables thrice week, proteins (dal) a few times a week, and included amla (vitamin C) in their diet. After adopting the diet prescribed and changing their lifestyle they said they were 'less tired' and could do more work.
A woman from Sabarkantha district who felt rejuvenated after treatment for anaemia said "normally bhaji (leafy vegetable) is given to the cows and goats, but now we ourselves eat the bhaji because we know it is good for our body.
Another woman from Satlasana block of Mehsana district who learnt to combat anaemia said "I used to eat nothing in the morning and would go to work. Finally when I got back in the afternoon I would eat whatever was leftover from lunch. I would be very tired. Now I have at least a roti with chai before I go out in the morning and eat lunch in the afternoon before I go into the fields again. Now I have the strength to work."
After six months of nutritious food and herbal treatment there was an improvement of upto two gram percentage in the haemoglobin level of 80 percent of the 50 women whose haemoglobin levels were measured before and after the intervention.
India contributes about 50 percent to the global anaemia-related maternal deaths. Nutritional deprivation not only hampers the full growth of adolescents but leads to anaemia. Both conditions result in complicated pregnancies and deliveries, low birth weight babies and maternal and infant deaths. Yet, as the CHETNA intervention has shown, deaths due to anaemia are preventable with adequate and timely treatment. Increasing haemoglobin level by 1gm percent reduces the risk of maternal mortality by 2O percent, says Smita Bajpai, an ayurvedic doctor and project coordinator of the Regional Resource Centre of CHETNA.
In India nutritional anaemia is one of the major indirect causes of maternal mortality, accounting for 20 to 40 percent of the maternal deaths. An estimated 87 percent of pregnant women are anaemic