M A I N N E W S
Special to the tribune

Fresh Wikileaks' cables revelations
Pakistan making small nukes to target India
Ashish Kumar Sen in Washington DC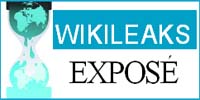 While India's Ministry of External Affairs reserved its comments on Wednesday, the second instalment of the US State Department cables, accessed and leaked by whistleblower website WikiLeaks, reveal a worrying web of rogue elements inimical to India active in Pakistan.
The cables convey US officials' fears that rogue elements within the Pakistani government, and not Islamic militants, pose the greatest threat to Pakistan's nuclear arsenal.
US diplomats in Islamabad were told Pakistan was working on producing smaller, tactical nuclear weapons that could be used on the battlefield against Indian troops.
"The result of this trend is the need for greater stocks of fissile material.Strategic considerations point Pakistan in the direction of a larger nuclear force that requires a greater amount of fissile material, Pakistani officials argue," according to a cable cited by Britain's Guardian newspaper, which had access to the leaked cables.
In its secret and less than flattering analysis of India's military contingency plans, codenamed Cold Start, the U.S. found that the Indian army was incapable of launching a rapid offensive against Pakistan as envisaged by the plan.
"It is the collective judgment of the mission that India would likely encounter very mixed results. Indian forces could have significant problems consolidating initial gains due to logistical difficulties and slow reinforcement," according to one of the messages from the US Embassy in New Delhi.
The US ambassador to India, Tim Roemer, however, warned in February that for India to launch Cold Start, would be to "roll the nuclear dice," according to the Guardian, Indian leaders no doubt realise that, although Cold Start is designed to punish Pakistan in a limited manner without triggering a nuclear response, they cannot be sure whether Pakistani leaders will in fact refrain from such a "response."
In a February. 4, 2009, cable, the US ambassador to Pakistan, Anne Patterson, wrote that "our major concern is not having an Islamic militant steal an entire weapon but rather the chance someone working in GOP (government of Pakistan)facilities could gradually smuggle enough material out to eventually make a weapon."
The Russians shared concerns that Pakistan was "highly unstable," according to a report in the Guardian. Yuri Korolev, from the Russian foreign ministry, told US officials: "Islamists are not only seeking power in Pakistan but are also trying to get their hands on nuclear materials."
The New York Times reported that less than a month after U.S. President Barack Obama assured reporters in 2009 that Pakistan's nuclear materials 'will remain out of militant hands,' Patterson was writing that she was not quite sure and was actually deeply worried.
Patterson said in a May 27, 2009, cable that Pakistan was dragging its feet on an agreement to have the U.S. remove a stockpile of highly enriched uranium. She wrote to senior U.S. officials that the Pakistani government had concluded that, "The sensational international and local media coverage of Pakistan's nuclear weapons made it impossible to proceed at this time."
A senior Pakistani official warned that if word leaked out, the local press would "certainly portray it as the United States taking Pakistan's nuclear weapons," Patterson wrote.
The cables also reveal the George W. Bush administration's opposition to Pakistani plans to release Abdul Qadeer Khan, the father of Pakistan's nuclear weapons programme who also ran the world's largest nuclear blackmarket.
Richard Boucher, then assistant secretary of state for South Asia, wrote on April 10, 2008, that the U.S. Embassy in Islamabad should "express Washington's strong opposition to the release of Dr. Khan and urge the Government of Pakistan to continue holding him under house arrest."
"The damage done to international security by Dr. Khan and his associates is not a closed book," Boucher wrote. But Khan was released 10 months later.

if i'm assassinated..
Pakistan President Asif Ali Zardari had informed US ambassador Anne Patterson that he feared a fresh army coup. Zardari said he was concerned that Army chief Kayani might "take me out."
cables about INDIA and pakistan
"There are 120,000 to 130,000 people directly involved in Pakistan's nuclear and missile programmes... and there is no way to guarantee that all are 100 per cent loyal and reliable" (Cable conveying the Russian view on safety of nuclear arms in Pakistan)
"Indeed a Pakistani military leader said his army was no match for the Indian army...and hence Pakistan needed more nuclear weapons" (Quotes Chinese vice foreign minister He Yafei)
"There is no chance that Pakistan will view enhanced assistance as sufficient compensation for abandoning support to these (terrorist groups) including the Afghan Taliban and LeT. (The then US envoy in Islamabad Anne Patterson reporting to Washington)
president Zardari feared gen Kayani
PAKISTAN
Producing nuclear weapons faster than any other country.
Developing smaller, tactical nuclear weapons for use against India's conventional army.
Allows US special forces to operate inside Pakistan, denies it in public
Diverts US aid to fight militants
PM Gilani opposes the use of drones in the National Assembly but gives his tacit approval
Suspected of extra-judicial killings but US keeps quiet
UNITED STATES
Worried that terrorists can get Pak nuke weapons
Confirms Pak army, ISI have close links with Taliban, LeT
Suspects elements within the establishment could smuggle out nuclear fissile material
Sceptical of India's doctrine of 'Cold Start' (a swift and limited strike within Pakistan)
Believes Zardari is the best possible ally in the situation
Records that Pakistan Army Chief discussed possibility of persuading Zardari to resign