HIV cases declining in state, claims Dhumal
Positive cases in HP are 4,829 while the number in the country is 23.1 lakh
Shimla, December 1
The campaign launched by the government for the prevention of HIV infection in the state has yielded good results with the prevalence rate declining from 0.36 to 0.03 per cent. Stating this after flagging off an awareness rally to mark World AIDS Day here today, Chief Minister Prem Kumar Dhumal said 2,07,360 persons had voluntarily got themselves examined for the HIV and AIDS.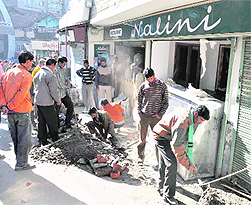 CM talks tough against violators
Fallout: MC removes encroachment near Lift * More cases under scanner
Shimla, November 1
All constructions taking place on the Mall will be probed by the Municipal Corporation for violations in building norms, which are being flouted with impunity under the nose of the authorities.
MC workers remove encroachment by restaurant 'Nalini' on the Mall in Shimla on Wednesday. Photo: Amit Kanwar
Shops gutted in McLeodganj
Dharamsala, December 1
Eight shops were gutted in a fire incident last night at McLeodganj. According to sources, the fire started from the shops around midnight. However, by the time it was noticed, it had already engulfed a few shops. Residents of the area started pouring water and soil as the fire tenders arrived late.
Jobs to HIV positive: Kangra leads by example
Dharamsala, December 1
On the occasion of World AIDS Day, school students took out an awareness rally that was flagged off by Deputy Commissioner RS Gupta at Zonal Hospital here today.
Foundation day at Nauni varsity
Solan, December 1
Dr YS Parmar University of Horticulture and Forestry, Nauni, celebrated its 26th foundation day today. Vice-Chancellor Dr KR Dhiman after garlanding the statue of Dr YS Parmar, the first Chief Minister of the state, addressed the employees of the university and said they should make concerted efforts to fulfil the dream and vision of Dr Parmar.
Ragging convict files appeal in HC
Shimla , December 1
The sentence awarded in the Aman Kachroo ragging case has been challenged before the High Court by accused Navin Kumar Verma. The appeal filed by him today listed for admission before Justice Surinder Singh and after perusing the same, the court admitted the appeal for hearing.
Stop opening pvt varsities: CPM
Shimla, December 1
The CPM demanded that the BJP regime should stop opening more private universities in the state as career of thousands of students was at stake as they were studying in institutes which had not been recognised by the UGC or other competent authorities.
Election schedule out
Kullu, December 1
Deputy Commissioner B M Nanta today released the dates of filing nominations for the coming gram panchayat, Block Development Committee (BDC) and zila parishad elections of this district.
Panipat man cheated of Rs 2.5 lakh; two held
Kullu, December 1
A tourist from Panipat in Haryana has been cheated here as more than Rs 2.50 lakh was withdrawn from his ATM account, allegedly by a car mechanic and his accomplice.
Goyal is ADGP, Law and Order
Shimla, December 1
The government today ordered a minor reshuffle in the police department following the retirement of three IPS officers. Somesh Goyal of the 1984 batch will be the new Additional Director General of Police (ADGP), Law and Order, in place of S.R. Mardi who has been posted as ADGP, Armed Police and Training. Prithvi Raj of the 1987 batch, who was serving as Inspector General (IG) in the Armed Police and Training, has been posted as IG (CID) in place of OC Thakur, who retired yesterday.
DC assures villagers
Sundernagar: A deputation from various villages of Sundernagar subdivision, who will be affected by stopping the ongoing construction work on the road, today met the Mandi DC. He apprised him that Harish Cement Ltd has asked the PWD to stop the construction of road which would affect more than 15,000 residents of 15 villages of Sundernagar.
BSNL staff on 3-day strike
Nurpur, December 1
On a call given by the joint action committee of the BSNL union and associations, the executive and non-executive staff of the local division of the BSNL today went on a three-day strike in support of their demands.
60 donate blood
Shimla, December 1
Chief Minister Prem Kumar Dhumal today inaugurated an emergency blood donation camp organised by a local non-government organisation (NGO) Ashadeep to help meet the shortage of blood at Indira Gandhi Medical College Hospital (IGMC) here today.
Kaul Singh takes on BJP govt
Kullu, December 1
The Himachal Pradesh Congress president Kaul Singh Thakur said today that CFL scam worth Rs 82 crore involving the state BJP government would be exposed soon.