Centre Stage
fallout of radiagate
SHIV KUMAR
The leak of 140 private conversations of corporate lobbyist Niira Radia, the phone-tapping authorised by the government and submitted to the Supreme Court, has created a storm and exposed the nexus between the media, the market and the political establishment. An in-depth look at the lady with friends in the right places and the shockwaves she caused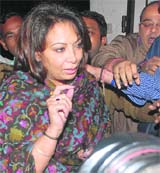 the eye of the storm: Niira Radia

The personal telephone numbers of India's top industrialists, politicians, ministers and editors are on her speed-dial. Her consultancy fees from two industrial houses are said to be in the region of Rs 60 crore. She heads not one or two but apparently four companies engaged in 'managing the environment' for clients who can afford their services. And not surprisingly, a clutch of former bureaucrats have made the smooth transition from the North Block to her companies, as Associates, advisors or employees.
Corporate lore has it that Niira Radia arrived in India some ten years ago after having burnt her bridges in England. Her family migrated to England from Africa when she was very young. Niira grew up in England and dabbled in several business ventures, according to corporate gossip in Mumbai. They did not do too well and she apparently had to file for bankruptcy. She shifted base to India in the early 1990s after her divorce from a Gujarati Kutchi businessman Janak Radia.
At first, Radia signed up with the Sahara group's airline business before attempting to launch her own airline. She even applied for a licence to take over the troubled ModiLuft airline. However her venture named Crown Air did not take off despite then Union Civil Aviation Minister Ananth Kumar of the BJP batting for her.
According to other reports, she was involved in lobbying to smoothen the entry of Singapore Airlines to India, with Tatas as partners. In the year 2000 she tried to get a licence for her own airlines through a company that did not meet the eligibility criteria.
Her fledgling corporate communication business received a windfall when she persuaded Ratan Tata to appoint it as the sole agency to handle corporate communication and advocacy for the entire Tata group. Radia's Vaishnavi Communications played a major role in damage control throughout the past decade when the Tata group was at the receiving end of some very bad press. According to insiders, Radia's formidable communications and networking skills enabled the Tata group to emerge unscathed from its battles with the troubled Tata Finance boss Dilip Pendse and Ajit Kerkar who once headed Taj Hotels.
But she scored a coup of sorts when she added Mukesh Ambani's Reliance Industries to her client list. Ambani hiring an outside agency to handle lobbying and PR efforts was nothing short of a revolution since the secretive conglomerate had handled these tasks in-house since the days of founder Dhirubhai Ambani.
A number of big corporates like the Mahindras, ITC, Unitech and even the Bill and Melinda Gates Foundation soon followed by signing up with Radia's clutch of PR/Communications/lobbying entities. According to the PR grapevine, Radia's Vaishnavi Communications and allied entities are now India's biggest in their field with revenues estimated to be in the region of several hundred crores.
Following leaks of the Radia tapes, the entire gamut of services Radia offered her clients is coming to light. The smooth-talking Radia pulled no punches in furthering her clients' interests. Arm-twisting the management of the country's biggest media house to get an editor grovel before her was a mere child's play for Radia.
Radia's role in the 2G licenses scandal is an illustration of the role India's nascent lobbying industry can play in the corridors of power.
To further her clients' interests, Radia hired senior bureaucrats on the payroll of her companies. The A-listers who migrated from the telecom ministry to Radia's hothouses include former TRAI chairman Pradip Baijal, former economic affairs secretary CM Vasudev, former DIPP secretary Ajay Dua and former TRAI member DPS Seth, SK Narula, former Airports Authority of India chairman, and Akbar Jung, the former civil aviation secretary and others.
Apart from political lobbying, Radia reportedly offered services that would easily fall in the realms of merchant bankers and investment banks. Reports say the Income Tax department is probing Radia for transfer of funds to entities like real-estate developer Unitech which made a killing by selling spectrum bagged under the 2G licences scandal. The telephone taps also allegedly have Radia advising the beneficiaries of the 2G licence scam on how to manage the windfall gains they made selling the spectrum to other companies.
But what is more illuminating is the crowd that was not in Radia's official payroll but those who bent over backwards to do her bidding. Top journalists like Barkha Dutt and Vir Sanghvi have been caught on tape talking to Radia like old pals. Radia's ability to make inroads into the homes of politicians also emerge from the telephone transcripts. Her initial attempts by wooing the Bal Thackeray family failed though. Amongst her first ventures after coming to India was the funding of Agnishaakshi produced by Binda Thackeray, son of the Shiv Sena supremo.
Unfortunately for Radia, Binda passed away and her attempts at political lobbying received a setback. Similarly, Radia was also close to the late Pramod Mahajan who played a major role in Tatas bagging cash-rich Videsh Sanchar Nigam Ltd (VSNL). In later years as the tapes show Niira Radia went on to win over Kanimozhi, daughter of Karunanidhi, who seems to have opened her home and heart to the lobbyist providing her intimate details of her father's household.
According to the reactions surfacing in the media following the publication of Radia tapes, the lady also took on herself to do fire-fighting on behalf of politicians. Gujarat Chief Minister Narendra Modi who was effectively rendered an outcaste in the wake of the post-Godhra riots got more than a veneer of respectability thanks to Radia. If Radia had not played the role of an effective go-between for Ratan Tata and Modi over shifting the production of the Nano to Gujarat, the controversial Chief Minister would still be looking for that halo over his head.
The grapevine has it that in addition to politicians and journalists from cash-strapped media houses perpetually looking for fund infusion to stay afloat, a number of prominent and controversial godmen too have fallen to the charms of Radia. Though no names have come out in the open so far, some of the holy men who frequent Radia's farmhouse on the outskirts of Delhi have helped open doors for the lobbyist.
So will Radia survive the scandal arising from the 2G scam? Right now, it appears that the woman is on a tough wicket fielding cases filed by the Income Tax department, the Enforcement Directorate and a host of other agencies. But Niira Radia is certainly not short of friends going by her past records. Going by her reputation, Radia may have begun sweating her network long ago and come up with a damage-control plan to get her out of the jam she finds herself in.
Ratan Tata has come out batting for Niira Radia giving her a clean chit for her work as a lobbyist. Other players could be working behind the scenes and if the past is anything to go by, one should not be surprised to find the cases against her quietly being buried. In which case the woman will be back having the last laugh.


BARING HEART & SOUL
The Radia tapes have been described as the 'cacophony of the powerful' and provide valuable insight into the 'gossip' they freely exchange. So far, nobody has questioned the authenticity of the tapes or what has been published or put on the Web. Here follows a sample of what Radia and her 'contacts' allegedly talked about.

l A DMK minister allegedly paid Rs 600 crore to a Chief Minister's wife for a place in the Union cabinet.

l The Union Civil Aviation Minister 'sacrificed public sector carrier Air India to favour private airlines Jet Airlines and Kingfisher'.

l The Air India Chairman was appointed to safeguard the Boeing deal.


Sandeep Joshi

l Mukesh Ambani's proxies allegedly getting into Haldia Petrochemical which he wanted to acquire.
l Senior mediapersons appear to be involved in manipulating events.
l A Union Cabinet Minister was charged with accumulated wealth worth "at least Rs 10,000 crore".
l A telecomcompany allegedly fudged its subscriber base.
Well, as they say, 'Is hamam mein hum sab nange hain' (We are all naked in this bath-tub).

Heart of the matter
PHONE TAPPING


P Chidambaram
CBDT (Central Board of Direct Taxes) tapped and recorded more than five thousand and eight hundred conversations of Niira Radia. Only 140 of them have been leaked and are in the public domain. The tapping was authorised by the Union Home Secretary as per law. But while the CBDT does not seem to have made any breakthrough in discovering clues or evidence on tax evasion, money laundering or violation of foreign exchange regulations, some of the tapes were handed over to the Central Bureau of Investigation ( CBI) looking into the 2G Spectrum scam. A copy of the 'original recording' has now been handed over to the Supreme Court in sealed cover. Questions are being raised about this state-sponsored wire tapping.
VIOLATION OF PRIVACY


Ratan Tata
Ratan Tata has now gone to the Supreme Court to prevent further leak of his conversations with Niira Radia. He is not questioning the right of the government to tap private phone conversations for probes of any kind. But he wants restrictions put on their leak and publication, which would be an infringement of his privacy. The government has ordered a probe into how the tapes were leaked. Unofficially, agencies are blaming a private service-provider to the CBDT. But the motivation and timing behind the leak are still unclear.
POLITICS-BUSINESS NEXUS


A.Raja
The tapes reveal Radia lobbying for the inclusion of A. Raja into the Union cabinet and pushing for the Telecom portfolio to be given to him. In the event, she succeeds in both her missions. A. Raja returns to the Union cabinet and gets the same portfolio that he held in UPA-I. This despite the well-known secret in Delhi that the Prime Minister Dr Manmohan Singh is an honourable man and that he did not quite approve of A. Raja. But Radia, who represents both Ratan Tata and Mukesh Ambani, appeared to have her way. The tapes thus provide an insight into how corporate bodies interfere or influence the formation of ministries.
FIXING PRICE OF NATURAL GAS


Mukesh Ambani
The tapes reveal Radia lobbying on behalf of Mukesh Ambani after the Mumbai High Court ruled in favour of younger brother Anil Ambani on sharing natural gas at the agreed rates. While the issue went to the Supreme Court, which ruled that natural gas was a natural and national resource and authorised the government to determine the rates, the conversations expose how Radia succeeded in manipulating senior journalists and media houses to orchestrate a campaign on the ground of 'national interest'. This has called into question the credibility of the media in general and the 'Business media' in particular.
MEDIA & THE MARKET
The tapes confirm the hold that industry and business have over both media and politics. With the biggest media houses listed in the capital market, and having offered shares to its employees, it is in everybody's interest to ensure that the advertisement revenue grows. Employees, journalists in this case, also benefit if the valuation of the company and that of their own stocks grow. Independent views and analyses, thus, take a back seat.

CREDIBILITY AT CROSSROADS
The scandal has highlighted the emergence of a 'fifth estate' enabled by technology and the need for self-governance by the media, writes noted media commentator SEVANTI NINAN

Willy-nilly the Radia Tapes disclosures have had an unintended fallout. They have turned the spotlight not just on how sections of the media deal with other estates in course of their professional work, but also on what has been a longstanding, not-so-healthy tradition: self censorship on matters concerning their own.
The story broke on a Thursday, and for another five days after that no news channel or major newspaper thought it fit to give it normal news treatment. They carried minor references to it on their websites and pretended that it did not happen. The exceptions were in the South: notably the New Indian Express which carried excerpts from the transcripts, the Deccan Herald which editorialised on the subject, the Deccan Chronicle, and so on. The big Hindi papers were silent too.
Then The Hindu responded with an article, and CNN-IBN with a programme. Thereafter it took another week for the Indian Express to have full coverage on the issue, and for other media houses to start opening up. A full fortnight and no thundering on the subject from Arnab Goswami on Times Now! Contrast that with the alacrity with which corruption in other sectors has recently been reported.
It could be argued that the Radia Tapes reveal hubris, indiscretion and a willingness to please that is now embarrassing the profession. And that they do not reveal corruption. Also that the media was inhibited by issues of privacy and the right to reply.
But other audio and video tapes over the years exposing other kinds of public figures have not met with such coyness, though privacy was invaded there too. So let us recognise the truth for what it is: the media follows a dog-does-not-eat-dog principle. There is a huge to-do about plagiarism by a chief editor in cyberspace, it does not find its way into the press or TV.
There is a simple index to judge by: TV columns and review programmes on television on showbiz abound. How many columns or programmes are there countrywide on issues thrown up by media practice? CNN-IBN has just ventured gingerly into this area with its weekly programme on the media by Karan Thapar. The first two editions were vegetarian, the third, on the Radia Tapes, finally got into stride.
If the Radia Tapes revealed less than scrupulous professional behaviour by top dogs in the media, does not that also indicate that the profession suffers from an absence of watchdogs? When the paid news scandals broke in May and November last year, did that not demonstrate the same problem? And is that not partly so because the media does not consider its own sector a professional beat like any other, deserving of open scrutiny? The other reason for corruption of the paid news kind, or for a blurring of lines between reporting and participating is because the government-appointed watchdog, the Press Council, has members from the profession who think they are there to guard the self interest of their industry, rather than its professional conduct.
So Outlook and Open have done us a service, even if they will end up in court as a result. There are already reports of media organisations taking a re-look at their own codes of ethics, and of individual journalists like Vir Sanghvi having to pay a price. One column he wrote, he says, he has stopped himself, in order to do some thinking. But another column he wrote has been unambiguously dropped by the New Indian Express, a day or two after the scandal broke and Sanghvi figured in it.
Barkha Dutt, TV journalism's leading star, has participated in a public examination of her conduct as revealed by the tapes. Let us just say that the recordings have helped to make media ethics an issue, despite the media's best initial efforts to pretend that there was no issue. And it has sullied the credibility of some leading journalists.
As academics have begun to point out, the whole incident also underscores the emergence of new watchdogs, amounting to a new estate. A fifth estate, enabled by technology, spycams, audio-recording technology, Internet-enabled fora for exposure and criticism, and self-appointed web watchdogs, currently personified by WikiLeaks. What sort of ethics will govern this is still to be worked out, and it makes governments as well as corporates, including corporate media, rather nervous.
The Radia Tapes, paid news, plagiarism and TV news and entertainment excesses also underscore Indian society's inability to come up with effective regulation where the media is concerned. At one end of the spectrum, there is legislation which is cumbersome and therefore seldom resorted to. At the other end, there are codes of ethics which remain unimplemented. We need an effective via media, regulators that other countries have put in place, or at least complaints bodies whose rulings cannot be ignored. As media outlets continue to burgeon, the need for correctives for errant behaviour will grow.
Finally, how do you have clean media in a country where corruption surfaces every day in the conduct of all the other estates? And where corporates and governments provide the funding for media houses through advertising and investment? By, at the very least, beginning to put media of all kinds under the scanner, in a matter-of-fact sort of way. When journalists and media owners find that their community is no longer willing to cover for them, they will begin to self govern more than they do now.
Post-liberalisation journalism has become a lucrative profession. One suggestion made in the debate under way since Radiagate broke, is that journalists should declare their assets. If that happens, it will reveal the huge gap between the top dogs and the district correspondents and stringers. The information may help to answer some other questions: why the ones at the top have lost their connect with ordinary people. And why those at the bottom of the ladder are forced to racketeer—because their employers do not pay their foot solders enough.