Welcome to The Banana Family
Ravi Dhaliwal
Tribune News Service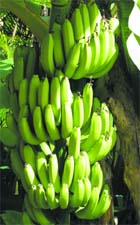 Gurdaspur, December 7
The wisened face of octogenarian Swaran Singh tells it all.After decades of being trapped in the vicious paddy-wheat cultivation cycle, Swaran Singh and his family, including his four sons, find themselves neck deep in debt.
That is precisely the reason why he thought of trying a hand at banana cultivation, an initiative, which till now, was considered blasphemous by the small farmers of Majha.
For Swaran Singh, this one effort - growing banana plants in two acres of his 10 acre agricultural land - is meant not only for monetary gains, but also to wipe out memories of a debt ridden past, by experimenting with the future.
Like many small and marginal farmers of Punjab, Swaran Singh was worried about how he would come out of the decade-old debt trap.
Guided by well meaning officials of the horticulture department, particularly inspector Pritpal Singh, Swaran Singh decided to take the plunge by planting banana saplings, bought at a cost of Rs 54,000 from an Ahmedgarh nursery in Ludhiana district, in part of his 10 acre land at Saraspura village, 12 km from Gurdaspur.
Add to it Rs 30,000 paid as labour cost and his investment adds up to Rs 84,000 for two acres.
Swaran Singh is unfazed by the investment as after 14 months, he expects to rake in at least six to seven times of the investment amount.
More significantly, he opines that once he gets that kind of profit, he will be coming out of the paddy-wheat cycle for good and will plant banana saplings in all of his 10 acres.
However, PAU experts opine that this is a high risk, high profit venture.
"The main danger to banana plantations in Majha region is frost, which is considered to be its first enemy," says PS Bagga, noted agricultural scientist and director of the PAU Research Station here.
To this, an optimistic Swaran Singh has an answer.
He says, "Frost appears mainly during the month of December and extends till February. During this time period, my family will be setting paddy straw near the saplings, so that whatever frost may appear, it will be absorbed by the straw." The Banana Family, as Swaran Singh and his kin are known in and around the village, are not too worried over the market for their produce.
They claim that they will find a good market in Punjab itself.
He is right, because Punjab Agricultural University (PAU) experts opine that Punjab consumes bananas worth Rs 500 crore annually. Experts say that Punjab exports bananas from other states and if other farmers leave the paddy-wheat cycle for good and try their hand at horticulture, they may well be on the road to prosperity.