SKUAST-Jammu teachers decry govt's 'biased' approach
Jammu, December 10
Members of the Sher-e-Kashmir University of Agriculture, Science and Technology (SKUAST)Jammu Teacher Association today raised voice against the "biased attitude" of the state government towards the varsity.
Land use: Public views sought on draft law
Jammu, December 10
In what can be termed as an important step forward to check the use of agricultural land for other purposes , the state government has constituted a high-level committee comprising Minister for Law, Justice and Parliamentary Affairs Ali Mohammed Sagar, Minister for Agriculture Ghulam Hassan Mir and Minister for Revenue Raman Bhalla.
GGM student stabs 2 classmates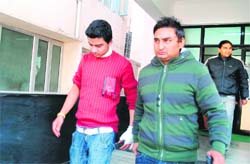 Jammu, December 10
A student of GGM Science College stabbed two of his classmates on the college premises with a sharp-edged weapon this morning.The police said Gagandeep Singh of the Simbal camp attacked Digvijay Singh of Bakshi Nagar and Neeraj Badyal of Janipur, all BSc 1st year students.

One of the students (on the left) of GGM Science College, who was injured after being attacked by a classmate, at hospital in Jammu on Friday. A Tribune photograph

Cop hurt in encounter
Srinagar, December 10
A policeman was injured in an encounter with militants in Ganderbal district here last night.Acting on a specific information about the presence of militants here, a joint search operation was launched by the police and 5 RR at Gutlibagh in Ganderbal district late last night.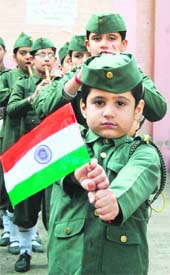 Bharat Scouts and Guides celebrate the centenary year of World Guide Movement in Jammu on Friday. Photo: Inderjeet Singh
Tension over land defused
Jammu,December 10
With timely intervention of the Samba district administration, tension over a piece of land adjoining a graveyard at Salmeri village was defused today.Trouble started this morning when the proprietor of 17 Miles Restaurant,BP Bhalla, started fencing work on a piece of land measuring six kanals,adjoining a graveyard.
Statistics vital for planning process: Governor
Jammu, December 10
Highlighting the importance of statistics in the planning process, Governor NN Vohra today said the application of its basic principles could help achieve higher levels of growth in the varied sectors of economic development.
Lt-Gen Nehra takes over as GOC, 16 Corps
Jammu, December 10
Lt-Gen JP Nehra took over as the new GOC of Nagrota-based White Knight Corps (16 Corps) here today.Commissioned into the Madras Regiment in 1974, the General has held various prestigious instructional, staff and command appointments during his over 36 years' service in the Army.He successfully commanded his unit in counter- insurgency operations in Nagaland.
Jammu NGOs seek more funds
Jammu, December 10
Non-government organisations working in the Jammu province yesterday asked the Central Social Welfare Board (CSWB) to enhance their annual budget in view of the population and geography of the area.
120 papers presented
Jammu, December 10
About 120 papers were presented in four parallel sessions and 16 invited talks were delivered on the second day of the International
Cigarette vendors fined Rs 1,200
Srinagar, December 10
A special police squad constituted recovered Rs 1,200 as fine from vendors selling cigarettes outside Tyndale Biscoe School and Burn Hall School here.Besides, Rs 1,100 was recovered as fine from people smoking in public places in violation of the rules prohibiting smoking.
3 die in Ramban mishap
Udhampur, December 10
Three persons were killed and four, including a minor, injured when an oil tanker they were travelling in met with an accident near Jawahar Tunnel in Ramban district today.
Prof held for setting questions on unrest
Srinagar, December 10
A lecturer of a government college was arrested today for allegedly setting an examination paper with questions related to the recent unrest in the Kashmir valley."Noor Mohammad Bhat, a lecturer at Gandhi Memorial College, has been arrested," IGP (Kashmir Range) S.M Sahai told PTI.