Today marks the ninth anniversary of the horrific attack on Parliament which sparked off India's attempt at military coercion vis-a-vis Pakistan. But the lessons learnt seem to have been ignored. Lack of political will and a coherent decision making process are still lacking, thereby undermining the nation's credibility
LOST OPPORTUNITIES
Gurmeet Kanwal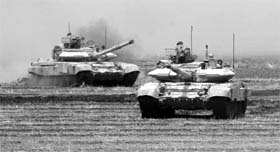 India's first attempt at military coercion achieved only limited success. Operation Parakram, launched in the wake of the December 13, 2001 terrorist attack on Parliament, was the first full-scale mobilisation since the 1971 Indo-Pak war. It began on December 15, 2001 after the Cabinet Committee on Security's (CCS) decision and was completed on January 3, 2002. It finally ended on October 16, 2002 when CCS belatedly recognised that the law of diminishing returns had been operative for many months already. In a face-saving move, CCS declared that troops were being "strategically relocated" and constant vigil would be maintained, especially in J&K.
Though the 10-month deployment ended without a conflict, the two nations came close to war on at least two occasions. The first window of opportunity came in the first week of January 2002 soon after the Indian Army had completed its slow-paced mobilisation. In the snow-bound areas of J&K the army had relatively few options to launch offensive operations across the LoC, but in the plains of Punjab and Rajasthan the climatic conditions were ideal.
The United States and other Western governments, however, stepped in with astute diplomatic manoeuvres resulting in General Musharraf's ashen-faced commitment in a nationally telecast speech on January 12, 2002, that Pakistan "will not permit any terrorist activity from its soil". India backed-off, but troops remained in place in their deployment areas on the international border (IB) and the three strike corps remained poised in their concentration areas.
The second opportunity presented itself after a terrorist attack on the family quarters in the Indian army garrison at Kaluchak near Jammu on May 14, 2002. The summer weather was conducive for offensives across the LoC in Kashmir Valley as well as the Jammu division south of the Pir Panjal mountains. In Punjab and Rajasthan, though the 40-degree plus temperatures were hard on man and machine, the disadvantage was common to both the sides and major offensive action was possible. By this time the Pakistan army had also mobilised and was poised in defence. Despite high-pitched rhetoric and extensive saber-rattling, the government did not approve military strikes across the border.
Slow Pace of Strike Corps Mobilisation
While the formations responsible to defend the border - "holding" or "pivot" corps - were ready for battle within 72 to 96 hours of receiving orders, the three "strike corps" (1, 2 and 21 Corps) took almost three weeks to complete their mobilisation because their fighting echelons are based at long distances from the border. Hence, it was only in the first week of January 2002 that major offensive action could have been undertaken by the land forces.
This time the mobilisation was total. All leave was cancelled and the soldiers re-called for active duty. Almost all training establishments were closed down. Extensive operational familiarisation exercises were conducted and operational plans war-gamed, updated and refined. Ammunition trains brought reserve stocks to forward ammunition points. In the first week of January 2002, expectation about the impending offensive action had reached fever pitch and morale was at an all time high. However, the troops had no way of knowing that the national aim was to practice coercive diplomacy.
The army also addressed shortcomings in training that initial mobilisation had revealed. There were unacceptably large casualties and it was officially stated that till March 15, 2002, the army had lost 176 men in the operation due to mishaps in minefields, mishandling ammunition and explosives and traffic accidents. The defence minister reportedly stated in Parliament, that up to July 2003, the army suffered 798 casualties. It clearly emerged that the army's mine laying methodology and training and the system adopted for marking minefields to keep civilians and cattle away needed substantial improvement.
The cost of sustaining Operation Parakram was reported to be have been pegged by India's National Security Advisory Board (NSAB) at Rs 7 crore a day. This works out to approximately Rs 2,100 crore over 10 months and, presumably, does not include the cost of mobilisation and de-induction. The minister told Parliament in October 2002 that Operation Parakram had cost Rs 8,000 crore, excluding Rs 300 crore compensation paid to people in border states where troops were deployed.
Lessons Learned - and not Learned
Perhaps the most important lesson emerging from the standoff was the inordinately long time that strike corps needed to mobilise for war. By the time these elite formations were ready to deliver a massive punch, the international community had prevailed upon India to give General Musharraf an opportunity to prove his sincerity in curbing cross-border terrorism. These strike corps are designed to penetrate deep into Pakistan and run the risk of crossing Pakistan's nuclear threshold early during an offensive campaign.
The lack of coherent politico-military decision-making was clearly evident. It is not at all clear whether any military objectives were actually assigned by the political leadership. Asked whether the deployment was aimed at attacking Pakistan, the then army chief Gen S. Padmanabhan, said, "There were many aims, which were fulfilled." However, he also said, "Whenever there is a situation calling for the army's help, the latter's role should be well defined to avoid confusion."
Gen V. P. Malik, General Padmanabhan's predecessor wrote in the Tribune: "Despite speeches and international commitments…. Musharraf's efforts to rein in Jihadi groups… remained cosmetic and tactical… Infiltration across the LoC and other ISI operations continue… There is no let up in terrorist acts…" When mobilisation began, Vijayanta tanks of 1970s vintage, artillery guns that were even older and many other obsolete equipment were in frontline service. Analysts pegged the overall Indo-Pak combat force ratio at approximately 1.15:1.0 in India's favour during the Operation. Speaking as an MP in the Rajya Sabha less than a week after mobilisation began, former army chief Gen Shankar Roychowdhury blamed the "recurrent political controversies on military procurement in the last 15 years" for having "crippled the army's modernisation programme." Sadly, not much has changed in the last decade despite well-intentioned reforms in defence procurement procedures. Inordinate delays in decision-making and bureaucratic red tape continue to mar acquisitions, a large chunk of the defence budget is still surrendered year after year, large equipment shortages continue to persist and a CDS is yet to be appointed.
Strategic analysts in India were concerned at the adverse impact of the lack of resolute action on the credibility of India's deterrence. Former air chief A. Y. Tipnis said at that time: "We have shown enormous patience, now it is time to show we have resolve too. Inaction is damaging our credibility; people have begun to believe India incapable of taking any action." Brahma Chellaney wrote: "The harsh truth is that the government played a game of bluff not just with Pakistan but also with its own military… When a nation enjoys credibility, it can usually achieve its objectives with a mere threat to use force. However, when there are serious credibility problems, even modest objectives are difficult to accomplish. Vajpayee ended up practising coercive non-diplomacy."
The aim of politico-military coercion is to induce a change in an adversary's policies and actions through a credible threat of devastating punitive action in case of non-compliance. While trans-LoC terrorism from Pakistan continued, there was a definite reduction in its intensity. On the other hand, Pakistan steadfastly refused to either terminate the activities of the LeT and the JeM, detain their leaders and block their funds or to hand over even one of the 20 terrorists India had demanded. Training camps and other facilities for terrorists also continued to operate in POK. Hence, the government's aim of launching Operation Parakram was only partially achieved and the credibility of India's coercive diplomacy and military superiority was seriously undermined. Also, the opportunity to strike at the roots of terrorism in POK was once again squandered. Lack of political will was again demonstrated after the terror strikes in Mumbai on November 26, 2008, despite credible evidence that these had been launched by the LeT at the behest of the Pakistani army and the ISI.
As long as the Pakistani army continues to exercise a tight stranglehold over Pakistan's polity, unbridled control over its nuclear weapons, retains its unjustifiable size of 500,000 personnel in uniform and enjoys American patronage as a frontline state with MNNA (major non-NATO ally) status - which brings with it new military equipment, loan waivers and the rescheduling of loan payments on easier terms over longer periods - it will have no incentive to move towards genuine peace with India. The Kashmir issue is only the symptom of a much larger fundamental malaise. The Southern Asian region is likely to continue to witness periodic bouts of hostility between India and Pakistan, tempered by short interludes of tentative peace.
The writer is Director, Centre for Land Warfare Studies, New Delhi