Spurt in LPG demand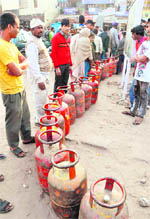 Residents queue up outside a gas agency for LPG refill in Attawa village, Sector 42, Chandigarh, on Wednesday. Tribune photo: Parvesh Chauhan

300 scanned cheques recovered
Panchkula, December 15
After swooping down on four fraudsters yesterday, the Chandigarh Police today recovered fake voter cards, debit cards, ATM cards, computer system, scanner, 20 chequebooks and 300 scanned cheques from their possession.The police said had the accused deposited these fake cheques, residents would have lost lakhs of rupees. It is now seeking information about the modus operandi of the accused.
Stung by scam, I-T dept stops refund payment
Blank refund cheques stolen
Chandigarh, December 15
Stung by the Ludhiana Income Tax refund scam, where the department was on the verge of being duped of Rs 47 lakhs through a bogus refund last month, I-T officials in Panchkula have "stopped payment" of all refunds issued after September 1 this year. The I-T authorities have directed the State Bank of India not to honour any of the refund cheques issued post-September as they could be bogus. A complaint has also been lodged at the Sector 2 police station stating that blank refund cheques have been stolen from the department.


Hearing on RTE Act case postponed
Final decision on Dec 23
Chandigarh, December 15
The UT schools and DPI (S), Chandigarh, today got a breather in the ongoing RTE Act case filed by Pankaj Chandgothia in the public interest, as Chief Judicial Magistrate Anshul Berry was on leave.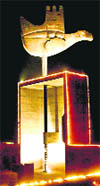 UT to preserve its heritage
Chandigarh, December 15
The Chandigarh administration today decided to formulate a legislative mechanism to preserve city's heritage, primarily the architectural heritage. A decision to this effect was taken at a meeting of expert groups on the preservation of heritage, held under the chairmanship of UT Administrator Shivraj Patil here today. Sources said the expert groups, tasked with the identification and preservation of heritage, presented the report to the Administrator. The final report, including the financial implications, will be sent to the Central government for framing the rules and regulations for the heritage preservation as the Union Territory does not have a legislative body.
MC to turn greenbelt into junkyard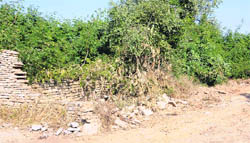 Chandigarh, December 15
While the UT administration is spending lakhs on the beautification of the entry points of the city, the Chandigarh Municipal Corporation is constructing a store to dump its scrap adjoining National Highway in Sector 29.
Land flattened by the Chandigarh Municipal Corporation for the construction of a store adjoining the greenbelt near Tribune Colony in Sector 29, Chandigarh. Tribune photo: Manoj Mahajan
Bridge on Mohali choe
Work to be completed by March 31
Mohali, December 15
Work related to a high-level bridge on the Mohali choe, which is being constructed at a cost of Rs 2 crore, will be completed by March 31.
GMSH employees go on strike
Chandigarh, December 15
Hundreds of contractual employees of Government Multi-Speciality Hospital, Sector 16, went on a strike today to protest against the non-payment of their salaries.
Playing with danger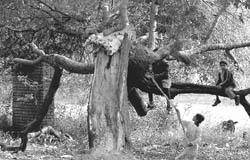 Children atop a decaying tree in Phase VIII, Mohali. Tribune photo: Vicky Gharu
Mental healthcare at patients' doorstep
PGI team to assist physicians in hospitals of HP, Uttarakhand, J & K
Chandigarh, December 15
With a view to use telemedicine technology to deliver the expertise of mental health professionals at patients' doorstep, the PGI has started a project to assist physicians in hospitals of Himachal Pradesh, Uttarakhand and Jammu and Kashmir.
Work at Knowledge City reviewed
Mohali, December 15 At a meeting held at PUDA Bhawan, Punjab Chief Secretary SC Aggarwal reviewed the progress of the development works in Knowledge City here recently.
Stress on use of community services
Chandigarh, December 15
The human rights week celebrations concluded today on Panjab University campus. In a bid to support the cause of protection of girl child, students of various schools and colleges visited PU hostels to create awareness about the issue.
Seminar on trends in insurance sector
Mohali, December 15
The All-India General Insurance SC/ST Employees' Welfare Association is organising a seminar on the emerging trends in insurance sector at Patiala on December 17 wherein top insurance brass of the country along with management experts would participate. Disclosing this here yesterday, Vinod Dhundia, secretary general of the north zone, All-India Insurance Employees' Union, and Sajjan Kumar, union general secretary of the north zone, said the seminar would coincide with the northern zone general body conference of the association.
107 varieties of chrysanthemum exhibited
Chandigarh, December 15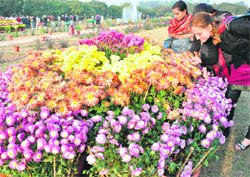 Prof Vipin Sobti, wife of Panjab University Vice-Chancellor Prof RC Sobti, inaugurated the third chrysanthemum exhibition at Prof RC Paul Rose Garden opposite the Vice-Chancellor's office today. An AC bus service has also started on the campus. Panjab University boasts of having as many as 107 types of exotic varieties of chrysanthemum at Prof RC Paul Rose Garden.

Girls admire flowers during the chrysanthemum show at Panjab University, Chandigarh, on Wednesday. Tribune photo: Parvesh Chauhan
Floral Garden gets musical fountain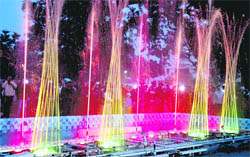 Chandigarh, December 15
Home Secretary-cum-Secretary, Local Self Government, Ram Niwas today inaugurated a musical hybrid fountain in Floral Garden, Sector 15.



The newly inaugurated musical fountain at Floral Garden in Sector 15, Chandigarh, on Wednesday. Tribune photo: Parvesh Chauhan
Cultural extravaganza
Chandigarh, December 15
Delegates at Commonwealth Youth Leaders' Conference 2010 here attended a cultural extravaganza put up by a troop from the National Integrated Forum of Artistes and Activists (NIFAA) at Hotel Shivalikview.
Three injured in mishaps
Zirakpur, December 15
A major tragedy was averted when a speeding Swift DZire rammed into another car at the flyover on the Ambala-Chandigarh highway here yesterday. However, the mishap led to a traffic jam for more than an hour. The injured, Anuj Gureja, a resident of Rohini, Delhi, has been admitted at the GMCH-32 for treatment.


CBSE
Independent bodies to assess schools
Chandigarh, December 15
In a bid to keep a track on its affiliated schools' performances and tighten the noose around erring ones, the Central Board of Secondary Education (CBSE) plans to rope in independent bodies for quality assessment and accreditation of its affiliated schools.
Post of principal
UPSC recommends 2 officiating heads for promotion
Chandigarh, December 15
After a prolonged wait, the Union Public Service Commission (UPSC) conducted a meeting of the Departmental Promotion Committee (DPC) today where two officiating city principals, Shyam Sunder of PGGC, Sector 11, and JS Raghu of PGGC, Sector 46, were recommended for the promotion to the post of principal.