M A I N N E W S
China & India not rivals, says Jiabao
In Delhi, Chinese Premier pitches for trade
Ashok Tuteja/TNS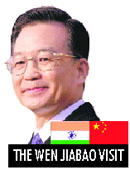 New Delhi, December 15
Chinese Premier Wen Jiabao landed in New Delhi this afternoon to a red-carpet welcome, declaring that the world had enough space for India and China to prosper and pledging to promote ties between the two Asian giants, often dogged by mutual distrust and territorial disputes.
Like British Prime Minister David Cameron, US President Barack Obama and French President Nicolas Sarkozy, the Chinese leader brought with him a huge delegation of top businessmen, clearly suggesting he would primarily focus on expanding economic partnership and contentious political issues might have to take a back seat.
Officials from both sides have been cautious not to raise expectations from the visit in view of the sensitive nature of relationship. "One can't really say anything with certainty about Sino-Indian relations or India-Pakistan relations… we have to tread cautiously," an Indian official said on condition of anonymity.
Late in the evening, Prime Minister Manmohan Singh hosted a private dinner in honour of the visiting leader at his residence. The 20-odd guests included on the Indian side senior ministers Pranab Mukherjee and S M Krishna, Leaders of the Opposition in the two Houses of Parliament Sushma Swaraj and Arun Jaitley, and a few senior officials. The Chinese Premier was accompanied by Foreign Minister Yang Jiechi and Chinese envoy to India Zhang Yan.
The two leaders also had brief informal talks at which they are understood to have reviewed the state of bilateral ties and considered steps needed to be taken to cement the relationship. They will hold extensive talks on the entire gamut of bilateral ties and international developments tomorrow, followed by signing of agreements between the two countries.
At these talks, the Indian PM is expected to flag off India's concerns over some of the major issues like China issuing stapled visas to Indian nationals from Jammu and Kashmir, presence of Chinese troops in Pakistan-occupied Kashmir (PoK), nuclear cooperation between China and Pakistan and the growing trade imbalance between the two countries. Significantly, the Chinese leader will be visiting Pakistan after wrapping up his India visit.
Manmohan Singh may also talk about India's bid for a permanent seat on the UN Security Council in view of the fact that all other four permanent members of the UNSC have already endorsed India's candidature for a seat on the high table.
Shortly after his arrival in the Capital on a three-day visit, Wen addressed industry leaders of the two countries at a meeting organised by the Indian apex chambers of commerce.
"China and India are partners for cooperation and not rivals in competition. There is enough space in the world for the development of both China and India and there are enough areas for us to cooperate," he said, rejecting the Chinese 'dragon' and Indian 'elephant' theory being often propagated by the West.
The Chinese leader also sought to address India's concerns over ever-expanding bilateral trade imbalance, seen at $ 24 billion this fiscal, and assured he was open to more imports and would try to expand the prospects for Indian exporters. "We'll offer more platforms for Indian products in China," said Wen, who is accompanied by a 400-strong business delegation. "Also, by opening markets to each other, we will be the most dynamic economies and can support each other in economic development."
He said his visit would yield deals worth around $ 16 billion between the corporate sectors of the two countries. Some 50 MOUs were signed today, including a large one between the China Development Bank and Reliance Power.
Chinese officials have said they would like to see a free trade agreement (FTA) between the two countries but New Delhi argues that there are too many concerns about subsidies in the Chinese market that could influence prices.
India is pitching for greater access for Indian goods in the Chinese market as well as greater Chinese investment, especially in the infrastructure sector, into India.
'Grandpa Wen' charms Delhi school students
Tribune News Service
New Delhi, December 15
The moment Chinese Premier Wen Jiabao answered "yes" to a query by a Class XII student if he could be called "Grandpa Wen", it was all bonhomie at Tagore International School, which he visited today soon after landing in India.
The Premier told the students "India and China are friends" and then offered them a lesson in calli-graphy and had a discussion on Nobel laureate Rabindranath Tagore.
He also told students about the importance of language as a bridge between two civilizations. He described Tagore as "the sage poet" who had a deep influence on the older generation of literary giants in China and was a household name. He said that India and China were not only the two most populous world countries, but also had very ancient civilizations.
"Friendship between our two countries has a time-honoured history which can be traced back to 2,000 years," Jiabao said.
Students were still under the Jiabao's spell even after he left and termed him "cool and kind". "He was very genial and pleasant. He was more like a learned guardian than head of a bit country," several students said.
Tibetans protest 'illegal' occupation of their land
Tribune News Service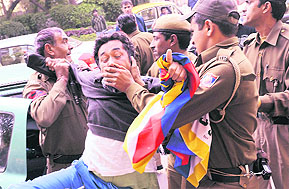 A Tibetan activist is taken into custody by the police in Delhi on Wednesday. — AFP

New Delhi, December 15
Many Tibetan youngsters today staged a demonstration outside the Taj Palace Hotel, where Chinese Premier Wen Jiabao, who is in India on a three-day visit, is putting up.
They were protesting against China's illegal occupation of Tibet. Six protesters were detained but were later released after a warning, said the police. "We want to tell Wen Jiabao that Tibet does not belong to him and China should vacate it," said Tenzin Norsang, a protester.
Separately, around 1,000 Tibetan protesters marched from Rajghat to Jantar Mantar, where they held a meeting on 'Chinese occupation of Tibet' after burning the effigy of Jiabao. There were also seen chanting anti-China slogans and holding placards reading "Free Tibet Wen, free Tibet now'.
Speaking at the meeting held at Jantar Mantar, the guest speakers, including swami Agnivesh of Arya Samaj, Siddharth Gautam of Lumbini Foundation, Pfewang Rigzin, president Tibet Youth Congress, and others criticised Chinese occupation of Tibet and demanded its prompt withdrawal. While Agnivesh welcomed India's participation at the Nobel award function despite China's protest, Siddharth Gautam held that China is now working towards making Tibetans minority in Tibet by allowing large-scale migration from China.