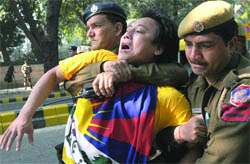 Police detain Tibetan activists as they try to approach Hyderabad House , in New Delhi on Thursday. Tribune photo:Manas Ranjan Bhui
Traffic cops invite people to combat staff crunch
Gurgaon, December 16
There's a famous saying that it's better to light a candle than to curse the darkness. Hence, if the chaos on Gurgaon's roads frustrates you and you strongly feel that some immediate action is required to improve traffic management, here's an opportunity to get actively involved in the city's traffic management system.
Rebuild razed night shelters in 3 days, SC tells DDA
New Delhi, December 16
The Supreme Court today took the DDA to task for demolishing two of the 64 night shelters that were built the last year at its instance and directed the authority to rebuild them within three days.
Colourful end to Chinese fest at Nehru stadium
New Delhi, December 16
"It is now universally recognised that the 21st century will be the Asian century and the socio-political-economic developments in India and China will occupy the centerstage," said Prime Minister Manmohan Singh while addressing the audience at the closing ceremony of the festival of China in India at the Jawaharlal Nehru Stadium today.
Fund limit set after huge canteen bills
New Delhi, December 16
The Delhi government has set financial limit for the Chief Minister's office, Cabinet ministers, chief secretary, additional secretaries and other senior officials to curtail expenditure.
DTC bus pass to get cheaper
New Delhi, December 16
To attract commuters to use means of public transport, the Delhi Transport Corporation (DTC) has decided to reduce the charge of daily passengers on all routes' passes from Rs 50 to Rs 40.
Snag hits Metro yet again
New Delhi, December 16
Thousands of commuters had a harrowing time on Thursday after a technical snag hit Delhi Metro's Jehangirpuri-Huda City Centre network.
Temp dips to 6.4° C
New Delhi, December 16
It was another cold day today with the minimum temperture dipped to 6.4° Celsius from yesterday's 7.7° Celsius. and the maximum at 24.5° degree Celsisus.
High bill makes man jump to death at hospital
New Delhi, December 16
Allegedly depressed over his poor financial status and mounting medical bills, a 32-year-old man from Uttar Pradesh, who underwent a heart surgery ten days ago, jumped to his death from the seventh floor bathroom of a government hospital in the central district today morning.
Labourer falls to death
New Delhi, December 16
A 24-year-old labourer working at an under-construction hotel sight close to Indira Gandhi International Airport fell to his death this morning.
Mob attacks police party, 2 cops hurt
New Delhi, December 16
Two police officials were injured, while a PCR van was set ablaze by an unruly mob in the Shahabad Dairy area of outer Delhi last night. The incident took place when a police party had gone there, after it received a PCR call regarding a fight between two groups.
Coloniser gets extortion demand
Greater Noida, December 16
A coloniser has been allegedly threatened by a gang of criminals to shell out Rs 11 lakh as extortion money. The extortionists have threatened the coloniser, living in Tulsi Vihar Colony at Dadri, that they would kill his entire family in case he reported the matter to the police. The family is extremely terrified.
4 vehicle thieves arrested
New Delhi, December 16
The Delhi police has arrested two persons for being allegedly involved in several cases of motor vehicle thefts. The accused have been identified as Gulfam (35) and Yameen (25).
Bikers rob 3 women
Noida, December 16
Some bike-borne men allegedly robbed three women in Sector 20, 24, and 39 police station areas. However, the police lodged the complaint of only one victim.
Ex-armyman's son kills self
Noida, December 16
A son of a retired army officer, working as a tea garden estate manager, committed suicide today by jumping from his seventh floor apartment here, the police said.
26 Tibetans detained
New Delhi, December 16
Tibetans in the national Capital carried on with their protests on the second day of the Chinese premier Wen Jiabo's visit, forcing the police to detain at least 26 activists of the Tibetan Youth Congress.