Polygraph test showed Rathore spoke the truth
CBI closure reports raise controversy
Saurabh Malik
Tribune News Service
Chandigarh, December 21
Haryana's former top cop SPS Rathore was subjected to a "polygraph examination" in the forgery and criminal intimidation case registered on Ruchika's father SC Girhotra's complaint and was found "truthful" in his response.
The Central Bureau of Investigation (CBI) made this startling revelation in its closure report submitted to an Ambala court. A copy of the report was placed before a Division Bench of the Punjab and Haryana High Court this morning.
The investigating agency said in its report that four accused were mentioned in the FIR. Sub- Inspector Prem Dutt and ASI Jai Krishan had expired. "Only two of the accused persons are available and both- SPS Rathore and ASI Sewa Singh - were subjected to polygraph examination.
They denied the allegations levelled against them and were found truthful in their response." The report goes on to demolish the allegation of forgery. Girhotra had stated his signatures were taken on blank papers. Ruchika's name was intentionally changed to Ruby and his name from SC Girhotra to Subhash Chand. Veena was shown as his wife, whereas she had died in 1988. The report says Girhotra, during inquest proceedings, had disclosed "his names as Subhash Chand and Ruchika's name as Ruby and the same were recorded by the police as per his disclosure. Girhotra's family has also verified the fact that Ruchika was called Ruby at home.
"The relatives of SC Girhotra, present during the inquest proceedings, stated there was no pressure on them to append their signatures on the statements…. They also stated that neither Girhotra nor Veena was forced to sign blank papers by the police".
Another closure report on Ruchika's brother Ashu Girhotra's complaint says he was arrested by the CIA staff and the police took him, along with another accused, in handcuffs to their homes. "The shopkeepers of Sector 6 market, Panchkula, have stated they neither heard nor saw Ashu being paraded by the police in half-naked condition with handcuffs in December 1993".
The report says Ashu made a "disclosure statement dated October 25, 1993, in FIR number 147/93 and admitted to have stolen nine vehicles" and Ashu was "arrested in cases only after Sandeep Verma (accused) disclosed his name as accomplice.
The CBI's closure reports have raised a controversy. A witness has claimed the CBI misquoted him. Ruchika's father SC Girhotra, too, has alleged the witnesses were not only threatened but statements of those deposing in their favour were not even taken on record.
Girhotra, his lawyer Pankaj Bhardwaj and Ruchika's supporters made clear they would challenge the report.
The case saw the High Court come down heavily on Haryana on granting promotions to Rathore, pending an inquiry.
"How did you give promotions to Rathore, when a case was registered against him," the Bench questioned. The court also directed the state to place on record its promotion policy with regard to officers facing criminal charges.
My statement was distorted: Key witness
Sanjay Bumbroo
Tribune News service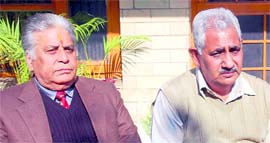 Vijay Dheer (right), a key witness in the Ruchika Girhotra case, along with Ruchika's father SC Girhotra, addresses the media at his residence in Panchkula on Tuesday. A Tribune photograph
Panchkula, December 21
A key witness in the Ruchika Girhotra molestation case here today claimed that the CBI had distorted his statement in its closure report. Vijay Dheer, the key witness, who used to reside in the house opposite to Girhotra's in Sector 6 here, while talking to the media at his residence, said the CBI had lied and altered his statement.
Dheer said he was the main eyewitness and in his statement had told the CBI that Ashu, Ruchika's brother, was handcuffed and paraded semi-naked in the locality on December 25, 1993. He said he had also told the CBI that Ashu was brutally beaten up by the Haryana police. Dheer was among the 76 witnesses listed by the CBI.
Recently, the CBI had filed its closure report in two FIRs registered against former Haryana DGP SPS Rathore before the Ambala special CBI court. The investigating agency, in its closure report, had stated that shopkeepers in the Sector 6 market had said they had no knowledge of Ashu being paraded in a semi-naked condition in handcuffs by the police in December 1993. Neighbours of SC Girhotra at Sector 6 also denied having seen Ashu being paraded.
SC Girhotra, Ruchika's father, said the CBI had conducted the entire investigation only to give relief to Rathore. He said he had written to the Union Home Minister in February this year complaining about the "biased attitude" of the premier investigating agency. "The Special Secretary in the Home Ministry had assured me of necessary action in this regard," he said.