Tackling Mob Violence
Draft proposal sent to Centre: DGP
Srinagar, December 31
In order to control mob violence with least damage to life and property and tackle the extreme law and order situations effectively with minimum possible force, a procedure has been drafted and submitted to the Union Home Ministry for implementation.
MY Tarigami, MLA, Kulgam, pays homage to the founder of the Kisan Tehreek and former legislator Abdul Kabir Wani at a function organised by the J&K Kisan Tehreek in Jammu on Friday. Tribune photo: Anand Sharma

Governor extends New Year greetings
Jammu, December 31
Governor NN Vohra has extended New Year greetings to the people of Jammu and Kashmir. According to an official statement, in his message of greetings today, the Governor prayed for the well-being of the people. He expressed sincere hope that 2011 shall usher in peace, progress and prosperity in the state.
Arrested lecturer granted bail
Srinagar, December 31
The Jammu and Kashmir High Court today granted bail to a lecturer, who was arrested on the charge of setting a question paper, which could have disturbed peace in the Valley.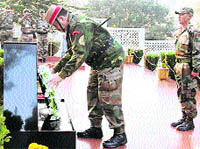 Lt-Gen Jaswal retires, accorded farewell
Udhampur, December 31
The Northern Command bid farewell to the Army Commander, Lt-Gen BS Jaswal, on his superannuation today after 40 years of service in the Army. He had assumed the command of the prestigious Northern Army on October 1, 2009.

Lt-Gen BS Jaswal, GOC-in-Chief, Northern Command, lays a wreath at the Dhruva War Memorial on Friday as part of his ceremonial farewell on his retirement from the Army service. A Tribune photograph

Businessman killed in mishap
Jammu, December 31
A young businessman was killed after the vehicle he was travelling in rammed into a wall at Poonch late last night. The deceased was identified as Amit Kumar (26), a resident of Poonch. He was coming from Mendhar to Poonch when the driver of his Tata Sumo lost control over it and the vehicle rammed into a wall resulting into instant death of Amit, the police said.
Youth Cong team calls on Karan Singh
Jammu, December 31
A deputation of leaders of the Youth Congress from the state met senior Congress leader Dr Karan Singh in New Delhi today. The deputation was led by Neeraj Gupta and it comprised Nitish Mahajan, Nirdosh Sharma, Lovely Gupta and Ajay Badera. It informed Karan Singh about various ongoing activities of the Youth Congress in the state.
Rs 300 cr potable water scheme for year 2011: Bhalla
Jammu, December 31
The state government has formulated a number of development schemes and plans and these will be implemented next year. Besides envisaging plans for expanding the road network, the government has also formulated schemes for solving the drinking water problem in the state.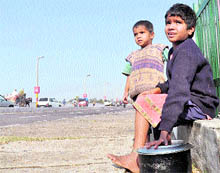 Unaware about the New Year celebrations, poor children guard a container containing meal in Jammu on Friday. Tribune photo: Anand Sharma

Five hurt in accidents
Jammu, December 31
At least five persons were injured in road accidents across Kashmir since Thursday. Three passengers were injured when their car collided with a truck at Beijbehara, on the National Highway in Anantnag district.
Drug de-addiction camp today
Srinagar: As part of a series of drug de-addiction and awareness camps, the Police Control Room, Srinagar, is holding a camp in the Community Hall at Bachidarwaza in Nowhatta here on Saturday.
Year-ender
Traffic police focused on checking road mishaps
Jammu, December 31
Checking road accidents proved a bigger challenge than even militancy for the Jammu and Kashmir Police in 2010. Though the number of people killed in year 2010 was 53 less than the previous year, the high number of 950 deaths on roads was a matter of concern.
Girl child found dead
Jammu, December 31
A two-year-old girl was found dead under mysterious circumstances at her house in East Colony near the railway station here today. Bhoomika, daughter of Kashmir Singh, might have died due to cold, but the cause of her death was yet to be ascertained, the police said. It added that there were no injury marks on her body.
Lecture on stress management
Jammu, December 31
On the ninth day of a special winter camp, the NSS unit of Government College for Women, Parade, organised a special lecture on stress management yesterday.
Security beefed up for New Year celebrations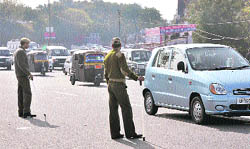 Jammu, December 31
To thwart the nefarious designs of anti-national elements and ensure smooth New Year celebrations, security was beefed up in the Jammu region. A large number of security personnel were deployed to make foolproof security arrangements in the town, especially near hotels, clubs and restaurants.

Policemen man traffic on the eve of New Year in Jammu on Friday. Tribune photo: Anand Sharma