Aarushi murder: Ex-cop still waiting for reward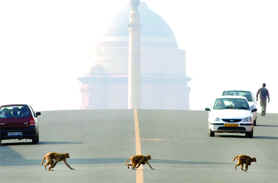 SIMIAN ROAD SENSE. Tribune photo: Manas Ranjan Bhui

Former UP police DSP KK Gautam is still waiting for Rs 20,000, the reward money the Noida police had announced for tracing Hemraj, the domestic help at the house of Aarushi Talwar who was found murdered at her parents' house in Noida on May 16, 2008.
The local police had presumed that Hemraj was her killer when they could not trace him on the fateful day and announced the reward while dispatching a police party to Hemraj's address in Nepal. Gautam, a friend of Aarushi's parents, visited the house the next day to express his condolences and found Hemraj dead on the terrace after he followed the blood trail.
He says his discovery helped the police and he should have been given the reward money. Sources in UP police say that the local cops were embarrassed at the discovery of Hemraj's body by Gautam in his personal capacity and that they are no longer interested in giving the money to the man. Gautam finds it bizarre that his good work is not recognized, but for Noida cops, his good work brought only shame.
Happy New Year for Delhi govt
It seems that not only the youngsters even the Delhi government ministers and top bureaucrats have been bitten by the New Year bug this time round. Minister of food and supplies Haroon Yusuf has gone to Ajmer to preach to the faithful at the shrine of Sufi saint Khwaja Moinuddin Chisti while public works minister Raj Kumar Chauhan has gone to Shirdi to ask for divine blessings. Education and transport minister Arvinder Singh Lovely has gone to Shimla and chief secretary Rakesh Mehta to Rajasthan to take a break from the humdrum of their daily jobs. Though Chief Minister Sheila Dikshit and some other ministers like Kiran Walia, Mangat Ram Singhal and AK Walia, are in Delhi, they have not been coming to the secretariat daily.
Fond memories of Bedi
A couple of years after she put in her papers in disgust after being ignored for the job of the police commissioner, Kiran Bedi continues to have a dedicated fan base among the police personnel who worked under her.
A senior official spoke eloquently of her fight against corruption and how she went after the dirty lot with a vigour not seen among most officials of the present lot.
He cited the example of an especially corrupt cop who was guided only by illegal gratifications, while managing to get around complaints against him. A determined Bedi shifted him many times in a very small time period that he went to seek her forgiveness. The cops recalled that he remained a reformed person as long as Bedi was his boss.
A bad year ahead for pimps
The recent busting of sex rackets in Rohini and Malviya Nagar is not a co-incidence. Cops say the police commissioner had made it clear to all the DCPs some time back that he would not tolerate any prostitution racket in their area and it was in their "interest" to put an end to it.
In a meeting with senior police officials, commissioner BK Gupta expressed his dislike for flesh trade in no uncertain terms. The next in line, cops say, are escort service providers and massage parlours, which are nothing but veneers for high-end prostitution rackets.
The New Year is likely to see cops working overtime as decoy customers and catching sex workers and, more importantly, their pimps red-handed.
Dogs and their ways
The swelling number of stray dogs has always been a big problem for the Municipal Corporation of Delhi (MCD). In a "slip of tongue," the municipal commissioner admitted that the dogs rounded up from Delhi roads in a bid to give a civilized look to the Capital during the Commonwealth Games, were released in Noida.
Nevertheless, the dogs always managed to find their way back to Delhi. It later turned out that taking dogs out of their familiar territory was in violation of rules prescribed by the Animal Welfare Board of India.
The commissioner promptly issued a clarification that the job of rounding up dogs was given to an NGO which was asked to provide these stray dogs shelters and ensure their proper upkeep.
Some other animal welfare organisations also made a hue and cry, contending that the episode had put a question mark over MCD's functioning.
Last heard: MCD officials were busy giving a clarification to anybody who cared to listen to them.
(Contributed by Kumar Rakesh, Syed Ali Ahmed, Rashi Agarwal, Sandeep Yadav, Himani Chandel)