| | | |
| --- | --- | --- |
| | OPED — urban affairs | |
Focus on mobility: A step forward
The exponential increase in vehicles has been a challenge to planners and experts. As the proliferation of private vehicles is threatening energy and environmental security, steps need to be taken to improve the public transport system and ease congestion on roads
K.C. Sivaramakrishnan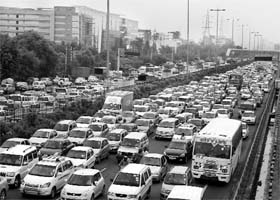 Traffic bursting at the seams on the New Delhi-Gurgaon Highway. Tribune photo: Syeed Ahmed

AT a recent global conference in New Delhi, most participants drawn from different countries spoke about mobility needs and public policy. The use of the term 'urban mobility' in preference to urban transport is itself a step forward in thinking. Mobility focuses on people; transport is preoccupied with vehicle types and choices.
New Delhi as the National Capital manages to extract huge funds from the Central Government and other sources for improving urban transport. When it felt the financial pinch a few years ago, the Commonwealth Games came as a bonanza. But what about other cities?
Mumbai, Bangalore and Hyderabad are building one or two metro lines but in all these cities buses will continue to be the mainstay of the city's mobility. The Wilbur Smith study commissioned by the Urban Development Ministry published in 2008 and based on data from 30 cities underlined proliferation of private vehicles, decline in public transport share in total transit from 75 per cent in 2006 to 45 per cent five years hence creating congestion and decreasing average speeds.
At the Delhi conference, the Centre for Science and Environment drew attention to the fact that Delhi adds about a thousand motor vehicles per day of which two wheelers are about 550 and private cars 350. Bangalore, Chennai and Hyderabad follow suit. The annual addition to motor vehicles is about 4 lakh in Bangalore, 2,20,000 in Chennai and 1,20,000 in Hyderabad.
A new beast prowling city roads in India is the Sports Utility Vehicle called the SUV. The only sport that an SUV engages in is the guzzling of fuel and preemption of road and parking space. In the reports of the Society of Indian Automobile Manufacturers (SIAM), the word SUV does not appear but is concealed between various sub-definitions of passenger cars. Out of 2.4 million cars produced in 2009, SUVs numbered at least 1,13,000.
It is often said that the only way to discourage private vehicle growth is to improve public transport. This is partly true but not entirely so. A person does not buy an SUV because he does not get a seat in the local bus. The SUVs are often the third or the fourth vehicle in the family garage. Simply, the purpose is display of wealth. It is also claimed that since the SUVs accommodate seven or more passengers they are very useful for long distance trips. So be it, but there is no reason why they should take up road space within the cities.
Singapore has been a place of pilgrimage for several years for city planners in India in search of good practices. Yet the critical instrument of vehicle quota system in practice in Singapore since 1990 has eluded our planners. Singapore decided to cap the annual increase of its vehicle stock to 1.5 per cent. Vehicles beyond a certain age are compulsorily retired. Persons intending to purchase a new vehicle should get a certificate of entitlement costing about 23,000 Singapore dollars which is higher than the price of the car itself. There is an additional congestion price levied on private vehicle entering the central parts of the city. Of course, Singapore has established an extensive public transport system, comprising 180 km of rail transit, 4,000 buses and 25,000 taxis taking care of three, four and one million trips respectively. Public transport fares are kept well within affordable limits and below the per km expenses for a private vehicle.
Shanghai has a similar system of vehicle quota licensing. The price of a license is determined through monthly auctions and exceeds the price of a new car. According to a story carried by Shanghai's Global Times newspaper on May 22, 2010, 16,324 people bid for 8,500 licenses at a price averaging US dollars 6187, higher than the price of many new cars. In the past few years, Shanghai has been able to reduce its private vehicles stock by 1.5 million and its daily growth to 380 as compared to Beijing's 1030.
Congestion pricing in London costing about eight pounds was introduced in the year 2003. Contrary to apprehensions, the average speed has increased, ridership in buses has improved and retail business has also risen in volume. Many European cities are planning similar mechanisms.
All this confirms the realisation that it is clearly unsustainable to permit ever-increasing private cars and to keep adding to road space by building more roads or flyovers. It is officially admitted that Delhi's 35 flyovers have not resulted in any appreciable increase in traffic speed. On the other hand, they have only shifted congestion from one point to another.
The proliferation of private vehicles is clearly unsustainable, threatening both energy and environmental security. Putting a cap on additions and levying a new vehicle license fee nearly equal to the price of the car as in Singapore or Shanghai make eminent sense. But given the reach and influence of the automobile industry in India, it is unlikely that a cap will be accepted. The vehicles should at least pay a fair price for the use of road space.
In most Indian cities, the road tax levied on passenger cars is absurdly low. In some cases, the incidence of road tax is more in the case of buses. Until recently, Delhi levied Rs 4,000 to Rs 12,000, as a one-time tax at the time of registration. From November 15, 2010, this has been increased to 4 per cent of the cost for cars priced up to Rs 6 lakh and 7 per cent for cars in the range of Rs 6 to 10 lakh.
As for SUVs most of which cost Rs 10 lakh or more, the tax is 10 per cent. The Delhi government hopes that the increased rates will discourage people from using private vehicles. Will this really be so? Will a person willing to spend Rs 12 lakh to 15 lakh on a vehicle be deterred from buying it because of a 10 per cent tax? More important, the one-time tax ignores the rising cost of road upkeep. The tax should be levied annually so that the yield offsets, at least in part, the subsidy that premium, luxury and SUVs enjoy on diesel.
If our value system has come to such a pass that flaunting wealth is a major yardstick of public behaviour, government action should be geared to deal with it from the interests of equity as well as reducing the emissions. SUVs and luxury cars are not essential to show off a 'Shining India'. If they are, they should at least pay the right taxes. Union Environment Minister Jairam Ramesh who has spoken against the SUVs will do well to give some attention to the blatant distortions in the road tax system.
The writer is Chairman, Centre for Policy Research, New Delhi, and a former Secretary to the Government of India, Ministry of Urban Development


In Government of India circles, urban transport is a subject of recent origin. Until 1985, the subject was nobody's baby and did not figure in the Government of India's Rules of Business Allocation. The Ministry of Surface Transport was responsible for motor vehicle laws as well as bus transport. The Industry Ministry dealt with production of motor vehicles.
The Ministry of Railways considered urban transport essentially as a rail-based system and claimed the exclusive responsibility for dealing with it. Kolkata's Metro Rail, started in 1972 and took more than 15 years for completion, was funded by the Railway Ministry's budget.
In 1986, the Allocation of Business Rules was changed. Planning and coordination of urban transport matters was entrusted to the Ministry of Urban Development for the first time with a modest budget mainly to support studies.
The Delhi Metro Rail Corporation was set up in 1996 to build the Delhi system made possible by Japanese aid. With half of the 120 km under the first two phases completed and currently used by several thousand passengers, the Delhi Metro Rail has become a reality but this is only one part of the system.
The buses will continue to carry a large portion of transit load. The dedicated corridor system or BRTS is to help these buses function better. There are other components in the Delhi Budget for flyovers, traffic management, pedestrian footbridges with escalators, street scaping to use the jargon for changing pavements from one type of stone to another and to top it all, potted plants and fancy lights.
— K.C. Sivaramakrishnan