Kabaddi champ an example of abiding friendship
Rajay Deep
Tribune News Service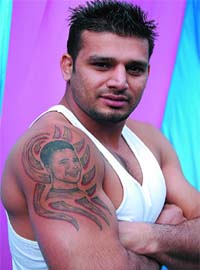 MEMORIES FADE, PICTURES DON'T: Bittu Dugal, an international kabaddi player, shows the tattoo of his friend Sarovar Dugal's face that he had got engraved on his right arm, at the DAV College in Bathinda, on Thursday. Sarovar, also a kabaddi player of repute, had died in a mishap in 2006. Tribune photo: Pawan Sharma
Bathinda, January 6
People may have many ways to illustrate their friendship but 29-year-old Narinder Ram alias Bittu Dugal—one of the best stoppers in the circle style kabaddi in the world—has set yet another example of abiding friendship.
His best friend, Sarovar Dugal, also a kabaddi player, is now no more but to keep his memory alive, Bittu has got his portrait tattooed on his right arm.
A resident of Dugal village in the Patiala district of Punjab, Bittu lost his childhood friend Sarovar in 2006 when a bullet pierced his heart in an "accidental fire".
Going down the memory lane, Bittu said, "Sarovar and I were not only friends but also motivated each other to take up the game of kabaddi. We used to practice together and devoted most of our time to the game. The day he departed was the darkest day of my life, which I can never forget."
"His death caused an irreparable loss to me and the incident disturbed me a lot. During a visit to Vancouver in 2007, I shared my pain with a senior, Lakha Gajipur, who suggested that I should get Sarovar's portrait tattooed on my arm so that I feel he is always with me," said Bittu.
"The tattoo started proving to be a source of inspiration for me as I realised that if I earn name and fame in the game, people will also give respect to my friend, whose tattoo I have on my arm. I feel happy when, witnessing my performance, people come to ask me about the relevance of the tattoo and appreciate my views," he said.
Bittu, who is now regarded as one of the best stoppers in circle style kabaddi across the world and has won a number of gold medals as well as motorcycles and cars as prizes for his marvellous performances in various countries, disclosed that he left his village in 2002 and joined the DAV College, Bathinda. "I had brought Rs 5,000, of which nearly Rs 4,000 had been spent on college fee and related expenses. The remaining Rs 1,000 lasted only a week and I went back to the village and borrowed Rs 500 from a friend. During one match, a man congratulated me for the performance and rewarded me with Rs 1,000."
"It was the beginning of my career and since then, I have not looked back. I clinched a gold medal in the Indo-Pak games in 2004. In the same year, I won a motorcycle at the Khalsa Heritage Cup held at Jalandhar. In 2006, one Karan Ghuman honoured me with an Indica car for being adjudged the best stopper during the Canada season. I won a Bullet motorcycle in 2008 when I was adjudged the man of the series in the Canada series with a record 124 stoppings. Besides, I won gold and vehicles a number of times," recounted Dugal.
Bittu had also taken part in the World Kabaddi Cup-2010 held in Punjab. The state government honoured Bittu for his performance by giving him a job in the Punjab Mandi Board.
Replying to a query, Bittu said he had gifted a majority of the vehicles that he had won to his relatives and friends.
"Despite all my achievements, I still remember the days when Sarovar and I used to run after tractor-trolleys to catch them and used to think whether we would even be able to hire a car at all," reminisced Bittu.