Speaker releases book on traffic
Jammu, January 7
Speaker of the State Legislative Assembly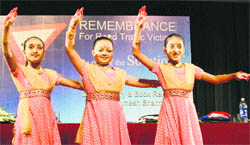 Mohammad Akbar Lone and Minister for Transport and CAPD Qamar Ali Akhoon released a book "Be Part of the Solution on Roads", written by Deputy Transport Commissioner Bhumesh Sharma, at the General Zorawar Singh Auditorium in University of Jammu here today.

Girls give a performance during a book release function at the Zorawar Auditorium in University of Jammu on Friday. Photo: Inderjeet Singh


Checking violations

NCC cadets stop a traffic offender during Road Safety Week in Jammu on Friday. Photo: Inderjeet Singh
Declare stocks or face challan
Jammu, January 7
To check hoarding and the price rise, the Department of Consumer Affairs and Public Distribution (CAPD) has decided to challan stockists who do not declare their stocks and display price lists as per a direction issued by the department last week.
Special teams to monitor supply of essential goods
Udhampur, January 7
A huge shortfall in the supply of rice for consumers under the Above Poverty Line (APL) category in Udhampur district is giving sleepless nights to officials of the Department of Consumer Affairs and Public Distribution (CAPD) even as the district administration yesterday constituted special teams to monitor the supply of essential commodities and the maintenance of essential services in view of chilly weather conditions.
Waiting for govt officials at Pragati Bhawan
Jammu, January 7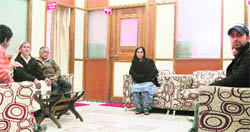 Words like work culture, accountability and transparency seem to have no meaning for officers and employees of several boards and a commission for the "development and welfare" of women, farmers and people belonging to the disadvantaged sections of society here.
Visitors wait for officers of the State Advisory Board for the Development of Kisans at Pragati Bhawan in Jammu on Friday. A Tribune photograph
Fresh snowfall forecast in Valley
Srinagar, January 7
Even as people in the Valley got respite from the intense cold conditions as the minimum temperature here increased by a few notches, the Meteorological Department forecast fresh snowfall in the next 24 hours in the region. "Some form weather system is developing over Kashmir and we expect snowfall in the next 24 hours," said an official of the department.
Illumination project for Hazratbal sanctioned
Jammu, January 7
Chief Minister Omar Abdullah today sanctioned a Rs 4 crore illumination project for the Hazratbal shrine in Srinagar housing the Holy Relic of the Prophet Muhammad.He is also the Chairman, Jammu and Kashmir Waqf Board.
Omar briefed on census operations
Jammu, January 7
The Registrar-General and Census Commissioner of India, Dr C Chandramouli, along with a team of officers called on the Chief Minister,Omar Abdullah, here and briefed him about census operations here today.
Workshop on history ends
Jammu, January 7
The two-day national workshop on "Revisiting Sources of History With Special Reference to Jammu and Kashmir" organised by the Department of History, University of Jammu, concluded here today.
Hideout busted, arms seized
Udhampur, January 7
The security forces busted a hideout of militants and seized a large quantity of explosive material and arms in Reasi district today. On a tip-off, the 60 Rashtriya Rifles troops conducted an intensive search of the Chatru-Budan area.
Two drug peddlers held
Jammu, January 7
The Kathua police arrested two drug peddlers hailing from Punjab and seized 5,000 intoxicant capsules and 20 bottles of corex from their possession at Rajbagh today.