M A I N N E W S
India refuses to share probe info with Pak
Tribune News Service & PTI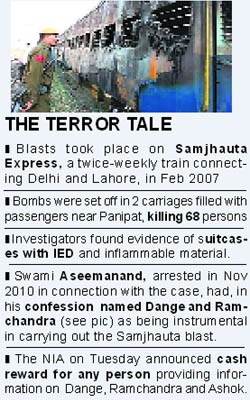 New Delhi, January 11
The National Investigation Agency (NIA) today announced cash rewards seeking information on the whereabouts of three persons who allegedly carried out blast in the Samjhauta Express on February 18, 2007.
"A cash reward of Rs 10 lakh each has been announced for any person providing information leading to the arrest of Sandeep Dange, alias Parmanand, and Ramchandra Kalsangra, alias Ramji, alias Vishnu Patel. A cash reward of Rs 2 lakh has been announced for any person providing information leading to the arrest of Ashok, alias Amit, alias Prince, alias Sunny, alias Ashwini, alias Ashwini Chauhan," a statement issued by the agency said.
Swami Aseemanand, arrested by the agency in connection with the case, had, in his confession before a magistrate, named Dange and Ramchandra as being instrumental in carrying out a number of blasts in the country, including the blast in the Attari Express (popularly known as the Samjhauta Express) in February, 2007. The train runs between Delhi and Lahore and the blasts had occurred at Diwana, near Panipat, 80 km north of Delhi.
The NIA, under the Union Home Ministry, is probing the blast case in which 68 persons, including 42 Pakistani nationals, were killed.
Meanwhile, the Ministry of Home Affairs (MHA) has asked the Ministry of External Affairs (MEA) to inform Pakistan that India cannot share any details as regards the Samjhauta blast probe right now, as the investigations into the case are at a preliminary stage only. Sharing any information at this stage will be premature, it has said.
Yesterday, Pakistan had asked India to provide an early update to it on the investigations into the 2007 Samjhauta Express bombing in the wake of RSS leader Swami Aseemanand's confession about the involvement of Sangh activists in the attack. India's acting Deputy High Commissioner in Pakistan GV Srinivas was called to the Foreign Office by Director-General (South Asia) Afrasiab Mehdi Hashmi, who said information on the progress of investigation should be provided to Islamabad by New Delhi "at the earliest".
"It is too premature to share any information with anyone at this stage. The investigation is still on. When it is completed, we will take an appropriate decision," a government official said reacting to Pakistan's insistence on sharing information about the probe.