Sitcom

Artistes from the Chandigarh Art Theatre perform a street play 'Main Nashe Me Hu' at the Sector 17 Plaza in Chandigarh on Tuesday. Tribune photo: S Chandan

FOOD FOR ALL

Devotees take part in a langar on Guru Gobind Singh's birth anniversary at the Sector 34 gurdwara in Chandigarh on Tuesday. Tribune photo: Parvesh Chauhan
Mohali Municipal Corporation
Govt in for legal tussle


DC appointed Municipal Commissioner

5-yr term for Mayor
Mohali, January 11
Within a day of notifying the Municipal Corporation status for Mohali, the ruling Akali Government seems to be heading for a legal battle, with 11 Congress-backed councillors on Tuesday threatening to move court if they were not adjusted in the proposed Advisory Committee being constituted by the government to guide the development project of the city.
Khushi's brother won't talk, mother cries for justice
Chandigarh, January 11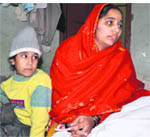 Ever since he saw his younger brother being cremated, eight-year-old Inder, Khushpreet's elder brother, refuses to talk to anyone. Once chirpy and vibrant, Inder, a class II student of Ajit Karam Singh Public School in Sector 45, yearns to play with Khushpreet and haunts his mother with all types of questions about life and death.

Khushpreet's mother Kulwinder with her son Inder at their home at Burail village in Chandigarh on Tuesday. Tribune photo: Parvesh Chauhan
Khushpreet's Murder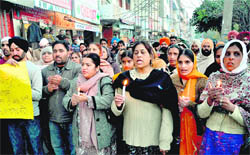 IGP urged to conduct meeting
Chandigarh, January 11
The CPI today urged the Inspector General of Police (IGP) to convene a meeting of law and order standing committee in the wake of the murder of Khushpreet Singh.


Residents of Burail village take part in a candle march to pay tributes to Khushpreet at Sector 45 in Chandigarh on Tuesday. Tribune photo: Parvesh Chauhan
No to celebrate Lohri
Zirakpur, January 11
Members of the Youth Welfare Club, Baltana, today held a candlelight march to express solidarity with Khushpreet Singh's family. The club has also decided not to celebrate Lohri in view of the unfortunate death of the five-year-old boy.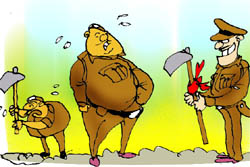 Order for obese cops
Fight battle of the bulge
Panchkula, January 11
About 75 policemen posted with the Ambala police range, who are obese and considered physically unfit will have tough time ahead, as they have been ordered to undergo a strenuous physical fitness course for an unspecified time period at the Panchkula police lines.
Metro
Chandigarh, Punjab, Haryana to finalise terms for DPR
Chandigarh, January 11
The City Beautiful's tube dream is getting a step closer to the reality. Senior officials of stakeholders, the Chandigarh Administration, Punjab government and Haryana government, will meet here on January 14 to approve the terms of reference proposed by the Delhi Metro Rail Corporation (DMRC) to prepare the detailed project reports (DPR) for the prestigious project.
New ILS installed at city airport
To give respite to air passengers in winter
Chandigarh, January 11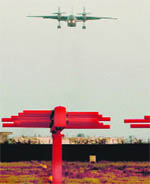 A new instrument landing system (ILS), which will enable commercial flights to operate in low visibility conditions, has been installed at the Chandigarh airport. The issue of a new ILS to replace the obsolete system had been hanging fire for the past few years, with commercial air traffic at the airport being frequently suspended in bad weather. Air Cdre Rajeev Sachdeva, IAF 12 Wing air officer commanding, said with the commissioning of the new system commercial flights would be able to land even when visibility was only 1.2 kilometers or when cloud cover was as low as 200 feet.
Guiding beacon:The new Instrument Landing System installed at Chandigarh Airport. Flights can now land and take off in low visibility during foggy weather at the airport. A Tribune photograph
'Corporation means more funds, development'
Mohali, January 11


The Congress-backed president of the civic body and his group of councillors are not happy with the formation of the Municipal Corporation because they have no vision for the development of Mohali, said NK Sharma, chairman of the District Planning Board, here today. Sharma said the face of Mohali would change in the coming months with the formation of the corporation, as more funds would be received which would result in more development.
NK Sharma
Sun brings respite from the chill
Chandigarh, January 11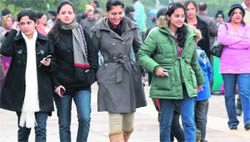 After braving intense cold wave conditions, city residents heaved a sigh of relief as sun made a welcome appearance and spread much needed warmth, but city's night temperature was lower than Shimla's 4.8 degree Celsius.



Girls soak up the sun at Sukhna Lake in Chandigarh on Tuesday. Tribune photo: Manoj Mahajan
Survey by I-T officials
Chandigarh, January 11
A survey by the income tax department at two of the main dealers of onion and potato is expected to unearth irregularities in the sale and purchase of these two most demanding commodities.


Protest by PEC mess workers
Zirakpur, January 11
Members of the Mess Workers' Union of Punjab Engineering College, Chandigarh, today protested and raised slogans against the chief warden KK Gogna outside his residence at Sigma City, Zirakpur, on Tuesday.
Several pvt schools to reopen today
Chandigarh, January 11
Even though the UT Administration has instructed all city schools, including privately owned, to remain shut until next Monday (January 17), confusion prevails with several private schools deciding to reopen tomorrow.