Comeback of comedy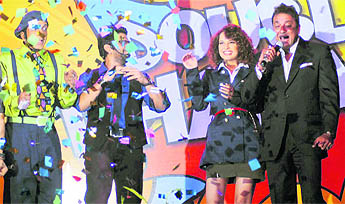 Going by the lessons Bollywood has learnt from the previous season,
Jyothi Venkatesh looks at what is in store during 2011
With serious films getting a beating in 2010, the trend for 2011 is to go in for comedies. Last year, though Golmaal 3 took a tremendous opening, Anil Kapoor's No Problem proved to be a dismal failure.
Double Dhamaal, a sequel to Dhamaal, promises a double dose of masti and madness
Ant analysis
A study of Argentine ants is being used by scientists to develop speedier computer networks
An analysis of how ants trace the quickest route could help scientist speed up computer networks, suggests a new study. The research has shown that Argentine ants (Linepithema humile), do not just retrace their steps when presented with a barrier — as might be expected Instead, the ants begin a localised search that seems to take into account the direction in which they were planning to go, reports Nature.
In touch with the past
Heritage festivals are an expression of the lifestyle, feelings and traditions of the region. They remind us of our roots, writes Charandeep Singh
Babar, the great Mughal Emperor, who laid the foundations of the Mughal Dynasty, wrote his memoirs Babarnama in the 16th century, and in them had mentioned very significantly the culture and the traditions prevalent in his kingdom at that point of time. He always exhorted his progeny that they should never forget that the blood of the great Timur runs in their veins.
Humane touch
A courier company in Mumbai, which employs only deaf workers, is playing a major role in changing social perception that those who cannot hear need charity to survive. Aiming to empower those who cannot hear and are, therefore, unable to find jobs due to social stigmas, the company, Mirakle Couriers, has set up a pick-up and delivery service in Mumbai.
India, Pakistan share common culture: Pak designer
Shilpa Raina
Her maternal grandmother is a direct descendant of Tipu Sultan and grandfather was a businessman in Bangalore. Well-known Pakistani designer Shamaeel Ansari feels the Indian fashion industry is more established and is keen to have exchange of design activities between the two nations.
A thing of beauty
Jasper National Park, the largest park in the Canadian Rockies, has many amazing things to offer, including icefields, glaciers, waterfalls, broad valleys, rugged mountains, forests, alpine meadows and wild rivers, writes Peeyush Agnihotri
Afghan women dream of freedom
Madhulika Sonkar
The small classroom is abuzz with conversations in Persian. But it ends as soon as a young woman in salwar-kameez enters and starts teaching English. Meet Aarzoo Hussain, an Afghan national, who is fiercely independent and wants womenfolk from her country to lead a free life too. Hussain is happy that her family chose to come to India and she is away from the land of "tyranny and subjugation"..
Name trouble
Real-life characters have been renamed in No One Killed Jessica to prevent the film from being stuck in legal snags and moral debates, says Subhash K. Jha

No place to be gay
Kaushik Ganguly's Just Another Love Story, which has received critical acclaim, gives an insight into alternative sexual identities, writes Shoma A. Chatterji

I'm not offered wicked roles
Robin Bansal catches up with Konkona Sen Sharma, who will soon be seen in Mirch
Enough of goodie-goodie roles for Konkona Sen Sharma. The two-time National Award winner says she enjoyed playing a sexually aggressive woman in Vinay Shukla's Mirch and laments that not too many such roles come her way.
Fruit facts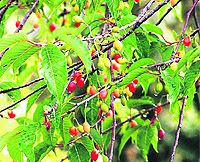 Season-defying cherry
Paja (Prunus cerasoides var majestica) is a wild cherry growing in the hills, at 900 to 1400 metres. It flowers in November whereas almost all other varieties flower during spring season. The new leaves, shoots and fruits continue growing even during the severe winter months. Paja is the only Prunus that flowers during autumn. It has very attractive flowers. The bloom lasts for three to four weeks making it suitable for landscaping. — Dr Chiranjit Parmar