Learning the art of communication
D.S. Cheema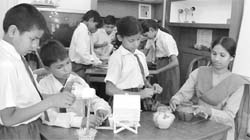 Good communication skill of a teacher can make the learning process very effective.
Communication is considered the "mother" skill because most of the human beings get some aspects of it free as a gift from the Almighty. Unfortunately, for the same reason, it is taken for granted and people don't think that there is a need to invest time and energy to specially develop this skill.
No effort is required by a healthy person to hear, and speaking comes to a child as a part of his growing. But this only does not make up communication; it is much more than that. The other skills like reading, writing and listening need to be developed through training. Even quality of speaking has to be improved through specialised training.
It is well-known that communication of thoughts, feelings and emotions is so fundamental that nothing in this world is possible without it. It is rightly said that all problems of the world are either because of lack of communication or because of bad communication.
Communication is of two types: communication with self and communication with the outside world. Communication with self can help teachers and students to explore themselves and improve their communication with the outside world. However, our concern is communication with others.
Effective communication skills are of utmost importance to a teacher as well as to a student. The teacher is expected to meet two basic requirements of teaching—knowledge of the subject to be taught and the skill to deliver that knowledge. Subject competence includes professional knowledge, experiences and abilities Linguistic competence, on the other hand, is the possession of appropriate language skill to convey the required message. Many teachers, who are not good at one of these domains, try to make it up with the other one and somehow achieve the average standards, enough for them to continue in the profession of teaching. In our system, there are hardly any cases of a teacher being sacked because of incompetence. It is so because we don't have any realistic standards and efficient monitoring policies and procedures.
Good communication skill of a teacher can make the learning process very effective. If students are asked who do they think are good teachers, most of them are likely to rate higher the teachers who could connect with them. Any one who has had a positive teaching experience knows that connecting capacity of the teacher is of great value. At present a lot of attention is paid to content with very little focus on delivering that content effectively.
What the learner should be "taught" at different levels of learning has always engaged the attention of educationists, policy-makers and the intelligentsia. However, not much in-depth work has been done on what should be the most effective methods of deliverance. Teachers equipped with remarkable knowledge, with a tail of impressive degrees behind their names and number of papers and books to their credit, very often fail to communicate and turn out to be teachers whose classes students hate to attend. The basic reason is that they cannot develop the appropriate rapport with students, which can be easily achieved if they have excellent communication skills.
In our education system, a person with necessary qualifications tries his best to fit in the mould of a teacher for want of other opportunities. The Centre and state governments have been able to correct this to some extent, but at the level of a primary school teacher, whose task is arguably the most important and extremely difficult, still gets only those who have no other means of earning their lively hood. Obviously, their motivation level is extremely low.
Listening comprehension is important for the teacher as well as the student. A clear distinction should be made between hearing and listening. While hearing happens automatically being an involuntary physical act, listening requires conscious involvement of the listener.
When a teacher goes to the class, he hears several voices but he does not listen to them. But when a student is asked to recite a poem or spell a word, the teacher pays conscious attention to what is being said by the student.
A student is required to listen to lectures, explanations by the teacher during theory or practical classes, seminars and workshops, presentations, viva voce, questions in an interview and so on.
Listening is helpful to the teacher in many ways. Oratory skills are also very important for the teacher as well as the student. Speaking in or during the lectures, tutorials and the practical, explaining a point or asking appropriate questions, academic discussions and interactions, oral reports, all demand good oratory skills from the teacher and the student.
Reading skills are particularly important for the teacher and the student. A student has to read textbooks, journals, research papers, classroom notes, etc. It is important that the student is able to read, interpret and analyse what he reads, for which he should know how to read.
Similarly, a teacher has to keep himself abreast with the latest in his field and so he must read a lot. Both have to be intelligent and efficient readers. Every teacher and student must develop a system for getting the meaning out of the reading. Writing skills are particularly important for students.
It is well known that the student who scores more marks is not always more brilliant, it is the one who writes the examination better. In fact, learning process of every teacher and student goes through the cycle of reading, writing and listening— comprehending; speaking (to ask or answer relevant questions); reading, writing and listening.
Developing effective communication skills demands a specific learning strategy. Our learning styles are as unique as our fingerprints. We learn through seeing, touching, tasting or smelling, hearing and feeling in addition to reading, writing, listening and speaking.
Every teacher and student needs to understand and develop his/her own learning style that suits his/her personality. Teachers and students must understand that improving communication skills is a life-long process. However good one may be, there is always a room for improvement.