No differences with CM: Capt Yadav
Says his sole concern is that the govt in the state is run more democratically
Chandigarh, January 17
The "letter missiles" fired by Finance Minister Ajay Singh Yadav at Chief Minister Bhupinder Singh Hooda has generated a lot of heat in the corridors of power.



Capt Ajay Singh Yadav
'I stand by my suggestions'
Gurgaon, January 17
Minister for Finance and Irrigation Capt Ajay Singh Yadav has said that he has done nothing wrong by appreciating the agricultural policy of Gujarat.
Pawar blames rains for onion tears
Gharaunda, January 17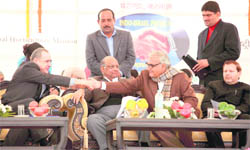 Holding "untimely and excessive" rains, which caused heavy crop losses, responsible for the steep hike in the prices of onion, Union Agriculture Minister Sharad Pawar today refused to take the blame that his ministry failed to take effective steps to rein in the onion prices and said "much hype has been created over the issue and no one is concerned about the plight of farmers".
(From right) Chief Minister BS Hooda, Union Minister Sharad Pawar and Israel's Ambassador to India Mark Sofer in Gharaunda on Monday. A Tribune photograph
Minister opens Indo-Israel vegetable project
Gharaunda, January 17
The state, the second largest contributor of foodgrains to the central pool, which has been sanctioned centres of excellence for vegetables and horticulture at Gharaunda and Sirsa, will get a third centre of excellence for floriculture at Hisar Agricultural University, Union Agriculture Minister Sharad Pawar announced here today.
Deploy central forces at Mirchpur: Samiti
Yamunanagar, January 17
The Haryana Vanchit Varg Sangharsh Samiti has sought the intervention of the Haryana Governor to protect Dalits and other non-Jat communities at Mirchpur village in Hisar district.
Gurgaon police busts gang of looters, 3 held
Gurgaon, January 17
The Gurgaon police has busted a gang of looters who allegedly used to loot commuters by offering them lift in their car. Three members of this gang have been arrested. The gang was allegedly involved in more than 50 criminal incidents in Gurgaon and nearby areas.
Policy to check foeticide soon
Chandigarh, January 17
The state government is evolving a policy framework to check the menace of female foeticide. Health Minister Geeta Bhukkal said name-based tracking of expectant women would soon be started and all primary health centres were being computerised and linked with the Internet for the purpose.
Farmer shot over land dispute
Jhajjar, January 17
A farmer was allegedly shot dead in Barahi village under Bahadurgarh subdivision here last night. The deceased has been identified as Satnarayan (45). Land dispute is said to be the cause behind the murder.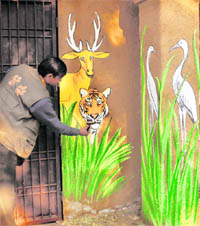 An artist from Rajasthan makes a painting as part of the preparations for the Suraj Kund Crafts Mela in Faridabad on Monday. Tribune photo: Sayeed Ahmed
Land Acquisition
Farmers hold panchayat
Rewari, January 17
Farmers of various villages of Dharuhera area, whose fertile land measuring about 500 acres is being acquired by the HSIIDC, held a panchayat as part of their protest against the move at Kapriwas village here today.
Advisory on wild animals
Chandigarh, January 17
With some incidents of wild animals straying into human habitats taking place in the state, the state Forest Department has issued an advisory, listing some do's and don'ts.
Rs 11 crore for heritage sites
Kaithal, January 17
A sum of Rs 11 crore will be spent to preserve rich cultural heritage sites, historical and religious places in the district. This was stated by PWD and Public Health Minister Randeep Singh Surjewala while addressing mediapersons at Kisan Bhawan here after laying the foundation stone of renovation works on religious and cultural sites here today.