DMC removes 100 kiosks
Dehradun, January 19
A team of the Dehradun Municipal Corporation (DMC) today removed 100 kiosks that were put on the streets located on the Haridwar Road and Nehru Colony. Now the corporation is planning to fine the institutions, AIEEE and JEE coaching centres, that had put these up without permission.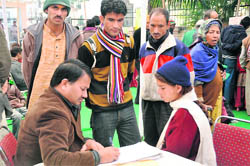 Camp for disabled persons held
Dehradun, January 19
To facilitate disabled persons, a free medical camp was held at the Doon Hospital here today.





A camp for disabled persons in progress at the Doon Hospital in Dehradun on Wednesday. A Tribune photograph
Seminar on employment generation scheme held
Dehradun, January 19
To mark the Prime Minister Employment Generation Scheme, a one-day state-level seminar was held here today. It was organised by the Uttarakhand Khadi Gramoudyog in association with Udyog Directorate.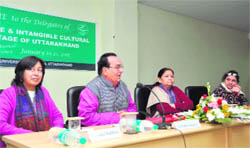 Workshop on folklore begins
Dehradun, January 19
The Minister for Rural Development, Women Welfare and Culture Vijay Barthwal today inaugurated a workshop on "Folklore and Intangible Cultural Heritage of Uttarakhand" at Doon University.
Participants at a workshop on folklore of Uttarakhand organised by Doon University on Wednesday. A Tribune photograph
NCP slams UKD for using its name
Dehradun, January 19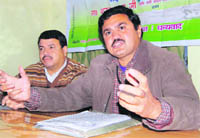 State spokesperson and general secretary of the Nationalist Congress Party (NCP) Manoj Dhyani has slammed the Diwakar Bhatt faction of the Uttarakhand Kranti Dal (UKD) for unnecessarily dragging the name of their party in their internal wrangles. He also attacked the state government for its failure to control hoarding and black marketing, leading to the escalation of inflation in the state.
Manoj Dhyani, spokesperson for the Uttarakhand unit of the NCP, addresses the media in Dehradun on Wednesday. A Tribune photograph
Nominations begin for Haridwar rural polls
Haridwar, January 19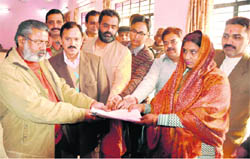 Nominations for the three-tier panchayat elections began today with many candidates reaching the officer for filing their papers in the company of a large number of supporters.





A candidate, along with supporters, submits her nomination papers at the Zila Panchayat office in Haridwar on Wednesday. Tribune photo: Rameshwar Gaur

No-trust Motion
Ranjana ousted by 31-1 voting
Pithoragarh, January 19
Ranjana Devi, chairperson of the Pithoragarh Zila Panchayat, was ousted today after the near total Zila Panchayat adopted a no-confidence motion against her by 31-1 votes. One vote was declared invalid, said in charge of no-confidence motion proceeding and Pithoragarh Additional District Magistrate Vinod Goswami.
Ranjana Devi
UPP to expose mafia-politician nexus
Nainital, January 19
The Uttarakhand Parivartan Party (UPP) will be chalking out its strategy for contesting the forthcoming Assembly polls in the state at a meeting of its central executive, which is scheduled to be held in the state capital on February 13.
Cong to start Satya Grah Yatra after Jan 24
Pitthoragarh, January 19
The Congress will start a state-level Satya Grah Yatra after January 24 to appeal to people of the state to vote for the party in the coming Assembly elections, Uttarakhand Congress chief Yash Pal Arya said.
Proposed hike in power tariff condemned
Dehradun, January 19
The All-India Consumers Council, Uttarakhand, has showed concern over the proposed hike in power tariff in the state for 2011-12.
HR Rawat gets charge to maintain cleanliness
Dehradun, January 19
HR Rawat, assistant executive officer with the Dehradun Municipal Corporation (DMC), has been given the full-fledged charge to maintain cleanliness in the city.
Industrialist gets Indian Achievers Award
Dehradun, January 19
Uttarakhand industrialist Rameshwar Havelia has been presented with the Indian Achievers Award for his contribution towards the eradication of invasive weed lantana from forests.
January 26 to be dry day
Dehradun, January 19
Dehradun District Magistrate Sachin Kurve today said January 26 would be observed as a dry day. All the canteens, bars, shops and restaurants have been asked to close from the night of January 25 to 27 morning.
Devotees take holy dip on Poornima
Haridwar, January 19
On the pious day of Poornima today, people observed fast throughout the day and broke it after watching moon late in the evening. Since early morning, devotees had been seen thronging to the famous Braham Kund at Har-ki-Pauri and other adjacent ghats to take a holy dip.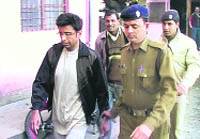 Anupama Murder Case
Gulati produced in court
Dehradun, January 19
Rajesh Gulati, who allegedly murdered his wife Anupama and later cut her body into several pieces to be kept hidden in a freezer, was produced in the court of the Chief Judicial Magistrate (CJM).

Rajesh Gulati, accused in the Anupama murder case, being taken to a court in Dehradun on Wednesday. A Tribune photograph
Driver confuses cops with story of hijacked truck
Dehradun, January 19
For the Manglore police in the Roorkee area, Wednesday proved to be a tough day as the driver of a truck alleged that his vehicle laiden with goods had been hijacked by unknown criminals.
8 injured as bus falls into gorge
Dehradun, January 19
Eight persons got injured when the bus they were travelling in fell into a Myar gorge in Vikasnagar. The injured were taken to a local hospital.