Mellow Yellow

Children enjoy the sunny weather in a mustard field at Zirakpur on Saturday. Tribune photo: Nitin Mittal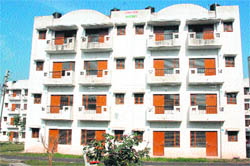 EWS flats deadweight for HUDA
Panchkula, January 22
About 2,000 apartments built for the economically weaker sections (EWS) of the population in the city are now proving to be a white elephant for the Haryana Urban Development Authority (HUDA) with the engineering wing demanding Rs 78 lakh to maintain them.
Flats constructed for economically weaker sections at Abheypur in Panchkula. Tribune photo: Nitin Mittal

Girl's brave act gets noticed
To be feted on eve of Republic Day
Chandigarh, January 22
One should always be prepared to face a trying situation and give a fight till the end, says 24-year-old Mona Sharma as she recalls the incident when she apprehended a snatcher who had attempted to snatch her purse in November 2010.

Mona Sharma, who nabbed a snatcher in November 2010. Tribune photo: Vinay Malik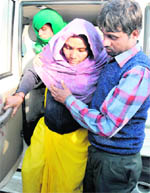 Wrong Blood Transfusion
Suman thrown out of hospital, alleges lawyer
Chandigarh, January 22
While the PGIMER today discharged Suman, who was transfused wrong blood at the GMSH, Sector 16, her 'well-wisher' Pankaj Chandgotia, a lawyer, alleged that despite being medically unfit, the hospital had thrown her out.




Adding insult to injury? Suman, who was transfused wrong blood at the GMSH, Sector 16, being helped out of a car after being discharged from the hospital in Chandigarh on Saturday. Tribune photo: Manoj Mahajan
CGHS, Fortis cross swords over rates
Stalemate leaves beneficiaries in limbo
Chandigarh, Januaary 22
Over 20,000 beneficiaries of the Central Government Health Scheme (CGHS) in the region will have to wait for some more time to avail themselves of the medical facilities at Fortis Hospital, in spite of the latter being empanelled for the services, as the authorities have locked horns over the charges for various treatments.
Climate shift has hit biodiversity: Expert
Chandigarh, January 22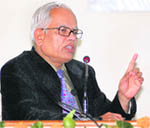 "Climatic conditions worldwide have affected the concentration of medicinal herbs in various parts of the country," said Dr VP Kamboj, former director, CDRI, Lucknow, in an interview to The Tribune. He was in city to deliver the Vishwa Nath Memorial Lecture on "India: a hotbed of biodiversity" at a three-day "National Seminar-cum-Workshop on Exploring New Vistas in Biodiversity Research for Sustainable Development" at the Panjab University's Zoology Department.
Prof K Muralidhar from Delhi University addresses delegates during a seminar held at Panjab University on Saturday. Tribune photo: S Chandan
3 maestros from region to get Sangeet Natak Awards
Chandigarh, January 22


Three maestros of performing arts, including Pandit Yashpaul, Dr Atamjit and Ustad Harbhajan Singh, have been chosen for the prestigious Sangeet Natak Award for 2010 from the region. The awards carrying a citation, memento, shawl and a cash prize of Rs 1 lakh will be presented to each of them by the President of India at a national-level function to be held shortly.
1 lakh to get polio drops
Mohali, January 22
The district health authorities have geared up to administer polio drops to 1.09 lakh children below the age of five years as a part of the national immunisation programme beginning tomorrow.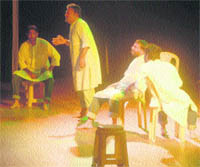 An interpretation of social conscience
Chandigarh, January 22
Jammu's amateur theatre group staged a play "Gair Zaroori Log" in Hindustani on the sixth day of TFT fest at Tagore theatre here today. The play written by Shahid Anwar was based on a collage of six stories by Sadat Hasan Manto which melted into each other as the play progressed to interpret the issues of morality, social conscience, nationalism, persecution and destruction.
Artistes stage a play at the Tagore Theatre in Sector 18, Chandigarh. Tribune photo: Vinay Malik
R-day honours
15 to get commendation certificates
Chandigarh, January 22
The Chandigarh administration has decided to award commendation certificates to 15 persons on Republic Day for rendering outstanding services in their respective fields.
National Voters' Day
Chandigarh, January 22
As part of the diamond jubilee celebrations, the Election Department of the UT Administration will celebrate the National Voters' Day on January 25.


Youths clash on PU campus
Security found wanting again
Chandigarh, January 22
The security staff on the Panjab University campus was today caught napping once again when youths wielding sticks engaged in a violent clash a few kilometres away from the administrative block and the vice chancellor's office. They later drove away in their vehicles, all bearing Punjab registration numbers, without being intercepted by the security guards, indicating the vehicles were not being frisked at the campus gates.
Is semester system viable?
Chandigarh, January 22
Studying in colleges affiliated to Panjab University may cost students dear from the forthcoming academic session.