M A I N N E W S
Karnataka plunges into crisis
Legal eagles sharply divided over sanction for CM's prosecution
V Eshwar Anand &Shubhadeep Chaudhary
Tribune News Service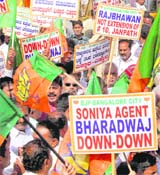 Violent protests marked the bandh called by the BJP on Saturday. — PTI
Chandigarh/Bangalore, January 22
The political crisis sparked off by Karnataka Governor HR Bharadwaj's decision to accord sanction to prosecute Chief Minister BS Yeddyurappa, has provoked mixed reactions among experts.
Union Home Minister P Chidambaram and Law Minister Veerappa Moily on Saturday vigorously defended the Governor's action, holding that Bhardwaj was within his rights to grant sanction if he was satisfied with the material produced before him.
The BJP and Yeddyurappa, however, went on the offensive, calling the Governor "an agent of the UPA" trying to destabilise the BJP government. Refusing to step down on moral grounds, the Chief Minister described the Governor's action as malafide and unconstitutional. A bandh call given by the BJP in Karnataka on Saturday turned violent and the crisis deepened in the evening with the Governor defending his action and releasing some of the contents of the complaint which formed the basis for his sanction to prosecute the Chief Minister.
Soli Sorabjee, former Attorney General of India, told The Tribune on Saturday, " In view of ( the Governor's) past background and his tirade against the Chief Minister, the decision cannot be said to be fair and objective and is vitiated by extraneous political considerations". The eminent jurist strongly felt that the political affiliation of the Governor had clouded his action.
A former Supreme Court judge and Chairman, Law Commission of India, Justice AR Lakshmanan, however, said that the Governor's sanction seemed to be in order. " Considering the allegations and complaints made against the Chief Minister, the Governor is well within his rights and jurisdiction... when the prosecution is initiated, the law will take its own course," he asserted.
On the other hand, the noted Constitutional expert Dr Subhash C. Kashyap pointed out that the Supreme Court had ruled many times that the discretionary powers should be exercised in accordance with some "principles, facts, rationale and judicious determination". While according the sanction, the Governor should follow well-established procedures like examination and scrutiny of documents, consultation with the Law Ministry and the Advocate General and the government too, Dr Kashyap maintained.
" After all, the Governor is the Constitutional head, acts on the advice of his Council of Ministers, his Chief Minister and his government," he stressed and wondered if Bharadwaj had followed the due procedures.
Dr Kashyap also made the telling point that on this issue, the Governor, the Congress and the BJP are "all playing politics and not abiding by the spirit of the Constitution or principles of morality and propriety".
"While the political parties are entitled to play politics, the Governor as the Constitutional head isn't," he averred.
A senior lawyer at the Supreme Court, T.R. Andhyarujina, however said that the Governor is entitled to accord sanction and who else but the Governor can sanction the prosecution of a Chief Minister?