M A I N N E W S
Write turn enthuses authors, publishers
Vandana Shukla
Tribune News Service
Jaipur, January 22
"Of course I took a glass of wine to face it all," said the author of 'Inheritance of Loss' and Booker Prize winner Kiran Desai, while recalling growing up with her mother, Anita Desai, busy writing novels."Writing used to be such a solitary and secret activity, which has changed with the globalised publishing industry.
Now, they sometimes train the writer for public appearances, with makeup and all!" said the author with a million dollar deal for her next book, with a straight face.
Kiran Desai never anticipated though that 'Inheritance of Loss' would spark off fierce protests by the people of Kalimpong where the narrative is set in the backdrop of the Gurkha agitation of the 70s.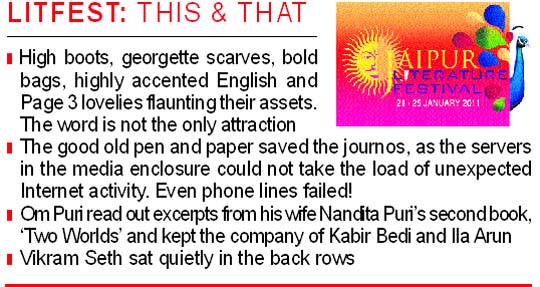 "I was horrified to learn they were burning the book and for some quaint reason, after the news broke, someone thought it befitting to steal my suitcase while I was travelling to Washington DC," she recalled.Leaving the question of choice for writers, who have to deal with fluid political realities in a world growing more turbulent and intolerant by the day, Desai still expressed optimism for the growth of books, "As bonds of communities grow weaker, books will become more and more relevant. You don't know your neighbour's religion or culture but books provide those bridges."
Penguin Group chairman and chief executive and Pearson India chairman John Makinson stated emphatically, "Books matter more in India than anywhere else in the world. Unlike China, where most books sold are on self improvement, books on social issues are read more in India, apart from books on improving English."
Leaving the West, where Amazon and Kindle have threatened book stores, publishers are rushing to India from all over the world because the upward mobility of the middle classes is producing a large number of literates who like to read, Anita Desai added.
"India matters more than any award or listing on the best-sellers list because it is only in India that books are sold at traffic signals," said Patrick French, author of 'An Intimate Biography of 1.2 Billion People-India'.
At the 'Aisi Hindi, Kaisi Hindi' session, writer and columnist Sudheesh Pachauri commented, "It is only due to the power of Hindi that it has made its way in this elitist English literature festival." None seemed to mind his comment.
Senior Hindi author and Prasar Bharti director Mrinal Pande, TV anchor Ravish and lyricist Prasoon Joshi were cheered vociferously by the huge crowd. "Hindi ek apsara hai jo har taal par naach sakti hai," said Mrinal Pande to a thunderous applause.