Green ministry's views not preconditions: State
Mandi/Lahaul, January 23
Terming the Shukla Committee and the Ministry of Environment and Forest's recommendations as "their views and not mandatory preconditions", the Himachal Pradesh government has rushed into allotting 18 major hydropower projects worth 1300 MW capacity for which it has received 63 bids from the independent power producers (IPPs).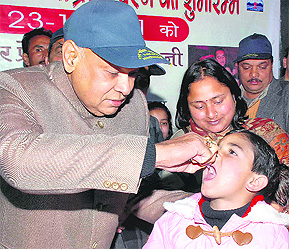 Chief Minister PK Dhumal administers polio drops to a child in Dharamsala on Sunday. Photo: Kamaljeet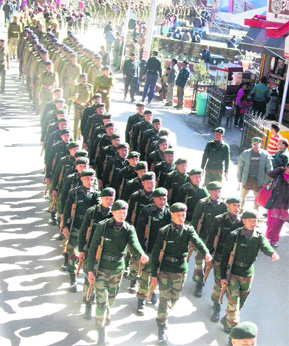 Army personnel rehearse for the Republic Day parade on the Ridge in Shimla on Sunday. Photo: Amit Kanwar

Has govt's winter sojourn started?
Dharamsala, January 23
Has the winter sojourn of the government to Dharamsala started? While officials confirmed that it has started with the arrival of Chief Minister Prem Kumar Dhumal for short stints to Dharamsala, others are waiting for formal start.
RPower in race for 10 projects
Shimla, January 23
Eyeing major stake in the hydropower projects in the hill state, Reliance Power has bid for 10 out of the 18 projects for which global tenders were invited by the government. In all, 63 bids have been received and corporate giants, including Tata Power-SN Power joint venture, GVK Energy, Larsen and Toubro (L&T), ABG Shipyard, Capital Consortium, IBCRL Assets and Holdings Limited, Essar Power, CESE Limited and Manipal Group are in the race for major projects.
Bilaspur gets Rs 8.87 crore under NRHM
Bilaspur, January 23
The government has sanctioned Rs 8.87 crore for this year under the National Rural Health Mission (NRHM) to this district as 35 rogi kalyan samities are functioning in various health institutes here. This was said by Himachal Vidhan Sabha deputy speaker Rikhi Ram Kaundal while presiding over a district-level meeting of officers for reviewing the progress of the NRHM here last evening.
Settle pay-scale issue, project engineers urge govt
Shimla, January 23
The HPSEB Project Engineers Association has urged the government to settle the issue of pay scales before transferring the control of civil and mechanical engineers from HPSEB Limited to Himachal Pradesh Power Corporation Limited (HPPCL).
ISCA award for Sood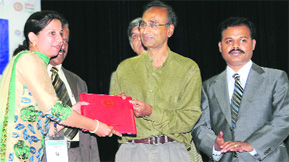 Solan, January 23
Dr Hemant Sood of Jaypee University of Information Technology, Waknaghat, has bagged this year's ISCA Young Scientist Award for 2010-2011 during the 98th session of the Indian Science Congress Association held at SRM University, Chennai, recently.
Dr Hemant Sood receives the ISCA Young Scientist Award during the 98th session of the Indian Science Congress in Chennai. Photo by writer

Cong, BJP hand in glove: CPM
Shimla, January 23
Accusing the Congress and the BJP of serving each other's business interest, the CPM said the unethical compromise between the two political parties in the Kullu zila parishad chief's elections had exposed the two.
Hotels can come up along Beas, says Dhumal
Manali, January 23
Chief Minister PK Dhumal today said local residents could now build resorts and hotels on the either side of the Beas at a distance of 25 mtrs which now had been included in the Rs 80 crore river channelisation project.
Cultural heritage on display
Manali, January 23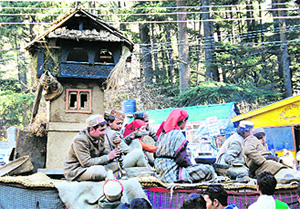 The five-day Winter Carnival-2011 started with much fanfare and gaiety at Manu Rangshala, popularly known as Rambag, here today which was inaugurated by Chief Minister PK Dhumal. Earlier, folk artistes in their traditional costumes, drawn from different parts of the country, assembled in the compound of the Hadimba temple at Dhungri near here to pay obeisance to the goddess, the presiding deity of the Manali region.
A tableau during the cultural procession on the opening day of the winter carnival in Manali on Sunday. Photo by writer

Senior citizens honoured
Kangra, January 23
Upkar Dewas was celebrated here yesterday in connection with the 67th birthday of the former municipal chief Bal Krishen Sharma. Two senior citizens were honoured for their contribution to the society besides meritorious students were given scholarships and uniforms on the occasion.
Relief camp for Beri project-hit
Hamirpur, January 23
Himachal Pradesh Power Corporation Ltd (HPPCL) organised a relief and rehabilitation camp at Seyoh village for project-hit people of the 78-MW Beri Nichli power project yesterday.
Training camps for sheep breeders
Bilaspur, January 23
The Himachal State Wool Federation will hold daylong technical training camps for sheep breeders of the state in all districts from January 24 to February 5.