Getting ready for Republic Day

State police jawans at a full-dress rehearsal for the January 26 celebrations at M.A. Stadium in Jammu on Monday. Photo: Inderjeet Singh
Cops scotch rumour of BJP workers posing as pilgrims
Udhampur, January 24
The police today dismissed the rumour of a large number of BJP workers having reached Katra, the base camp of Mata Vaishno Devi shrine, posing as pilgrims. The rumour had been rife for the past couple of days that the BJP workers were posing as pilgrims to dodge the police to avoid being stopped from going to Srinagar to hoist the National Flag.
Accession of State
We will stop yatra, if Omar withdraws remarks: Manhas
Jammu, January 24
Giving a twist to the ongoing controversy over its Rashtriya Ekta Yatra, the BJP said today that it was ready to give up its plan of hoisting the National Flag at Lal Chowk in Srinagar on Republic Day provided Chief Minister Omar Abdullah withdrew his controversial statement regarding the accession of the state to the Indian Union.
ANC flays BJP plan
Srinagar, January 24
The Awami National Conference (ANC) has described the BJP's plan to hoist the National Flag at Lal Chowk in Srinagar on Republic Day as an attempt to stall efforts to solve the Kashmir issue.
Search operation in Kathua district to nab militants
Jammu, January 24
Security forces have launched a search operation to track down a group of armed militants in the jungles of Bani in Kathua district near the Jammu-Pathankot National Highway.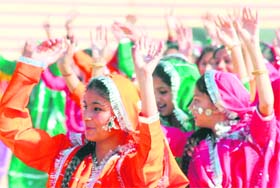 Students perform during a rehearsal for Republic Day in Jammu on Monday. Photo: Inderjeet Singh



Abdul Rahim Rather, Finance Minister (left) addresses mediapersons in Jammu on Monday. Photo: Inderjeet Singh
CM: Ensure regular supply of essential commodities
Srinagar, January 24
Stressing the need to ensure adequate buffer of essential commodities and fuel in the winter zone of the state, especially in the snow-bound and remote areas, Chief Minister Omar Abdullah yesterday directed the authorities of Kashmir division to address people's needs.
Poor Performance
Health Minister warns ISM docs of transfer to remote areas
Jammu, January 24
Spitting venom at the Indian System of Medicines (ISM) doctors, Health Minister Sham Lal Sharma described them as "sinners" and "criminals" for not performing their job dutifully, while quoting a work audit report at a public function at the Government Ayurvedic Hospital here today.
Contractual lecturers rue increase in workload
Jammu, January 24
At a meeting of the College Contractual lecturers Association held here yesterday, members criticised the Higher Education Department for increasing the workload of lecturers/teaching assistants working on academic arrangement and diluting the quality of education at the college level.
Theatre groups form federation
Jammu, January 24
To highlight their problems, nearly 24 active theatre groups constituted the United Artists' Confederation (UAC) here yesterday. The forum came into existence to disseminate its expertise in the field of art and culture so that the state could be made more vibrant and its authority be listed on the national as well as international forums in the right perspective.
Ensure proper utilisation of district plan funds, says Tara Chand
Udhampur, January 24
Deputy Chief Minister Tara Chand, who is also the chairman of the District Development Board (DDB), Udhampur, today asked board officers to achieve optimum results on the ground in the stipulated time to ensure transparency and proper utilisation of funds.
PCC chief demands Srinagar-Jeddah flight
Srinagar, January 24
Saifuddin Soz, MP and president, State Congress Committee, met the Union Minister for Civil Aviation, Vayalar Ravi, in New Delhi yesterday and raised various issues related to the state. According to a statement, Soz told the Union Minister that the state was not receiving a fair deal from the Civil Aviation Ministry.
Police gets vital clues in beautician's murder case
Jammu, January 24
Four days after the body of a 20-year-old beautician, Nisha Devi,was found from a field under mysterious circumstances in Chak Balotra village at Ramgarh in Samba district,the police today claimed it had gathered vital clues and would solve the case soon.
Give equal opportunities for govt jobs: NPSU
Jammu, January 24
Activists of the National Panther Students' Union (NPSU) today expressed their resentment against discrimination which people of the Jammu region had been subjected to. According to a statement, Pratap Singh Jamwal, a senior NPSU leader, said since 1947, the people of the Jammu region had been discriminated against.
College organises guest lecture
Jammu, January 24
The Department of Computer Sciences of Government College for Women, Parade, today organised a guest lecture in which Ankit Sharma, from the London School of Economics (LSE), delivered a lecture.
Bhimsen Joshi's death mourned
Jammu, January 24
The Nami Dogri Sanstha-- a cultural organisation-- condoled the death of singing legend, Pandit Bhimsen Joshi, who breathed his last today. In a condolence meet held here today, the members of the organisation, including its president, Dogra Harish Kaila, paid rich tributes to the doyen of Indian classical music and described his death as a huge loss to Indian music. — TNS