Don't sulk without Harley, modify your Pulsar
You can't take your eyes off a naked sophistication called Ducati Streetfighter. The maximum you can do is tear the paper and put it in your cupboard, or better still get someone to give your old bike a complete new look. Something is better than nothing. Work on this funda, and drive your bike to a place where people, 'experienced mechanics' of course, will give your bike a makeover. This is how it happens.
Are you happy today?
Those of you who did not have a great start to the week should read this - Today is apparently the happiest day of the year. Don't believe it? Here's why: Two weeks after Blue Monday, the day when our spirits are at their lowest because of post-Christmas debt and limited daylight, comes Happy Monday - as good as it's going to get all year.
Q: Vishwa Mohan Bhatt's current ringtone?
A: Tum Paas Aaye.. (Kuchh Kuchh Hota Hai)
How would you react if a classical maestro's caller tune is not a raga but a Bollywood's hit romantic number? Re-check the number and that's exactly what we did when we called up Grammy award winner Pandit Vishwa Mohan Bhatt. The song was Tum Paas Aaye from the blockbuster Kuch Kuch Hota Hai, one of Bhatt's favourite.


Multi-cuisine USP of new restro-lounge
Tricity seems to be spawning lounges-cum-restaurants. And why not, it is a viable business option, combining the qualities of lounge and restaurant, reducing the trouble of going to different places to eat and drink. It was on a Saturday night that Barryo Fiesta, a restro-lounge-cum-bar opened in Sector 8, Panchkula.

Pranic healing is for all
If you want to learn how to manipulate mind power to make things favourable to you, Pranic healing may be what you are looking for. From addiction to arthritis, Pranic healing offers solutions for physical, emotional, financial and relationship problems.


L-R Lakshmi Dhevi and Betty Nangia — Photo: Vinay Malik



Ek garam chai ki pyali ho!
There's nothing like a hot cup of tea on a frigid day to warm you up. Adding an innovative product to their product portfolio TTK Prestige, a kitchen appliances brand gets the Indian 'Tea Maker' into the market. Ideal and suitable for the Indian palate, the Prestige Tea Maker promises to brew a perfect cup of 'Desi Chai' hassle free in a jiffy.
Footwear for men
Alberto Torresi—a new footwear brand offers premium and assorted range of men's shoes in the domestic market. The collection offers premium casual and formal range of shoes which surely speaks high on comfort, quality and style.


Guild award for The King's Speech
The King's Speech won a key award from Hollywood directors on Saturday, four days after the British royals drama picked up a leading 12 Oscar nominations. The film's director, Tom Hooper, was named winner of the union's prize for outstanding achievement in feature film at a ceremony in Hollywood.


Natalie Portman accepts the award for best female actor in a leading role for Black Swan and actor Lea Michelle from Glee strikes a pose at the 17th annual Screen Actors Guild Awards in Los Angeles, California on Sunday. Photo: Agencies

Pooja Bedi plays Egyptian princess
Actor Pooja Bedi is upbeat about her comeback to Telugu cinema. Nearly two decades after featuring in Chittemma Mogudu alongside Mohan Babu, she will now be seen as an Egyptian princess in Junior NTR-starrer Shakti. With a budget of Rs 45 crore, the film is being touted as the costliest movie in the Telugu film industry.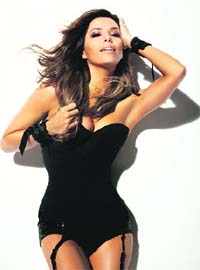 Eva single again
Hollywood actor Eva Longoria is now officially single as her divorce from estranged husband Tony Parker has been finalised. The Desperate Housewives star, who married the basketball player in 2007, grabbed headlines in November last year after filing for divorce from Parker citing irreconcilable differences. The 35-year-old actor alleged that Parker was unfaithful, but the claims were denied by the NBA star.
Carey Mulligan is brilliant at crying
Hollywood beauty Keira Knightley says her Never Let Me Go co-star Carey Mulligan is brilliant when it comes to crying onscreen. The 25-year-old actor said that Mulligan, who plays Kathy in the movie adaptation of Kazuo Ishiguro's dystopian novel, was 'on another level.' "It was like clockwork. I've never seen anything like it," Knightley said.
Standing tall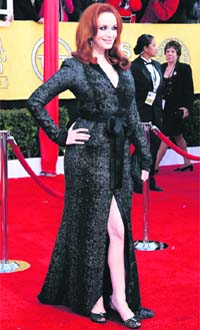 Actor Christina Hendricks from the television show Mad Men arrives at the 17th annual Screen Actors Guild Awards in Los Angeles, California on Sunday. — Reuters photo
Chitrangada wants to work with Aamir Khan
Bollywood actor Chitrangada Singh Saturday made a candid confession about wanting to share screen space with superstar Aamir Khan. "If you ask me to name one actor with whom I want to work, then its Aamir Khan. If Sudhir (Mishra) makes a film with him then I would stand in line with a hope that I will get a chance," she giggled.
Key it in
Nokia's X2 is the latest handset that comes in trendy designs
Keep aside the functionality, for a while give the megapixels 3G, 4G (Radia G sounds better) a rest and tell us how do you like a mobile phone for the first time? Avoid the philosophical inner beauty trash, and be straight - from the look of it.
Intex offers security products
Intex Technologies (India) Ltd. announced the addition of one more business vertical in its portfolio - consumer security software products. The first product in the series to be introduced is INTEX Safe Surf AntiVirus 2011- launched in partnership with leading security software developer PC Tools.


Spy with these cameras
Reality shows have changed the face of television. If on one hand they have encouraged people to come out and share their 'personal' lives, on the other they have also given a boost to spy cameras. Thanks to serials like Emotional Atyaachar, Bigg Boss and Spiltsvilla, small things like a pen, a cap, handbag or sunglasses have also become objects to spy on. This has also contributed to the steady rise of the hidden spy camera industry.