Dec exports at $22.5 bn; highest in 33 months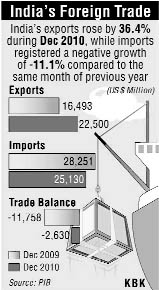 New Delhi, February 1
India's exports rose 36.4 per cent to $22.5 billion in December 2010 on an annual basis, the highest in 33 months, on back of increased demand in the US and EU, raising hopes of exceeding this fiscal's target of $200 billion.
The country's merchandise exports in December 2009 had stood at $16.4 billion. However, imports during the month contracted by 11.1 per cent to $25.13 billion over the same period last year, resulting in narrowing of trade deficit by $2.6 billion, Commerce Ministry data released today said.
During April-December period of the current fiscal, the outbound shipment grew by 29.5 per cent to $164.7 billion from $127.1 billion year-on-year.
"The US and EU markets have been doing pretty good," Commerce Secretary Rahul Khullar had said recently.
In its monetary policy review, the RBI had said global growth prospects have improved in recent weeks. The recovery in major advanced economies which had weakened during second quarter of 2010, regained strength in the following quarter. Corporate capital spending and retail sales in the US are showing improvement. The US and EU are India's traditional markets and account for more than one third of its shipments.
The "remarkable job by exports" was also attributed to diversification of India's export markets.
For instance, 112 per cent rise in engineering exports was helped to a great extent by orders from Latin American countries like Columbia, a commerce department official said.
The trade deficit during April-December stood at USD 82 billion, marginally higher than $80.13 billion in the corresponding period last fiscal.
The government had set an export target of USD 200 billion for 2010-11.
However, both the Government and exporters expect the shipments to be in the range of $215-225 billion.
"It is quite clear that the Indian exports are on a rebound and a new record will be set this year," said Rakesh Mohan Joshi of Indian Institute of Foreign Trade (IIFT).
In December, the sectors which registered higher growth, include engineering (112 per cent), electronics (88 per cent), man made fibres (30 per cent) and yarns (65 per cent). FIEO, the apex exporters body, said its forecast that the country is on course to exceed the export target, is coming true.
"In fact, as per the current trade data, exports may top the robust expectations," FIEO President S Deora said. — PTI