Ugyen Trinley Dorje is true Karmapa: Buddhists
Mandi/Kullu, February 4
Buddhists societies today described Ugyen Trinley Dorje as the true Karmapa and the Sidha of the Kyud-pa sect of Himalayan Buddhists and demanded an impartial probe into the Chinese connection of the Karmapa's guru Tai Setu Rimpoche, who has also come under the scanner of the Enforcement Directorate and other intelligence agencies and the Himachal Police.
Experts against change in Youngthang project domain
Shimla, February 4
The three-member expert committee, set up by the government, has recommended that the 240 MW Youngthang project should remain within the original domain and the construction of another project on the Sutlej upstream Khab make full utilisation of the head available up to China border.
War of words between Dhumal, Virbhadra
Dharamsala, February 4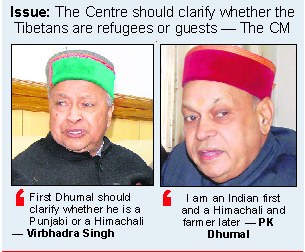 The Tibetan issue has triggered a war of words between Chief Minister Prem Kumar Dhumal, and Union Minister of Small, Micro and Medium Industry Virbhadra Singh. Virbhadra Singh, talking to newsmen at Gaggal airport, this morning made unsavoury remarks against the Chief Minister. When asked to comment on the recent statement of the CM that the Union Government should clarify that the Tibetans staying in Himachal were refugees or guests, Virbhadra Singh, in his unique taunting style, said: "First Dhumal should clarify whether he is a Punjabi or Himachali".
Locals to have 50% quota in Mandi medical college
Dharamsala, February 4
The Himachal students will get 50 per cent reservation in ESI Medical College coming up at Mandi. The admissions in the college will start from the next academic session. Chief Minister Prem Kumar Dhumal said this while addressing the dedication ceremony of new school building of Gokul Montessori Senior Secondary School at Nehrian in Amb subdivision of Una today.
Move to shift surplus staff
HPSEB employees stage protest

Shimla, February 4
Members of the HPSEB Limited Employees Union staged a protest against the unilateral move of the management to declare different categories of staff as surplus and served a 14-day notice for the review of the decision, failing which it would resort to direct action.
Employees of the Himachal Pradesh State Electricity Board protest at Kumar House in Shimla on Friday. Photo: Amit Kanwar

Chamba shooter selected for National Games


Chamba, February 4
Indu Shah of Chamba has been included in the 15-member team of the Himachal Pradesh rifle shooters, who will take part in the National Games being organised by the Olympic Association of India in Ranchi from February 12. Shah's selection has been made on the basis of her excellent performance during the national rifle shooting competitions held in Jalandhar in December 2010, and in New Delhi in January this year.
Rs 4 crore to be spent on agri varsity: VC
Palampur, February 4
Dr SK Sharma, Vice-Chancellor, CSK HP Agriculture University, said Rs 4 crore would be spent to augment the facilities for students of the university. He was addressing students and staff on the occasion of the opening ceremony of the annual athletic meet, here today.
NGO honours artists, doctor
Chamba, February 4
A local NGO, Kala Sanskriti Parishad, organised "Khamod Utsav" at the local Bhuri Singh Museum today. Three local eminent personalities were honoured for their outstanding contribution towards society by presenting them with a Himahali cap, angavastram and a plaque.
Stray cow injures 2 women
Bilaspur, February 4
A stray cow is said to have injured two elderly women Gaga Devi (80) and Kaushalya Devi (70) of Tikkari village, near here, last evening. Reports said these women were returning to their village when the cow suddenly attacked them and knocked them down on the road. They were saved by passers-by.
Online engg, medical entrance exams
Shimla, February 4
The Vidyapeeth has come up with a technological advanced website which will enable it to host online tests for students appearing in engineering and medical entrance examinations.
No APRO office in Dalhousie
Dalhousie, February 4
The Information and Public Relations Department has recently issued posting orders of an assistant public relations officer (APRO) at its Dalhousie office which has been lying vacant for the past few years. But, there is no office accommodation provided to the APRO since 2006, when it came into being.
15 kg charas seized
Kullu, February 4
More than 15 kg charas was seized in three separate cases by the district police yesterday. Superintendent of Police Abhishek Dular said 10.2 kg charas had been seized during patrolling near Bhadel from the possession of Virender Singh of Garhwal village in Sonipat, Ishwar Gautam of Lijwan, Jind district, Surender Singh of Damahar village of this district and Bal Kishan.
Debit card fraud accused held
Kullu, February 4
The police nabbed the accused, who used the debit card of a tourist for online shopping.