Feats at Kila Raipur
Jawstruck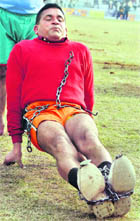 Sahib Singh, a resident of Jalandhar, breaks a chain.
Sahib Singh (29): Breaking iron chains without any cutter is his forte. A 29-year-old from Jalandhar ties an iron chain around his body and pulls it to break it. What looked impossible after his claim turned out to be reality during the games. It took not more than two minutes for Sahib to break the chain. It broke like a rope.
"I started with ropes when I was only five years old. Nearly 15 years ago, I graduated to iron chains.
I can do it with not much difficulty though I practise it for two hours everyday," he said.
Feeding on almonds and milk to get strength, Sahib is a vegetarian and a votary of vegetarianism too.
"I have never had non-vegetarian food in my life. And see I can actually break shackles," he grins.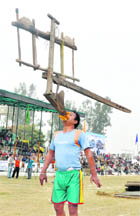 Balbir Singh lifts a plough with his teeth.
Balbir Singh Mirza (50): A regular for the past 29 years, Balbir Singh Mirza, from Hoshiarpur lifts a plough with his teeth.
Being able to balance it for five minutes, Balbir Singh, lives only for his passion.
Whatever he gets in return after performing, he sustains on it.
He travels with his plough on a bus. "I keep it atop the bus and reach wherever I want to, " he says.
Dead against toothpastes, Babir cleans his teeth with a 'datoon' every morning.
"Had I used toothpaste, I wouldn't have been able to perform this feat, "" he says,
Muscle Power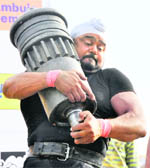 Major Singh lifts 1.5 quintals of weight at Kila Raipur Games in Ludhiana on Friday.Tribune photos: Himanshu Mahajan
Major Singh (33): Lifting 1.5 quintals of iron roller of wells of yore, Major Singh (33) of Khanna left the audience spellbound today.
A regular in all sports melas in the state, Major Singh started lifting weights when he was 20. Seeing performers in Kila Raipur games 13 years ago, he decided to do it himself.
Practicing made him master of the art of lifting and he now performs every year. "I owe this passion to this land only.
I will come here every year as long as I am alive," he says. A votary of butter and desi ghee, like other performers, he too consumes a lot of dairy products.
"If you pump iron, butter doesn't say anything to you," he says.
Meeri Peeri Gattka Akhara fights against social evils
Mahesh Sharma
Kila Raipur , February 4
All present in the Grewal Sports Stadium were forced to hold breath when Atma Singh, leader of a group of 35 Nihang Sikhs, with his eyes closed with a bandage, not only cut a banana placed on another member of troupe but inserted carbon black in his eyes with sharp edge of a sword.
Each one of the group from the International Meeri Peeri Gattka Akhara, Machhiwara exhibited martial art in a manners that was appreciated by all present.
The performers including 4 year old Rajvir Singh appealed all those present to launch a coordinated movement against social evils including drug addiction and female feticide through bangs of Gatkas , chakkars, spears , swords and shields which continued for over half an hour in front of the main stage at the stadium.
Regretting that office bearers of various Sikh religious organizations had failed to persuade youths to obey ideals of the Sikhism in their lives, Atma Singh claimed his organization had launched a movement to educate masses about consequences of deviation from the religion.
The movement, besides strengthening the Sikh Panth would save the youth from falling prey to evils including drug addiction, maintained Atma Singh.
Asserting that all members of his group were either fulltime employees or students, Atma Singh said the group had to practice for three hours a day in routine.
Every member of the group is taught to take care of lives of spectators while in action.
"As the practicing martial art is always risk prone we have take care of all those who are present nearby. At times we have to suffer injuries to protect others," said Atma Singh showing a mark of injury on his left hand. Convincing parents to send their wards to the Akhara was also a tedious job, concluded Singh.