M A I N N E W S
2G mess started with NDA regime in 2003: Patil panel
Girja Shankar Kaura
Tribune News Service
New Delhi, February 4
Unveiling the report of the Shivraj V Patil panel that went into the lapses made during the allocation of the 2G Spectrum, Telecom Minister Kapil Sibal today said the committee had concluded that all decisions on Spectrum allocation since 2003 by successive governments, including the UPA regime, were procedurally wrong.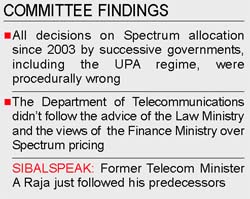 Addressing a press conference, a day after the arrest of former Telecom Minister A Raja and two days after Patil submitted his almost 1,500- page report, Sibal said his predecessor had said that he was "not deviating from the previous policies (of the NDA Government) but the problem was that the previous policies were wrong".
Quoting the report, Sibal said the committee found that original Spectrum allocation was "bad" and procedures were not followed both during the NDA Government till 2004 and the UPA Government up to 2008.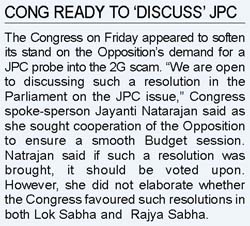 He also wondered why this crucial issue was being sidestepped by the Opposition while blaming the UPA Government of Prime Minister Manmohan Singh, who took charge in May 2004, for the so-called Spectrum scam.
"Those who are making allegations today are the ones who actually began it. Why wasn't there an inquiry then? Ministers who did not follow the Cabinet decision were not questioned," Sibal said.
However, in what could be a damning admission of Raja not following procedures despite advice from other ministries, the report says that the DoT did not follow the advice of the Law Ministry or the views of the Finance Ministry over Spectrum pricing.
Making yet another attempt to come to the aid of Raja, Sibal blamed the BJP-led NDA regime for the current mess over the Spectrum allotment and said that deviations in policy had actually started in 2003.
The findings on procedural lapses are being sent to the CBI, which is looking into the criminal culpability in the scam, Sibal said. "The entire report will be shared with investigation agencies to determine culpability of all public servants involved in the grant of licences or Spectrum between 2001 and 2009."
Meanwhile, former Telecom Secretary Siddharth Behura, who was arrested along with Raja, has offered to disclose to the CBI everything he knows about the 2G scam Making the offer in a special CBI court yesterday, Behura`s counsel chose not to oppose the agency`s plea for five-day custody of the former telecom secretary for further interrogation. "It is submitted that he (Behura) is innocent, however, prayer for police custody remand is not opposed as he is ready and willing to disclose everything before the investigating agency," Behura`s counsel SS Gandhi told the court.