State govt ready to provide details, says minister
Dehradun, February 5
Reacting strongly to the allegations made by Opposition leader Harak Singh Rawat about a SAF Winter Games scam, Uttarakhand Sports Minister Khazan Das today said that there was no justification in comparing the SAF Winter Games with the CWG as no scam had taken place during the Winter Games in Uttarakhand.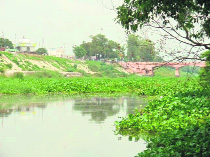 Fisheries Dept to give facelift to old Ganga canal in Roorkee
Dehradun, February 5
The district Fisheries Department of the state will give a facelift to the discarded old Ganga canal in the Roorkee region and has reportedly got an approval from the state government on the proposal to start fish farming in a long stretch of the canal.
A pathetic scene of the old Ganga canal at Kaliyar. Photo: Navreet Milton

'Let Girls Be Born' programme launched
Dehradun, February 5
The Let Girls Be Born programme aimed at curbing infanticide in the seven districts of the state was launched jointly by NGOs, comprising the Shri Bhuvneshwari Mahila Ashram (SBMA) and Plan India, here today.
Sectt down Health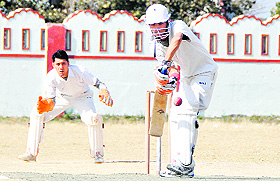 Dehradun, February 5
Secretariat surpassed Health by 29 runs here today during the 60th District Cricket League at the Survey of India stadium, Hathibarkala. The winning team set a target of 171 runs for nine wickets in 32.1 overs after choosing to bat first. The innings of Secretariat revolved around Bhupender (43) while Vikash chipped in with 21 runs.
A batsman attempts a defensive shot during a match in the 60th District Cricket League played at Survey of India ground in Dehradun on Saturday. A Tribune photograph
RIMC cadets entertain Raphael kids
Dehradun, February 5
Twentysix cadets of the Rashtriya Indian Military College (RIMC) visited the Raphael Ryder Cheshire International Centre to conduct an entertainment programme for the children there. They were welcomed by Brig AAS Sinha (retd), Director, Raphael Centre, who is also a Rimcollian.
Shivalik scrape past Yankies
Dehradun, February 5
In a hard-fought match, Shivalik Football Club got past Yankies Football Club 6-5 in the tie-breaker at the ongoing 19th Narayan Gurung Zics Memorial Football Tournament today on the Mahindra Ground here.
81 students selected through campus placement fair
Dehradun, February 5
About 81 students of Doon Business School have got placement through its campus placement fair organised recently. More than 450 MBA students from various colleges of Uttarakhand and other states participated in it.
Sai School nurses take oath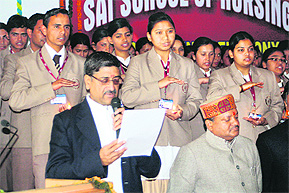 Dehradun, February 5
The new batch of the Sai School of Nursing took participation in the oath-taking ceremony conducted on the premises of the college here today. The chief guest of the occasion was Balwant Singh Bhauryal, State Medical Education Minister, while RP Bhatt, Joint Director, Health, accompanied him as guest of honour.
Students take oath at the Sai Institute of Nursing in Dehradun on Saturday. A Tribune photograph

Students protest against renaming UTU after Rajju Bhaiya
Dehradun, February 5
Under the leadership of state secretary Pawan Nautiyal, agitated members of the All-India Students Association (AISA) staged a dharna in favour of their demands at the Gandhi Park here today.
Design training programme to be launched
Dehradun, February 5
To strengthen the brand value of products, the Industries Association of Uttarakhand (IAU) and the National Institute of Design (NID), Ahmedabad, will launch a design training programme for Micro and Small and Medium Enterprises (MSMEs).
CM inspects Doon Hospital
Dehradun, February 5
Chief Minister Dr Ramesh Pokhriyal Nishank inspected the District Doon Hospital here yesterday. Most of the patients complained of high-handed behaviour displayed by the staff.
10-day trade fair begins
Dehradun, February 5 A 10-day extravaganza of Agnihotri's Dreamland and Trade Fair-2011 began at the Parade Ground here today. Vidhan Sabha Speaker Harbans Kapoor inaugurated the trade fair.