The circus story
Aparna Banerji
Tribune News Service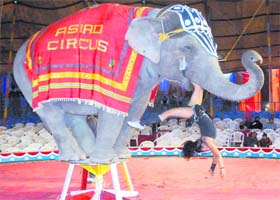 A girl performs acrobatics at Asiad Circus in Jalandhar. Tribune photo: Malkiat Singh
Jalandhar, February 10
Kitschy posters of skimpily clad women, animals pulling off tricks and in-action gymnasts greet passersby at the threshold of Asiad Circus, set up at the ground of the Doaba Khalsa School near Nakodar Chowk. At the venue, the mood is sombre and the authorities jumpy.
They are wary and almost paranoid of strangers.
As they tell us, profits no more pour in as they used to some years ago and a bout of negative publicity in some papers has made things go from bad to worse.
Talking about business, owner of the circus Raju Pehalwan says "It's grim."
"The returns are usually lesser than the invested amount. On top of it corruption cripples us."



Kenyan acrobats in Asiad Circus. Tribune photo: Malkiat Singh
Corruption? "Oh, it eats into our business. We have to pay for land we set up camp on, for every little permit that needs the government's nod. That way, Punjab is still OK. In UP we get politicians and their kin asking for free tickets everywhere we put up a show. Haryana's bad too. In Punjab people still want to pay for their tickets. So we like coming here and stay longer. Before Jalandhar, we were at Amritsar," says Raju.
"So many circus companies have already closed down. Gemini, Asian, Gemini, Oriental, Komal circus have all closed down, we are thinking of doing that too (laughs). It's tough to sustain the circus these days," says Raju.
Though Raju is upbeat about his talented crew, "We feed and arrange for the stay of our crew of 200 people. They live like family and unlike the other circuses, we ensure that they get their salaries on time."
The Tribune chats up with Asiad Circus' talented crew:
Sonu - the Cup Saucer girl
She is 35 and married to the guy who performs the driving-the-bike-across-the-air act. Her act - balancing cups and saucers on her feet and head while sitting on a 6-foot-high one-wheeled bicycle placed on a table.
Isn't it difficult? "Oh no. My mother was into it. We lived in Kolkata. She taught me the act. In the beginning I would fall down and cry. The training part was difficult but now it's smooth," she says.
Sonu detests the people who look down upon her. "There are people who dislike us because we wear short clothes. They think our world is different and we are not good people. That hurts. I bet they can never do what we do."
So how does she find this life? "I love it. We are like one family. My entire family is in the circus. Mother, brother, sister-in-law, husband. Life's good."
Pinky- the deadly biker
She is the audacious woman biker of the see-through, circus version of the "maut ka kuan".
The petite Pinky has been practicing since she was a kid. "But I graduated into a professional biker only about 6-7 months ago. It takes years of practice. In the beginning it was scary. The falls were bad enough to dishearten me. But when I finally picked up, it was exhilarating."
So what are the techniques? "You have to tilt your body right. Have to look exactly where the bike heads, a little shift of glance and you're gone. Clutch and speed estimates also have to be exact," quips Pinky.
She is married to the parking man in the circus. "Our owner fixes all the weddings at the circus. He is very good at that," she laughs.
The little goofballs
Mukesh and Chandan are the circus clowns. Mukesh has been there for the last 35 years and Chandan's been a recent addition.
So how's life been at the circus? "Good," says Chandan.
"Have you seen Mera Naam Joker? That's our life. We laugh on stage and cry inside," says Mukesh.
Seems like Mukesh wants to say more but he casts wary, oblique glances at the owner's man standing nearby and keeps mum.
"We fall and people laugh. No one ever asks if we felt hurt. We are dwarfs. This is our ultimate destination. There are no other jobs for us you know," says Mukesh.
The Kenyan acrobats
The foreign guests are the relatively new attractions at the circus. But seems like they are not totally happy with the treatment they get. The Kenyan crew consisting of members Lazarus, Kitsao, Rebson and group leader Sami, (all from Mombasa) say they found about the circus through an agent on the internet.
"I have been coming here earlier too. We are acrobats. We perform on a pole, pass through fire rings and hoops. We had a one year contract with the circus guys through the agent. I have worked with other circuses too but these guys mete out a shabby treatment. We were given insufficient, dirty quilts even during the peak winters," says Sami
Rebson says, "As per the agreement they were supposed to pay our medical bills but they don't do that. Sami had a waist injury but they did not pay his medical bills."
"I had to pay the bills with my own money," says Sami.
Sami has also performed at circuses in Poland, Spain, France and Jaman.
"We love India and have been treated well by the previous circuses. Back in Kenya, there are many people into this job. It's difficult to find a job there. So we have to go to the circus where there's a job."