Parties woo illegal colonies' voters
New Delhi, February 13
With the Municipal Corporation of Delhi (MCD) elections around a year away, the BJP-run civic body has started to pay extra attention to the condition of the unauthorised colonies, which are home to over 40 lakh people.


Students march for women's safety in Delhi
New Delhi, February 13
Close on the heels of leading woman organisations, including the National Commission for Women, taking up the issue of rising crime graph against women, over 150 people, mostly students, today held a candlelight march at Jantar Mantar.
Students take part in a candlelight march to protest against the rising cases of women harassment, at Jantar Mantar in New Delhi on Sunday. Tribune photo: Manas Ranjan Bhui

Youths throng Surajkund fair, plan to celebrate V-Day
New Delhi, February 13
Over the years, the Surajkund Crafts Mela seems to have evolved from the destination for heavy expensive interior decors and other exquisite handicraft items to the hangout zone for youngsters who are having a blast at the ongoing mela even with their limited budgets.


Artistes at Surajkund Crafts Mela on Sunday. Tribune photo:Manas Ranjan Bhui

Special packages for valentines
New Delhi, February 13
For young couples in the Capital, celebrating the Valentine's Day this year lavishly will not be difficult this time, as leading restaurants, lounges and clubs have come up with "special V-day packages" which are easily affordable. This year again, most pubs and clubs have decided on high entry fees, however, several new urban dining establishments, including many lounges are attracting couples with their exclusive packages for the eve.

FOR YOUR LOVE: A heart-shaped bouquet on sale at Connaught Place in New Delhi ahead of the Valentine's Day on Sunday. Tribune photo: Manas Ranjan Bhui



Rightwing not to spoil the party
What should be happy tidings for the couples is that the rightwing outfits like Vishwa Hindu Parishad, Bajrang Dal, Shiv Sena and their ilk have not announced any plan to target the V-Day revelers and the venues which would be hosting related events.
Jamia holds sports, cultural meet for poor kids
New Delhi, January 13
Over 30 schools participated in Inter-Agency Sports and Cultural Meet organised today by Jamia Millia Islamia University. The meet was held for the benefit of marginalised children on the occasion of the birth anniversary of former President Dr. Zakir Husain.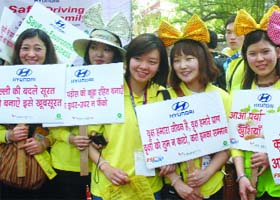 Korean volunteers hold placards during the Global Warming and Traffic Awareness campaign at Jantar Mantar in New Delhi on Sunday. Tribune photo: Manas Ranjan Bhui
Mughal Gardens to open to public
New Delhi, February 13
Come Tuesday, and the stunning Mughal Gardens at the Rashtrapati Bhavan will be thrown open for public viewing. The gardens will open to the public till March 16 on all days from 10 am to 5 pm, except for Mondays on account of maintenance. The entry will be restricted in the lawns after 4 pm.
Chatterati
The invite that shocks and cheers
Gate crashers dressed in their finery at the big fat weddings in Delhi have always been a problem. Recently, for the wedding of the daughter of a well-known industrialist, the invited got a real mobile phone which was fed with information about the ceremonies and also had a unique code, which had to be scanned at the venue to allow entry.
2-day meet to boost entrepreneurship
New Delhi, February 13
The Delhi Technological University is all set to hold an Entrepreneurship Summit 2011 to encourage students to strike out as entrepreneurs and boost the spirit of entrepreneurship.
Rahat Fateh Ali detained at airport
New Delhi, February 13
The 37-year-old Pakistani singer Rahat Fateh Ali Khan was today detained at Indira Gandhi International Airport on his arrival from Pakistan for allegedly carrying undeclared foreign currency amounting to around US$125,000.
2 held, 36 stolen bikes seized
New Delhi, February 13
The east district police has arrested two youngsters, a tailor and a mechanic with 36 motorcycles which they allegedly stole from various states, including Delhi, Haryana etc.
Man held for rape attempt
Gt Noida, February 13
A man was today arrested for allegedly attempting to rape his neighbour's daughter at Dugli village in the Gautam Budh Nagar district, the police said. The accused has been was identified as Umesh.
12-yr-old raped by minor
New Delhi, February 13
In yet another incident of rape reported in the Capital, a 12-year-old girl was allegedly raped by a minor boy in the Nihal Vihar area of west Delhi yesterday morning.
Minor commits suicide
New Delhi, February 13
A 14-year-old girl allegedly committed suicide by hanging herself in the Mandi Marg area last evening. According to the police, the deceased identified as Amme who hanged herself around 6 pm inside the house of her aunt at BKS Marg.
Rain expected today
New Delhi, February 13
It was a warm day in the Capital today with the maximum temperature hovering six degrees above the normal for this time of the season at 28.8°C. However, Delhiites may be in for a surprising weather tomorrow as the weather department has forecast light showers in some parts of the Capital. The minimum temperature today settled at 13°C.
Youth shot at by neighbour
Gt Noida, February 13
A 24-year-old youth was injured after being hit by a bullet fired by his neighbour during a brawl, today. Tan Singh of Niloni Shahpur village, last night had an argument with his neighbour Kamal Singh. Kamal took out his pistol and fired shots which hit Tan Singh's son Yoginder. His condition was stated to be stable. — PTI