Old age: How to handle orthopaedic problems
Dr P.K. DAVE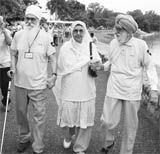 The geriatric population in the country is increasing since the average age has gone up from 27 years at the time of Independence to more than 65 years today. Consequently, the orthopaedic problems which beset the old age population have also increased.
Osteoporosis is a systemic disease of bones characterised by low bone mass and deterioration of micro-architecture of the skeleton, leading to increased bone fragility and risk. Osteoporosis has now been recognised as one of the commonest disabling diseases of the later life. It is a silent underlying condition, which often remains asymptomatic until a complication such as a fracture occurs.
The actual prevalence of osteoporosis and the real burden of its complications remains uncertain because of its asymptomatic nature. In India, though authentic data is lacking, it has been presumed that 35 per cent of postmenopausal women are at the risk of developing osteoporosis. In view of the large population, this proportion means a huge number which may pose a burden to the health care system.
This is a condition where the bones become unduly porotic because of a variety of factors. Bone can be likened to a plaster of Paris bandage which is formed by the muslin cloth and plaster of Paris powder. In osteoporosis since the muslin cloth becomes sparse it does not hold the powder also. A similar thing happens in the bone also. The matrix of the bone becomes less and hence the calcium content also becomes less.
The best way to treat osteoporosis is to prevent it by doing the following:
(a) Ensure good nutrition by taking calcium-rich diet like milk products, vegetables and fish.
(b) Ensure a healthier lifestyle.
(i) Carry out bone building and resistant exercises.
(c) Avoid too much alcohol, coffee and tea.
(d) Being physically active leads to healthier bones, better coordination and balance, an improved posture and muscle strength and flexibility.
However, all exercises must be tailored to suit the individual and his/her health status. High-impact exercises like jumping/jogging should be avoided. Avoid the risk of falling. To start with, the exercise programme should be supervised by a health care expert.
Prevention of falls, protection of joints, reduction of activities that increase pain and orthotic braces could be a useful adjunct to treatment.
Etiology and risk factors
Osteoporosis is the result of an interaction of multiple related and unrelated factors. The primary factors associated with osteoporosis include age, heredity and estrogen status.
Age is the single most important determinant of bone mass. Bone formation activity is at its maximum during puberty and adolescence and the peak bone mass is achieved between the age of 25 and 35 years. The bone mass starts to decline just after 40 years of age. The rate of bone loss in women doubles from about 1 per cent before menopause to an accelerated phase after menopause averaging about 2 per cent per year for the next 5 to 10 years. Lifetime losses may reach 30 to 40 per cent of peak bone mass in women.
It is more common in females and is also more severe, and usually affects them after menopause. This is due to nutritional, hormonal and sedentary habit reasons. After middle age the intake of protein and milk products gets reduced. Lack of hormones in women also reduces bone formation. Physical activity is a stimulus for bone formation. Sedantary habits also induce osteoporosis. In many medical conditions where the patients have to be less mobile for prolonged periods, osteoporosis sets in. In those cases non-ambulatory physical exercises can help in preventing osteoporosis.
The third important risk factor associated with osteoporosis is estrogen status. In postmenopausal women there is accelerated bone loss, which is most rapid during the first five years after menopause.
Other risk factors, which can cause osteoporosis are: (1) prolonged periods of amenorrhea during the reproductive period; (2) premature and surgical menopause; (3) heavy tobacco, caffeine and alcohol use; (4) inadequate calcium and vitamin D intake; (5) underweight and small build; (6) late menarche; (7) anorexia and (8) use of drugs such as cortico steroids, anti-epileptics and thyroid supplements.
Risk factors for osteoporosis
(i) Female sex; age 50 years or more.
(ii) Post-menopausal, early menopause; surgical menopause.
(iii) Sedentary lifestyle
(iv) Family history of osteoporosis.
(v) Smoking, chronic alcoholism.
(vi) Heavy coffee/tea/cold drinks
(vii) Medications: steroids, anti-epileptics, thyroid supplements.
Social factors: A large section of the population consumes a diet which lacks an adequate amount of protein, calcium and vitamin D due to poverty. Women are at an even higher risk of malnutrition which is further increased by repeated pregnancies. This depletes their calcium reserve further.
Management of osteoporosis
The diagnosis of osteoporosis can be made by radiological and biochemical tests and confirmed by bone densitometry. The treatment is by proper protein and calcium supplements, Vit l D3, calcitonin, allendronate, etc. This, of course, should be taken on the physician's advice. But the best thing is to prevent it by physical activity — walk and walk and walk for 45 minutes for five days a week.
Traditionally, the management of osteoporosis has been passive observation, regarding it as an inevitable consequence of ageing. In recent years there has been a paradigm shift to aggressive intervention to prevent osteoporosis in the first place and to prevent fracture by early detection of the disease. The primary goals of treatment for osteoporosis include (a) increasing bone mass; (b) arresting and reversing bone loss by inhibiting bone resorption and stimulating bone formation; (c) reducing the incidence of osteoporotic fractures.
Primary prevention of osteoporosis can be achieved by lifestyle modification (avoiding smoking, excess of alcohol and coffee), increased physical activity and weight-bearing exercises, adequate exposure to sun and increased intake of calcium and vitamin D during adolescence and youth. Secondary prevention requires early detection of osteoporosis and subsequent intervention to arrest or reverse the process.
Non-modifiable risk factors for osteoporosis
l Advanced age
l Female gender
l Asian race
l Low peak bone mass
l Family/personal history of osteoporosis
l Low body mass index
Modifiable factors
l Smoking
l Inadequate calcium intake and vitamin D.
l Low bone mass index
l Estrogen deficiency
l Hypogonadism
l Chronic glucocorticoid therapy
Hormone replacement therapy
Hormone replacement therapy (HRT) indicates the use of estrogen done or in combination with progesterone during post-menopausal period. Estrogen inhibits osteoclasts and decreases the rate of bone resorption, promotes calcium metabolism by enhancing intestinal calcium absorption and conserving renal excretion; and stimulates osteoblast function. HRT slows down bone loss, helps to maintain bone mass and skeletal integrity and protects against osteoporosis.
Calcium: Calcium supplementation has a significant beneficial effect on bone mass irrespective of age. Dietary calcium derived mostly from dairy products is associated with decreased bone loss in post-menopausal women. The recommended dose for calcium in post-menopausal women is 1500 mg/day, and in men and women on HRT is 1000 mg/day.
Vitamin D and its analogues: Vitamin D and its active metabolites have beneficial effects on bone mass in osteoporosis. In addition, vitamin D supplementation improves skeletal effects of vitamin D deficiency, not very uncommon in old age.
Other medical drugs used for the treatment of osteoporosis are bisphosphonates, calcitonin and fluoride parathyroid hormone.
Future trends indicate the use of a combination of drugs which can reduce bone resorption, enhance bone formation and have specific effects on calcium and vitamin D metabolism. Bisphosphonates and its derivatives are useful potent drugs for the treatment of osteoporosis.
Surgical treatment for vertebral fractures have also been developed with encouraging results, although they are not free from complications.
The writer is a former Director, AIIMS, New Delhi, and Chairman, Advisory Board, Rockland Hospital.