SAVE FARMERS FROM DEBT TRAP
Because of financial institutions' limited reach and procedural hassles, farmers in need of credit turn to commission agents, who charge exorbitant interest rates and resort to land grabbing — and even murder — in case of default. The coming budget should address this issue in earnest
Anita Gill
THE agriculture sector, which supports a majority of the population, requires a serious attention in the forthcoming budget. The misery of debt-ridden farmers across the board is well known and credit policy needs to be more inclusive towards this section.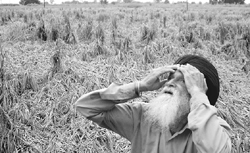 Farmers' dependence on borrowings has increased as farming is no longer adequately remunerative. Tribune photo Vicky Gharu
The benefits of the Green Revolution have been almost eroded with near stagnant technology, declining productivity and the ever-rising cost of inputs, including credit, coupled with low levels of support prices. The income-expenditure gap is so wide that farmers, especially small and marginal, cannot fulfil even their basic consumption needs, leave aside production needs. Their dependence on borrowings has increased, but they have little repaying capacity as farming is no longer remunerative.
No wonder they are caught in a virtual debt trap. Since the late eighties, they have started choosing death over repayment of debt. Although the problem has been long pending, little has been done to tackle it. Under such circumstances, expectations from policymakers rise as the day of the annual budget draws nearer.
The 2008-09 budget tried to address the issue of agrarian indebtedness by providing a Rs 60,000 crore debt waiver and lowering interest rates on agricultural loans. However, the entire relief package was for institutional debt only and the debt from informal sources was neglected even though it is far more in volume.
Now the Eleventh Plan is well under way with the populist slogan of growth with a human face, that is, inclusive growth, offering an equality of opportunity for all. It is, therefore, pertinent to examine agricultural indebtedness. within this framework. This is especially undertaken for Punjab, the state that was once the most prosperous and is a major contributor to national food security of the country.
WHAT THE 2011-12 BUDGET SHOULD DO
Enlarge the allocation of net bank credit for agriculture and separate direct and indirect advances.
Commission agents should be taken off the list for priority lending.
Raise public expenditure on rural health care, education and irrigation
Minimum support prices should be commensurate with the rising cost of cultivation.
Financial institutions should become more farmer friendly to wean farmers from private lenders.
Increase the supply of farm credit
Lower the interest rates on farm loans.
Bring down the transaction costs, simplify the lending procedures and educate farmers about the nitty-gritty of banking operations.
A debt waiver scheme on the lines of the one announced in the 2008-09 budget should be introduced covering debts from informal sources as well.
Admittedly, the inclusive approach to growth is a wide concept. Here the focus is on financial inclusion of cultivators, big and small, particularly in the case of borrowings from banks for their production needs. If cultivators have to depend on non-institutional sources of finance because of scant avenues from formal sources, this amounts to their financial exclusion.
The 59th round of the NSSO (2005) estimated that 65.4 per cent of farmer households in Punjab were indebted (the all-India figure was 48.6 per cent). Independent surveys by noted economists (Shergill-1997, 2010; Sukhpal Singh -2007) put the figure at much higher levels - close to 90 per cent. In terms of land size no single category of the farm households is free from debt. Although there is a difference of opinion as to which class of farmers is more indebted, there are no two views on the fact that the average outstanding loan per household increased with the increase in land size.
Analysing source-wise indebtedness in Punjab, the NSSO survey indicated that institutional sources accounted for 48 per cent of the loans for all land sizes, while 52 per cent was accredited to non-institutional sources. The position for small and marginal farmers is worse as they have still less access to institutional sources, particularly commission agents (arhtiyas) vis-à-vis commercial and cooperative banks in the credit market.
Hence, it will be a gross exaggeration to say that informal lenders (arhtiyas) are losing their grip on rural life. This firm grip of the arhtiyas is a ramification of contracts involving the inter-linkage of input and output markets with the credit market. This means that in return for loans from commission agents, farmers are forced to not only purchase inputs from, but also sell their crop through commission agents.
The procurement agencies make payments for farmers' produce to commission agents who deduct their loan amount first and then pay the balance to farmers. As a result, farmers receive only a meagre amount -- at times insufficient to meet their basic consumption and production needs. Then another round of borrowing follows. Interest rates vary between 24 per cent and 36 per cent per annum. This is another aspect of exploitative informal lending.
Why do these commission agents enjoy a thriving business? First, they are easy to approach. The simplicity and elasticity of their methods act as a powerful magnet. At present "hassle-free" loans are only for large farmers; poor farmers have to face atrocities like land-grabbing, exorbitant rates of interest and sometimes even death (read murder at the hands of goons of commission agents). The murder of a farmer leader in Mansa in full public view on October 11, 2010, is a very recent example. Such atrocities have become common.
Another reason for the booming business of informal lenders is the credit gap - the difference between demand and supply of credit by formal financial institutions, which is more than 50 per cent for each size of land-holding and that too for production purposes. Who will cover the credit gap then? Informal lenders, of course.
The official (NSSO) as well as independent surveys have established that of the total loans (formal and informal), a major percentage is spent on conventional productive purposes, while a small percentage is spent on loans conventionally labelled as unproductive - education, healthcare, consumption and marriages. The last purpose accounts for less than 10 per cent of the loans in Punjab and 11 per cent countrywide. The State has increasingly withdrawn from public expenditure on rural development, agriculture and allied activities, health, education, irrigation. The decline has been substantial, and as a result, private expenditure on these essential services has increased, causing a further dent in incomes.
Unfortunately, financial institutions are not making much headway in providing succor to farmer households and in making financial services available to them. Punjab is just an example. The situation is the same throughout the country. Public policy has much to answer for in this case. With the introduction of banking sector reforms in 1991 and the subsequent revision of the priority sector list, agriculture has been hit hard. The priority sector now includes new segments and items - in agriculture, for example, acquisition of jeeps, mini buses and vans, loans to commission agents for meeting their working capital requirements on account of credit extended to farmers for the supply of inputs have been added.
While there has been an increase in the ceiling of advances for some other segments in the priority sector, the share of agriculture has been retained at 18 per cent of the net bank credit. Agricultural advances have now been made inclusive of indirect finances. This means that if banks fail to meet the stipulated target of 18 per cent, this can be made up by depositing the shortfall in the Rural Infrastructure Development Fund and even earn a rate of interest. This fund is required for activities, which should ideally be financed through budgetary resources and not by cutting down on finances to be given directly to farmers.
The financial inclusion of small farmers requires serious thought. In Punjab 12 per cent of the small farmers and 5 per cent of the large farmers have left farming with no alternative, gainful employment. The solution is not a one-time institutional debt settlement. The half-hearted attempts to make direct payments to farmers instead of commission agents on the sale of produce are not going to break the strong market inter-linkages between the farmer and the commission agent. The need is to smash the political clout of informal lenders.
For this the coming budget will have to devote considerable attention and resources to agriculture. The financial aspect of the agrarian crisis can be resolved considerably if public policy strives to restore the repaying capacity of farmers and financial institutions put in their bit by becoming a formidable challenge to the commission agents.
Financial inclusion requires a holistic approach and an effective regulatory mechanism. The pressures and compulsions of globalisation have taken their toll in terms of the growing exclusion of a sizeable portion of the population from the development process. A success story in terms of high growth rate without any corresponding pattern of development benefiting rural masses is not only awkward, but questionable as well.
The writer is a Professor of Economics, Department of Distance Education, Punjabi University, Patiala