India not responsible for global imbalances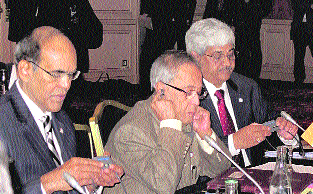 Union Finance Minister Pranab Mukherjee with Reserve Bank of India Governor D Subbarao at the G-20 meeting of Finance Ministers and Central Bank Governors in Paris. — PTI

Paris, February 19
Amidst hectic efforts to reach a deal on fixing indicators on global economic imbalances, India, at the G 20 meeting today, said it is not responsible for creating volatility in the international markets.
Ministers from the world's top economies are engaged in intense talks to arrive at an agreement on measuring global economic imbalances amidst a tough resistance from China, and with India saying it does not want a 'one size fits all deal'.
"India did not (and does not) contribute either to the buildup, or to the persistence of global imbalances...Nor does it contribute to the volatility in several international markets, including commodity markets," Finance Minister Pranab Mukherjee said at the G-20 Finance Ministers meeting here.
There have been proposals to frame indicators based on pubic sector debt, private savings, real effective foreign exchange rates and foreign exchange reserves.
The G20 developed and developing countries, including India, China, Russia, Brazil, US, UK, Germany and France, had formed an working group to decide on such indicators.
China, sitting over large foreign exchange reserve of nearly $ 3 trillion and having a big current account surplus, is fiercely opposed to these indices. It, instead, wants trade surplus to be taken into account.
India, on its part, has suggested that further efforts should be made to reach a consensus on the contentious issues, saying if there is no unanimity, "then that part of the communique can be deferred." Mukherjee told reporters that efforts were still underway to arrive at a common ground.
Earlier, in his speech he said India is vulnerable to seasonal factors and their effect on the food prices.
"As a result of vagaries of weather, India has witnessed a high and unsustainable inflation on the food items," Mukherjee said.
He said persistent high prices of food and commodities globally "do not give us room for comfort in tackling food inflation in India." India's current phase of growth has been more or less evenly balanced between consumption and investment on the one hand, and between domestic demand and external demand on the other.
However, India has its own "share of concerns arising from elevated commodity and asset prices and economic problems of a more structural nature that underlie the uncertainties in the global economy", he said.
Some of these uncertainties also derive from the aggressive macro-economic policy response to the global crisis itself, he said.
Meanwhile, in a signal that it is not willing to join the US-China currency war, India today said the foreign exchange adjustment is best be left to the sovereign governments.
Underlining that currency rates should be driven by market forces "as far as possible", Finance Minister Pranab Mukherjee said "the best course would be to leave it to sovereign governments to decide what course of action they will take. We take that position". — PTI