Music backs up Dhoni's men
Indian music composers Shankar-Ehsaan-Loy have composed the official song for the 2011 Cricket World Cup. Shankar and Divya Kumar have sung De Ghumaa Ke
It would be a crime to talk about anything else accept cricket now. Yes, it is indeed time to eat, sleep, drink, breathe and live cricket! If you are not doing so, well, you are surely missing out on something.

(L-R) Loy Mendonsa, Shankar Mahadevan and Ehsaan Noorani

Why fuss over one-night stand?
Woody Allen said in the surrealist Love and Death (1975) that sex without love is an empty experience, but that as empty experiences go, it's one of the best.
Don't ever expect to find love after a one-night stand - this is a phenomenon where everything seems magical at that moment and then suddenly shuts off, much like Cinderella who lost her game at midnight!



Exhibition by special students
Graphics, paintings and sculptures are on display at the Government College of Art-10
These 'special' students cannot hear and talk, but can express a thousand thoughts through their works of art, which are on display at the Government College of Art-10. The exhibition is an amalgamation of four prominent art forms: applied arts, graphics, painting and sculpting.


SPADE WORK
Gear up for Rose Festival
This is the day for which gardeners work hard all through the year - Rose Festival is round the corner and many of you must have opted for home garden competition. It can be any day now that the judges come calling. So, get ready with these tips. Let the garden be cleaned of all visible garbage, the remnants of plants, fallen leaves, twigs etc.


Kate goes without make-up for new film
Hollywood actor Kate Hudson was relieved that she did not have to spend hours in the make-up trailer getting ready for her role as a cancer patient in A Little Bit Of Heaven. The Bride Wars star plays a woman dying of cancer in the film, which she admitted was a huge challenge, but meant she didn't have to worry about her looks or have people around doing up her face.
For the love of the Game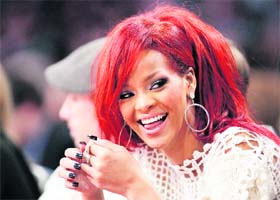 Singer Rihanna at the NBA All-Star basketball game in Los Angeles. —Reuters
Lindsay back with Samantha?
Hollywood starlet Lindsay Lohan is going through some troubled times but she may have some happy news on the personal front as her on-off relationship with DJ Samantha Ronson is reportedly on again. The 24-year-old who is facing felony charges for allegedly stealing a necklace from a jewelery store, was spotted leaving a hotel with Ronson and they then headed to the DJ's home.
Madhubala inspires Kangna for Tanu Weds Manu
Actor Kangna Ranaut, who plays a spirited small town girl in Tanu Weds Manu, says she was inspired by Madhubala's persona to develop her character. The film tells the story of two individuals who are thrown together by destiny and director Aanand L Rai had Madhubala in mind while conceiving Kangna's character.


Jennifer Aniston puts Beverly Hills estate for sale
In a bid to simplify her lifestyle, Hollywood beauty Jennifer Aniston has decided to move out of her Beverly Hills estate and is selling it for a whopping USD 42 million. The Bounty Hunter star bought the house for USD 13.5 million in 2006 and spent over two years renovating it. She decided to sell her dream house after having an epiphany while on a recent trip to London, People online reported.

Reese charmed by Robert Pattinson
Hollywood beauty Reese Witherspoon is all set to exchange vows with her real life leading man but the actress says that she is mesmerised by the charms of Hollywood's heartthrob Robert Pattinson. The 34-year-actress who stars alongside Pattinson in their forthcoming movie Water for Elephants said that she finds the Twilight very good-looking, reported People magazine.


Aamir regrets 3 Idiots
He won hearts with his portrayal of an engineering student in blockbuster 3 Idiots and Bollywood superstar Aamir Khan says the only reason he decided to act in the film was that its subject was education. "I shouldn't have acted in 3 Idiots as in no way do I look like an 18 year old. The only reason I did the film was because it was about education," said Aamir.