New Zealand quake toll 75


Govt authorities say the toll could rise to several hundred


State of emergency declared, a first in the country's history
Christchurch, February 23
The toll in the New Zealand earthquake today climbed to 75, with the government declaring a state of emergency as authorities said the toll could rise to several hundred. According to Civil Defence Minister John Carter, the declaration of a National Emergency reflects the likelihood that Tuesday's quake may prove to be New Zealand's worst natural disaster, the New Zealand Herald reported.
"We felt it was justified in this case because of the devastation that's occurred and the likely impact it will have on so many people," the minister was quoted as saying.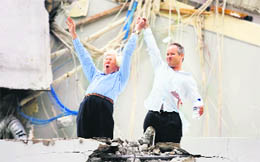 Two men celebrate after being pulled out from a building.
The confirmed toll from Tuesday's devastating 6.3-magnitude quake stands at 75, with 300 reported missing. The quake hit the central city, a business hub of New Zealand, at 12.51 p.m. when office buildings and streets were packed with people.
The state of emergency was declared for the first time in the country's history, DPA reported. Police said more than 100 people may have been lost in Christchurch's quake-ravaged Canterbury TV (CTV) station building, which they said is "unsurvivable". But police expect the death toll to climb and it will do so appreciably if the estimates about those missing in the CTV building are correct.
Fifteen CTV staff and a number of Japanese students from a foreign language school that operated in the building are believed to be among those in the rubble, the daily said.
Police gave the estimates of between 80 and more than 100 for those missing in the CTV building. A senior police officer said he was "100 percent sure" there were no survivors in the building.
Many crushed cars, offices and homes have been marked as possibly containing bodies. Specialist search and rescue teams have been flying in from around the world and 500 of them are expected to shortly join the 200 currently at work, with more than 1,000 medical staff, police and military assisting. In 1931, an earthquake hit New Zealand's northern Napier city, killing 256 people. — IANS