BPL consumers, power department lock horns over bills
Udhampur, February 24
More than 50 BPL consumers of Namaal village of the Pouni block in Reasi district have charged the Power Development Department (PDD) with sending them notices for the non-payment of power bills which the consumers claimed to have paid.
Grabbing of Land
DGP tells Divisional Commissioner to initiate probe
Jammu, February 24
With the names of certain senior state police officers figuring in the land grab case, the Director-General of Police (DGP), Kuldeep Khoda, has asked the Divisional Commissioner (Jammu), Pawan Kotwal, to initiate an inquiry.
BJP's bid to project united face fails
Jammu, February 24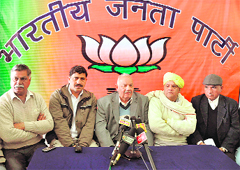 After a press conference by some BJP MLAs led to differences with the leadership,the party today tried to present a united face by organising another media interaction. However, the attempt failed as Shamsher Singh Manhas, state president of the party,and Jagdish Sapolia, MLA from Basholi, did not attend the press conference.


BJP leaders address a press conference in Jammu on Thursday. A Tribune photograph
BJP cautions Centre against ignoring Jammu, Ladakh regions
Jammu, February 24
Even as the interlocutors of the Centre yesterday announced that they would submit their initial report in two weeks , the BJP today cautioned the Union Government against giving any concession to the state. The party warned that it would launch a statewide agitation, if the aspirations of the people of the Jammu and Ladakh regions were ignored while arriving at a solution to the Kashmir problem.
Two Census enumerators suspended in Srinagar
Srinagar, February 24
Two enumerators were suspended in the Kashmir valley after they were found guilty of not coordinating with their officers in the ongoing Phase-II of the Census.
Whistleblower being 'harassed' by ITBP
Jammu, February 24
A Division Bench of the Jammu and Kashmir High Court has summoned the record pertaining to the service of ITBP Sub-Inspector Sudhesh Kumar, who had blown the lid off an alleged Rs 300 crore training allowance scam in the force 23 years ago.
Suspended SI alleges harassment


Srinagar, February 24
Even after Chief Minister Omar Abdullah assured Abdul Ahad Jan that a case registered against him for throwing a shoe at the former would be withdrawn, the suspended police officer today alleged that he was being harassed and intimidated by the police. Jan had thrown the shoe at Omar Abdullah during an Independence Day function at the Bakshi Stadium here last year.
Abdul Ahad Jan
Two protesters taken to hospital
Jammu, February 24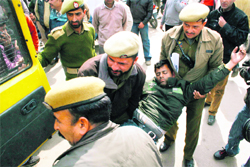 The police took two agitating agriculture technocrats to hospital after they fell ill during their fast-unto-death protest at Mubarak Mandi Complex here today.




A member of the J&K Agriculture Technocrats Association, who fell unconscious during a fast at Mubarak Mandi in Jammu, being taken to hospital on Thursday. Photo: Inderjeet Singh
Protesting physiotherapists lathicharged

Jammu, February 24
The police lathicharged protesting unemployed physiotherapists when they tried to march towards the Civil Secretariat under the banner of the Jammu Kashmir Physiotherapists Association (JKPA) here today.


Members of the Jammu & Kashmir Physiotherapists Association clash with the police during a protest at Mubarak Mandi in Jammu on Thursday. Photo: Inderjeet Singh
Strike in Baramulla over arrest of youths
Srinagar, February 24
Residents of Baramulla town observed a strike in protest against the alleged thrashing and arrest of several youths by the Army on Tuesday.
Forum holds rally against corruption
Jammu, February 24
The Forum for Democratic Rights (FDR) organised a rally against corruption here today.
Preserve rich cultural heritage of state, says Governor
Jammu, February 24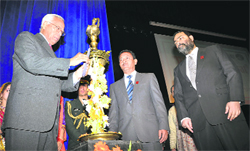 Governor NN Vohra today stressed the need to preserve and showcase the rich cultural heritage of the state. He was addressing the inaugural function of a three-day festival of music, dance and drama, "Virasat-e-Riyasat", at the University of Jammu here.


Governor NN Vohra inaugurates "Virasat-e-Riyasat" at the Gen Zorawar Singh Auditorium in University of Jammu on Thursday. A Tribune photo
Floriculture promises greater economic future: Omar
Jammu, February 24

Chief Minister Omar Abdullah awarded the best farmer awards (state-level) to Kunj Lal, a small farmer from Mani village in the Ghordi block of Udhampur district, and Sanjay Kumar, another farmer from Dadwara village in Kathua district, for their resolve to take up mushroom cultivation and adopt diversified farming systems at a function here today.
Chief Minister Omar Abdullah gives away the best farmer award in Jammu on Thursday. Tribune photo: Anand Sharma
National Highway remains closed for 2nd day
Udhampur, February 24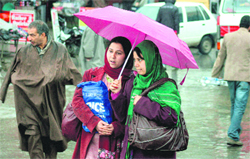 The Jammu-Srinagar National Highway remained closed to traffic for the second consecutive day today due to intermittent snow and rain. The traffic was disrupted due to snow in the area around the Jawahar Tunnel last evening.




Women walk in the rain in Srinagar on Thursday. — PTI
Burns victim dies in hospital
Jammu, February 24
A 25-year-old woman who had sustained severe burns at her house in Udhampur district three months ago, died at Government Medical College and Hospital (GMCH) here today.