Faridabad
In the fast lane
Faridabad, a city that was once considered a cesspool of industrial filth and pollutants, has now turned into a choice destination for home seekers, builders and investors. Year 2007 saw a sudden upsurge in property prices in the entire NCR and as prices skyrocketed all over, the only place that provided affordable housing was Faridabad. The scene changed in 2008 when builders like BPTP, Omaxe etc. launched their projects extensively, especially in the Neharpar region of the city. As the dynamics of the real estate market in the NCR shifted and it became a buyer's market from being a seller's market, builders, too, shifted focus on low-budget affordable quality homes.
The residential sector is booming in Faridabad with a number of projects coming up in the city
GREEN HOUSE
Rose GYAN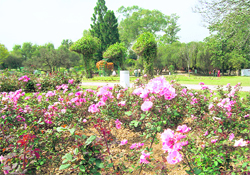 This is festival time for gardeners and there is a good reason for this. Firstly, the spring is just around the corner and this is the time when he can see the labour of planning and executing his garden operations bearing fruits. Secondly, this is the time when flower festivals are held in almost every city. Chandigarh is holding its yearly mega-show - Rose Festival - in Zakir Rose Garden. It is also the most frequently asked question as to what the different types of roses are. A very valid question indeed and it is the right of the residents to know about these.
Real View
Worth the wait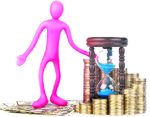 All is not hunky dory in the realty manor as most of the major real estate companies are in debt and are sweating hard to complete their projects. As per reports, major developers like DLF, Unitech, Parsvnath etc owe Rs 10,000 to 20,000 crore each to banks and the deadline for repayment is March 2011. The prices of shares of realty companies, too, have crashed and profit figures dipped by 50 to 78 per cent in 2010 as compared to those in 2008.
Shimla's new construction loses old warmth
Without feet on the fender, love is but slender," this line from English play "The Maker of Dreams" makes Vivek Mohan nostalgic as he remem ers winter evenings spent in Shimla. The Mumbai-based stage artist who spent his childhood tramping through the snow-laden streets of Shimla, is one of the many local residents who miss the warmth spread by the fireplace in old buildings in the city.
Regulator for real estate sector
Property developer Tata Housing has sought the creation of a real estate regulator in the upcoming union Budget to ensure fair play in the industry and protection of consumer interests.
LAUNCH PAD
Aero Homes
Aero Homes project was launched at Gazipur, Zirakpur earlier this week. The project has been planned to have 288 three BHK luxury apartments plus 32 EWS units. Speaking on the occasion Nitin Bansal, MD, N.H. Matcon, a unit of N.H. Constructions Pvt. Ltd said the project will have RCC framed and earthquake resistant structure and the apartments will have a unique biometric entry system which is being introduced for the first time in the region. Advanced and foolproof round-the-clock security system, 24-hour water supply and uninterrupted power back up will be the added features of the project.
TAX TIPS

Perfect Agreement


Exemption on repaying loan


Construction clause


Correct calculations


Avoid sham transaction


Rent for two premises
office space
Mumbai is world's 6th most expensive city
Mumbai slipped by one place to sixth in the list of the world's most expensive office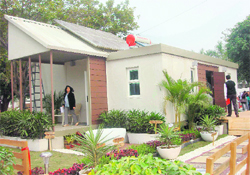 locations in 2011, according to global realty consultant Cushman & Wakefield. The 2011 list was topped by Hong Kong, while London and Tokyo came second and third in the rankings, which valued Mumbai's office occupancy cost at $ 114 per sq. ft. a year. India's financial capital occupied the fifth position in 2010, Cushman & Wakefield (C&W) said. "Apart from being overtaken by Rio de Janeiro, Mumbai CBD (Central Business District) lost one position on the global ranking also because of the fact that it has not seen any change in the rental values over the previous year," the consultant said.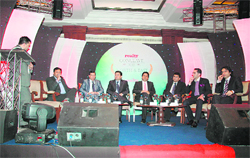 Excellence awards presented
The Realty Plus Excellence Awards — 2011, for the North and the East Zone were presented to real estate players from the entire Northern and Eastern India in New Delhi last week. The awards serve as recognition of the extraordinary contribution made by real estate firms in terms of quality, product innovation and customer satisfaction.
Security concerns
Video door phone has gained tremendous popularity and it is an integral part of almost every household abroad, which has indeed helped in reducing crime to a great extent. In India, the awareness and versatility of video door phones (VDP) is gaining momentum and people have started understanding its importance to secure their residential areas from unauthorised access.
REALTY BYTES
Red Fort-Ansal joint venture
Private equity firm Red Fort Capital has agreed to pick up 26 per cent stake in a joint venture (JV) with Ansal Properties & Infrastructure (Ansal API) to develop a residential township project in Gurgaon for Rs 200 crore.
Omaxe bags 136 cr contract
Realty firm Omaxe has bagged a Rs 136 crore contract from Defence Ministry to construct housing project in Mahrashtra.